Ask the experts
Here is a selection of Q&As from Your Yorkshire Wedding magazine. If you would like your question answered by our experts, please email it to editor@youryorkshire.wedding.
To view more Q&A's on a different topic, please select one from the list below.
Hot topic: Wedding dilemmas
Our experts solve your wedding dilemmas
---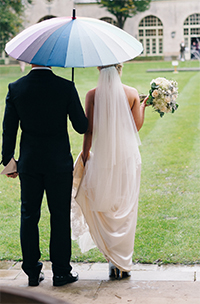 April showers
Q. We're getting married in a marquee. As the day gets closer I'm starting to worry about the possibility of bad weather. How do we prepare for this and make sure we still get gorgeous images?
A. Aaron Morris says: They say that rain on your wedding day is good luck, and as long as you make plans for it then it can be just as beautiful as it is lucky. Follow these three tips to get the most out of your day, whatever the weather…

- Preparation is key. While no couple imagines inclement weather when booking an al fresco wedding, it's always a possibility. Have a viable back-up plan for your ceremony, whether it's a covered porch at a local inn, or a ballroom in a grand hotel. Make a note of your contingency plan on your invitations so guests know where to head if it's raining.

When the week of your big day rolls around you'll have a pretty good idea of the forecast. When rain threatens, take action! Ask your marquee supplier to bring a floor for the inside of the tent. This is especially important if it rains for a few days as the ground can become sodden and muddy. Flooring can be expensive so set aside some funds to cover this if needed.

- Keep comfortable. The comfort of your guests is paramount at any celebration. It's a great idea to round up a few golf umbrellas and assign a group of men to escort guests in to the ceremony. Set out umbrella stands and a coat rack so your friends and family can shrug off their wet-weather gear and get in to the wedding spirit.

While an aisle runner is not normally advisable for a ceremony on grass, if it's damp it's a good idea to lay one to protect the bride's dress. If you're using a portable restroom trailer then enquire about a covered walkway from the marquee. Also, if you have live musicians, be aware they'll need somewhere dry to keep their instruments from getting wet.

- Smile it's your big day! The best way to beat the rainy-day blues is with a sunny attitude. A radiant bride in her fabulous dress will light up even the gloomiest day. Embrace the weather for your photographs. Ask your photographer to capture the misty atmosphere, and take a romantic stroll in the rain. Some of the most spectacular newlywed shots I've ever taken are in bad weather. If you embrace the day with good cheer then you and your guests will remain upbeat no matter what Mother Nature throws at you.
---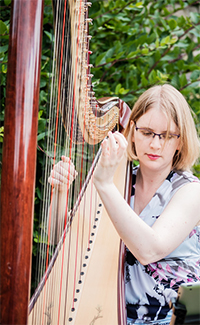 The music of love
Q. We're tying the knot al fresco in picturesque gardens and we'd love some live music. What options do we have for an outdoor ceremony?
A. Emma Yates-Butler says: Live music playing during the formal proceedings gives a wonderful atmosphere for you and your loved ones, and the live musician will be completely in their element. I think the harp has a spellbinding effect, which works beautifully with timeless moments such as a wedding ceremony.

With the advent of the digital age, harpists have diversified and updated their repertoire with modern pop songs from the likes of Ellie Goulding, Jason Mraz and Ed Sheeran. Film and musical numbers are also popular, with Disney being the most requested. This works brilliantly alongside traditional harp music and wedding classics.

Weather permitting, outside ceremonies are manageable for many string musicians. In fact, most of my spring and summer bookings involve playing al fresco. In the case of a change of weather I'm fully equipped to move indoors and provide a full and high quality sound with my portable amp.
---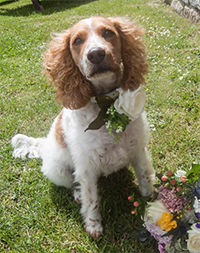 Wedding walkies
Q. While our venue allows pets to attend, I don't want to put the pressure of looking after my fur baby on one of my bridesmaids. Are there any other options, as I'd love my dog to be involved?
A. Adrienne Hodgson-Hoy says: We totally understand this predicament, as it was the exact reason we launched our business. While dogs are part of your family – and sometimes better behaved than human guests – they do have their own special needs. It's not always a good idea to give that responsibility to someone in your wedding party, as they want to enjoy the day too.

A lot depends on the individual pup. Ask yourself some questions. How long can they sit without disrupting proceedings? How long can they go without being walked, and how noisy do they get when they're excited?

It's worth looking in to hiring a specialist for all, or part of your day. It takes away the stress, knowing that there's someone to supervise your furry friend during the photos and reception. It's also worth getting your dog groomed and trained for the big day. You don't want muddy paws on your pristine gown!
---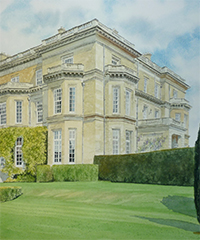 The art of giving
Q. I want to find a surprise present for my hubby-to-be that he can keep as a memento of our nuptials. What suggestions do you have for something a bit quirky and different?
A. Pete Chapple says: It's difficult to find a present that really captures the essence of your special day. A portrait of the venue is a wonderful way to bring back memories. I can create a traditional watercolour painting of the most prominent view of the building, or capture a more unusual feature such as a window or doorway. If you want a more modern finish then pen and ink or charcoal gives a contemporary feel. You and your new husband will be able to hang it in your home and appreciate it for years to come.
---
Contact our experts...
Aaron Morris
Photographer
Adrienne Hodgson-Hoy
Wedding Woofers
Emma Yates-Butler
Harpist
---