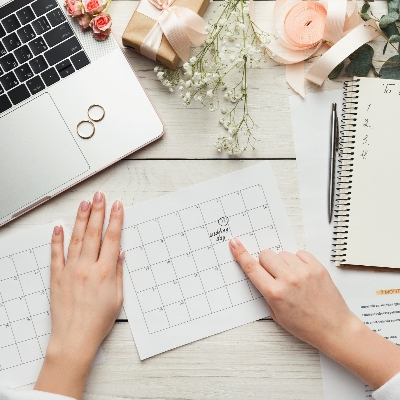 And breathe...
Q. I'm feeling so anxious in the run up to the wedding. I really want to enjoy the next few months and of course the big day. Do you have any tips to help?
A. Stephanie Baragwanath says: Nerves, anxiety and excitement: these are all emotions our couples feel before they walk down the aisle. It's the time when things start to feel very real, and all eyes will be on you. Here's some useful ideas to prevent some of those nerves and how you can achieve a more relaxed and calmer atmosphere.

Breathe - Focus on taking deep breaths when you feel those tingly butterflies creeping in. Deep breathing helps blood flow to the brain and nervous system and slows your heart rate and relaxes you.

Perspective - If something small goes wrong, for example the weather isn't playing ball or your cousin has just become a vegan, keep it in perspective, it's not the most important part of the day. Unfortunately, we can't control everything. The most important thing of all is that you've married the love of your life.

Delegate - If you're not hiring a wedding planner to oversee the coordination of your wedding day, entrust a friend or family member with being the 'point of contact' for the photographer, florist, catering team, band/DJ etc, otherwise you'll be answering questions all day when all you should be doing is relaxing and enjoying your special day.

Get covered - This we highly recommend. Wedding insurance is there to cover any aspect of your wedding that doesn't fall to plan. This may be: wedding dress or suit hire damage, loss of an engagement ring or if your wedding venue goes into liquidation or damage. Cover starts from as little as £30 and with the average cost of a wedding of £25,000 it's an investment worth having.

Be organised - Set up a new email account to use when planning your wedding. You can use this to contact suppliers and allow guests to RSVP to your wedding. It keeps everything in one inbox which will save you time trawling through endless emails on your other accounts.
Stephanie Baragwanath, SB Events
www.sbeventsplanning.com