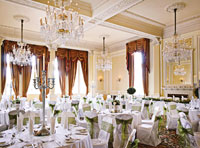 The Personal Touch
Q. My partner and I have just got engaged but we're looking to do something a little different from the traditional, lavish weddings we've been to. How do we adopt a more personal approach?
A. Alicja Kulinska says: This year, we're seeing a move away from large, flamboyant weddings, towards more intimate celebrations, where individuality, romance, togetherness and love take centre stage. This shift towards a more personal experience has altered couple's priorities with some refreshing trends becoming popular as a result...

Clever spending. Value and authenticity are more important to brides and grooms today than excessive spending. That's not to say couples want a cheap wedding, but it's about spending money where it counts to create a day tailored perfectly to you.

Intimate gatherings. Guest lists are becoming shorter and ceremonies are smaller. Your aunt-once-removed, and your neighbour's cousin really don't need to be there. Make room for the people that matter, making for a warmer atmosphere.

Weekday weddings. Harry and Meghan broke with royal tradition by marrying on a Saturday, but there's nothing to say you should do the same. Opting for a weekday, when the venue is less in-demand, can save you thousands – freeing up budget to be spent elsewhere.

Caring catering. When it comes to the wedding breakfast, pay attention to value and meaning. People enjoy food that has been lovingly grown and prepared with creativity applied, making your first meal as newlyweds even more special. Couples are bringing in personal elements such as wine from their local vineyard.

Natural beauty. Cakes, flowers and décor are much more down-to-earth, with an emphasis on quality and class, rather than size and extravagance. Earthy colours and plants are finding their way in to every area of the venue, including lining the aisle.
Alicja Kulinska
www.thecairncollection.co.uk