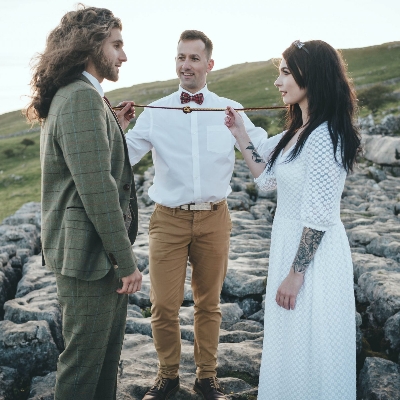 A tailor-made ceremony
Q. We aren't getting married in a church and need a formal ceremony but don't know where to begin. I really want my ceremony to reflect us as a couple. Please help!
A. Mark Gregory says: Three words: find a celebrant. Religious couples should find their local religious leader and get married in their nearest religious buildings. That's fairly clear. Non-religious couples have two choices: a short, unoriginal registry office ceremony led by someone who has three or four other weddings to officiate that day; or, an original, personalised ceremony led by someone whose sole job is to make your big day as good as it possibly can be.

If you want your ceremony to reflect you as a couple, then you can't go wrong with a celebrant. Celebrants will meet you months (even years!) in advance of your ceremony and get to know you as a couple, and as a result, craft a meaningful ceremony that truly reflects you both.

This will involve telling the story of you as a couple (as much as you're willing to share with parents and grandparents, of course!), as well as helping you to write your vows, and even including special ceremony elements such as a hand-fasting, a unity sand ceremony, or even live vocals to sing you down the aisle.

One drawback is that celebrants can't legally marry you at this time, but this has plenty of benefits too – not least that, as a result of not having legal constrictions, you can have your ceremony literally anywhere you want. Clifftop? – Sure. Ski slope? – Why not? In your back garden? – You do you!
Mark Gregory, Mark Your Occasion
www.markyouroccasion.com