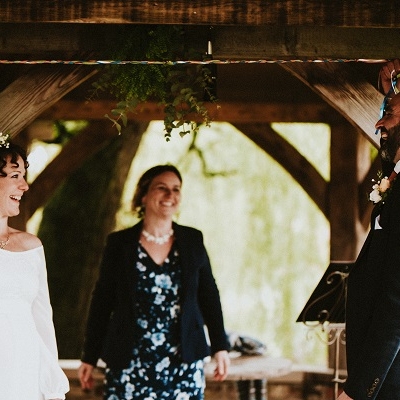 Words of wisdom
Q. I'm having an outdoor ceremony. I don't know whether to book a humanist or an independent celebrant. Can you help?
A. Rachael Meyer says: A celebrant led wedding ceremony is meaningful, relaxed, fun, totally personalised and engaging. Both humanist and independent celebrants write and conduct celebratory wedding ceremonies that focus on the couple and their story.

In Scotland, Northern Ireland and the Channel Isles, the ceremonies that humanist celebrants conduct are legally recognised. Right now, the national human rights charity, Humanists UK is fighting for legal recognition of all humanist weddings, to bring England and Wales in line with the rest of the UK. There is a Law Commission Review due out in summer 2022, that will hopefully help to realise this long overdue change in law.

Until laws are changed, couples having any celebrant led wedding ceremony will need to arrange the legal documentation of their marriage with the Registrar, and this can be done for around £50.

The main difference between humanist and independent celebrants is that humanist celebrants are trained and regulated by Humanists UK, which has been delivering non-religious, inclusive, bespoke ceremonies for around 100 years. Budding celebrants are interviewed for their skill set and values, and trained and mentored by other humanist celebrants in the network. They're accredited shortly after delivering their first ceremony and once up and running, are subject to regular peer reviews and annual CPD. The national network of humanist celebrants works together to assure quality and reliability of all celebrants and all celebrants must be accredited and a part of the national Humanist Ceremonies network in order to operate. Ceremonies are meaningful, but non-religious and inclusive.

If you choose a celebrant to conduct your wedding, you're already on the right path to having an amazing wedding day with the ceremony as its beating heart! If you're not sure whether to book a humanist or an independent celebrant – please don't just go on price. Draw on reputation, word of mouth or do some online research. Go onto a celebrant's website and social media – or ask your wedding venue if they've seen celebrants in action. Online, look at a celebrant's style of writing, photos of weddings they've carried out, watch any videos they've posted, and most importantly, read their reviews. If you like their style, give them a call or set up a Zoom meeting before you book!
Rachael Meyer, Rachael Meyer Celebrant
www.rachaelmeyer.com