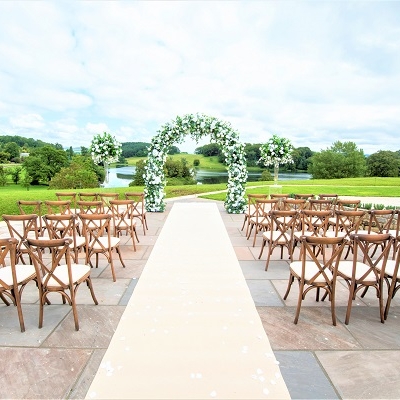 Whatever the weather
Q. My fiancé and I have just started looking for our dream wedding venue, and we'd like to get married outside. What should we keep in mind before booking?
A. Sharon & Emily says: There are a few practicalities you need to consider – plan A and plan B! Take the weather for example. Even if the forecast is amazing, you may want to consider some form of shelter, just in case! Make sure your guests are aware of what's in store too, so they can plan their outfits accordingly. Be prepared with umbrellas and wellies – don't let the rain dampen your sprits though! Props like these can be personalised to the bride and groom and create some wonderful photo opportunities.

Utilise your surroundings and take some inspiration from nature. The Coniston Hotel's 1,400-acre private estate is bursting with colour and texture, whatever the season. Incorporate this into your day and save on your décor budget! Have an open mind. We all have a dream and vision, but when incorporating unpredictable elements to your day such as weather, you may need to be prepared to flex on a few of the details. Finally, trust the experts! For example, our dedicated wedding team live and breathe weddings – they'll offer the best solution, for the comfort of you and your guests, whilst still exceeding your expectations.
Sharon & Emily, The Coniston Hotel Country Estate & Spa
www.theconistonhotel.com