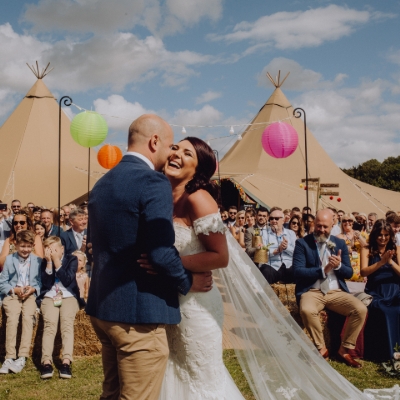 In-tents!
Q. What factors do we need to consider when planning an outdoor wedding?
A. Samantha Robinson says: Here are our top tips for planning an al fresco celebration:

- Suppliers. You have more flexibility with this type of wedding, so choose wisely. Always check out reviews and testimonials to help you create the ultimate dream team.
- Food. There are less restrictions with outdoor weddings, so you can have exactly what you want – whether that's fish and chips, pizzas, burgers or a three-course meal. We work with
some great caterers so can point you in the right direction. And don't forget to take advantage of the tasting sessions!
- Decorations. A tent or tipi is a blank canvas to be styled any way you choose. If you love DIY, you'll be in your element. If you're not so creative, like me, then we have some amazing stylists on board who will take the stress away from you.
- Weather. This is one thing that's out of our control, but I can honestly say that some of our best wedding stories and photographs involve rain! In fact, the sound of raindrops on canvas is very romantic and gives a lovely ambience. Our authentic Scandinavian tipis are made to withstand all
temperatures and we have open fires and heaters to make them nice and cosy.
- The serious stuff. You may have found your dream setting, but you need to make sure it's suitable. We provide a site visit to ensure it's appropriate for your big day and to look for things
you may not have thought of, such as underground cables. It's also important to see where you would like the tipis placed to help you visualise and turn your dream into reality.
- Don't forget. Not as exciting as food or decor, but possibly two of the biggest necessities are electricity and toilet facilities. Lots of venues now have these on site, but if not, we can source these for you.
Samantha Robinson
www.boutipi.co.uk