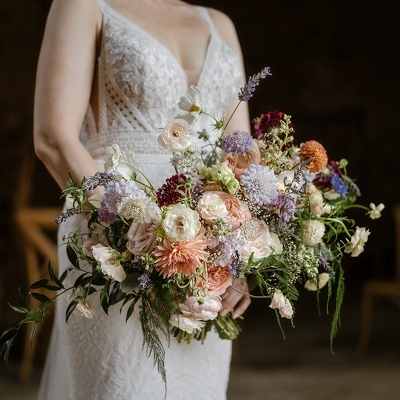 Darling buds
Q. I keep reading about the importance of using seasonal flowers for our wedding. Why is this – and what flowers should we consider for our August day?
A. Jill Alexander says: Being a sustainable florist, I agree wholeheartedly! The varieties in season will be in abundance, so are more likely to offer better value for money. I also work with local growers which means the distance from field to bouquet is limited, making the flowers more environmentally friendly with a lower carbon footprint to boot.

Some of my favourites for a summer wedding would include Butterfly Ranunculus, Cosmos in several varieties, Achillea in various tones, Sweet Peas, Larkspur, Cornflower, Nigella, Scabiosa and Clematis, to name a few. Almost all varieties come in a wide choice of colours and tones, so anything is achievable.
Jill Alexander, The Little Flower Hut
www.thelittleflowerhut.co.uk