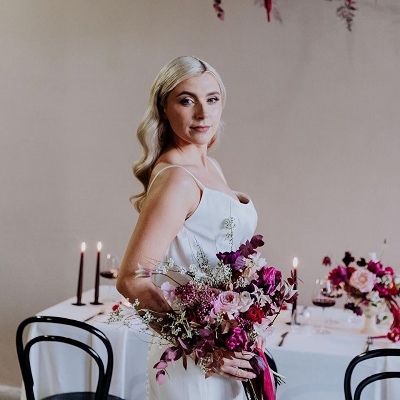 Floral drama
Q. Large floral display hoops and arches are currently very on trend. I'm planning my wedding for 2024, will the trend be here to stay? How do I approach this with my florist?
A. Gem Akrigg says: Yes! This trend is here to stay! Statement pieces really bring that wow factor to your day, especially if your budget isn't huge and you need to know where to focus the funds. Pair back all the little extras and the unnecessary and go all out with one big floral explosion, that'll have your guests talking long after your big day is over. I'm a huge lover of a flower cloud, I mean who doesn't love a giant burst of romantic drama and you don't get more dramatic than a floating piece of art in the sky.

My biggest advice when talking to my couples is to reuse your florals throughout the day, if you have a big floral arch for your ceremony, why not move this to your top table afterwards for that luxe vibe or use it as a backdrop for guests to take snaps in front of.

Money discussions always seem a bit of a taboo subject but being open and honest with your florist from the beginning of your discussions will really help them to get the most out of your budget and focus on the aspects that you really want and not the things that get lost and unnoticed on the day.
Gem Akrigg, Rock and Wreath
www.rockandwreath.co.uk