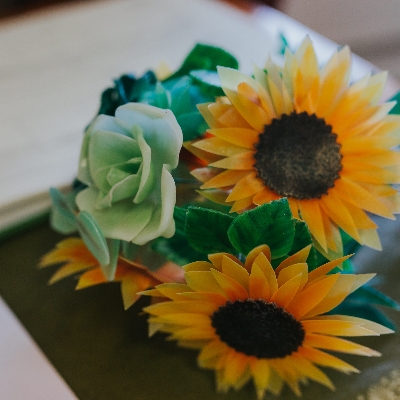 Flowers forever
Q. We've had to postpone our wedding to winter from August. The trouble is, I wanted summery flowers for my bouquet. What are my options?
A. Sylvia Pearson says: Postponed weddings are a reality right now, with couples having to adapt their guest list and venue – but to change the theme is hard as its such a personal choice. Bouquets are a big part of the colour scheme and vibe of the day, so it can be heartbreaking if you can't have what you want because you've had to change your date.

Faux flowers are the perfect solution, and handmade, eco-friendly faux flowers are even better! Ecoblooms is a small business that crafts flowers from donated recycled plastic bottles. They never wilt or die, so can be bought years in advance (yes, some couples are that organised). Most importantly, they are not affected by the seasons. If you want sunflowers, peonies or daisies in December, you've got them!

I've supported so many couples over the past year who are dealing with this new normal – rearranging flowers to accommodate different venues or orders changing as party numbers reduce – but what they don't have to worry about is their flowers. It's an honour to be asked to create something for such an important moment in people's lives, and I'm here to bring your ideas to life no matter what obstacles are thrown in the way.
Sylvia Pearson, Ecoblooms
www.ecoblooms.net