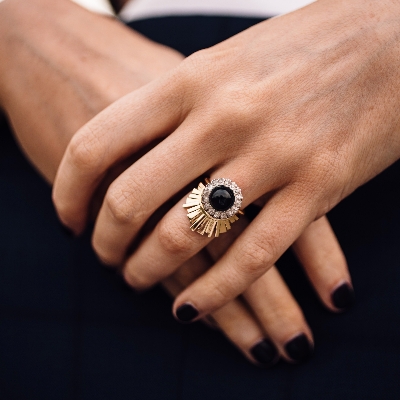 Rolling stones
Q. I want my wedding band to be a bit different, what stones would work well?
A. Andrew Geoghegan says: First establish whether you're a 'hard wearer' of jewellery i.e., does your current jewellery exhibit signs of heavy wear and tear like indentations or scratches on the surface? The gentler you are with your jewellery, the more choice of stone type you have as you can consider the inclusion of softer stones in your ring like topaz, citrine and amethyst.

As wedding bands are usually worn every day and often come into repeated contact with a wide range of hard surfaces, my practical advice would be to lean towards stones of a durable nature. Diamonds, sapphires and rubies are usually safe bets and represent a wide choice in terms of stone colour. Sapphires and diamonds are available in a rainbow of colours − although you may need to re-mortgage your house for a sizeable blue diamond!

The choice of stone, the metal and even the style of the wedding ring is largely determined by your choice of engagement ring. The wedding band is there to complement the engagement ring, not outshine it. I'm not saying that the wedding band needs to mimic, match or even fit the engagement ring but there must be some sort of synergy between the two rings otherwise the finger can look like a very small car crash.

Select a piece that is timeless. The wedding ring is to be worn for decades so be cautious of a stone or style of the moment. Teal green sapphires may be all the rage today, but will you tire of it after 10 years?

Most important is to consider what the wedding ring symbolises for you. What story does it tell and how does it embody your relationship? The wedding ring is the symbol of a union, but every story of a union is different. Consider how, in some way, that story might be expressed in the design of your ring and if you can't find anything that you can relate to, engage a jeweller to realise your story in a bespoke design.

Whilst exploring the possibility of including stones in your wedding ring is a beautiful journey of discovery, remain open to the conclusion that the perfect ring for you and your engagement ring is one without stones! The Andrew Geoghegan Sunray is a perfect example of a wedding ring that's fundamentally different in approach and design from the engagement ring, yet the two come together to tell a story. When worn with a vintage cluster ring for example, it elevates and modernises without being fashionable and faddy.

Finally, the overall design of the wedding ring is the key consideration. If stones will feature isn't the starting point, more a question for the journey of discovering your perfect piece.
Andrew Geoghegan, Andrew Geoghegan
www.andrewgeoghegan.com