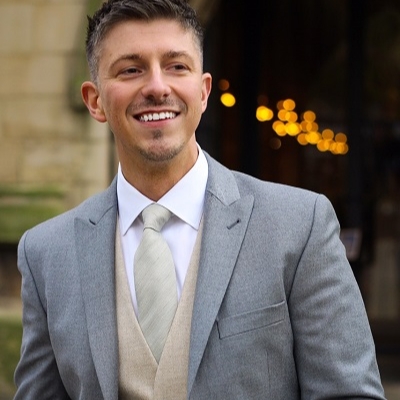 Seasonal shades
Q. My hubby-to-be is having six groomsmen, and we'd like them to wear something suitable for our winter wedding. What colours and styles should we look for?
A. Emma Tennant says: Winter weddings are a great time to bring in muted floral colours, giving a rustic feel to the wedding theme. Dusky pinks are always a popular colour along with nude tones. This season seems to be more focused on shades of green with sage and pistachio being a favourite lately. Christmas weddings often lend to forest and bottle greens with hints of red to bring a Christmas feel to the theme.

Tweed accents are favoured especially for the colder months. These mix well with traditional suiting to maintain a less high fashion look, therefore not dating the couples wedding pictures in years to come.

For a larger wedding party, it's always nice to highlight the groom, allowing him to stand out in some way. Obviously, the bride will stand out and steal the show but it's great to allow the groom to challenge this too! A great way to do this can be with different neckwear, perhaps introducing an ivory tie or cravat to match his bride and the groomsmen matching the bridesmaid's colour theme. Alternatively, this could be something simple like a slighty different flower for the buttonhole, or more obvious a different waistcoat.

Whatever the choice, the most important thing is to feel comfortable in your outfit for the big day.
Emma Tennant, Frank Bird
frankbird.co.uk