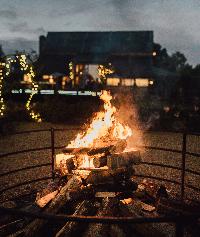 Autumn ambience
Q. We've seen so much inspiration for summer weddings, but we're tying the knot in October. How do we create an autumnal feel?
A. Felicity Henriques says: If you're looking to escape the busy summer season and create an original, atmospheric wedding, then this is the time to do it. Here are some top tips:

- Light the way. Clever lighting will create a warm glow and cosy atmosphere. Candles and tea lights are an affordable way to create an intimate setting. Light outdoor spaces and pathways with floor-standing lanterns. Remember to make your photographer aware of any lighting set up to get the best results in your images.

- Fire up. Crackling log fires add warmth and create a flattering glow. They also smell fantastic. Outside, firepits make inviting areas for guests to chat and toast marshmallows.

- Go with the glow. The season's rich colour palette provides a striking alternative to summer's paler hues. Use this to your advantage with deep, bold earthy colours like berry and forest green mixed in with metallics.

- Scandi-chic. An ivory faux-fur shawl adds instant elegance to a bridal dress and is practical too. Try throwing faux furs over furniture and seating for an on-trend Hygge feel.

- Raise a glass. Greet your loved ones with a warming cocktail to set the scene. Choose well-loved classics such as mulled wine, or speak to a specialist to devise your own signature drink using cinnamon, clove spices, hot apple and bourbon.
Felicity Henriques
www.crippsboltonabbey.com