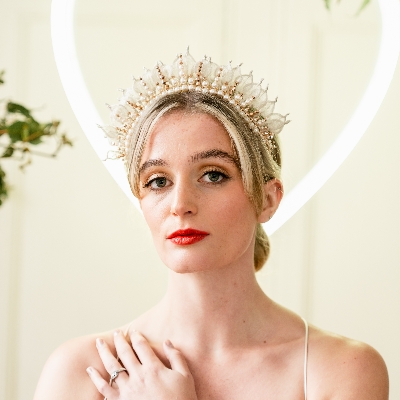 Bridal accessories
Q. Following the last 18 months, how has the wedding industry changed?
A. Heidi Reid says: The two biggest changes in bridal accessory shopping during the last 18 months have been the growth of the video consultation and also the allocation of budget. The latter shifting to bigger spends on details that show up in the wedding photos, following on from the advent of more intimate weddings meaning less of the budget required for food, drink and entertainment.

Pre-pandemic most of my clients opted for in-person studio consultations when choosing a bespoke bridal accessory, but during the various lockdowns as we all became much more adept at working via video link, my consultations switched to video. It's a trend I'm expecting to continue for brides who don't live close to my studio.

Restrictions on guest numbers over the last 18 months meant that couples who managed to go ahead with their ceremonies rather than slashing the budget, chose to redistribute it and spend more on eye-catching elements such as the accessories, floral arrangements and outfits. I expect that this will rebalance as the size of wedding parties is able to increase, but imagine for some couples the temptation to wow on social media by maintaining those extra special flourishes will be hard to deny!
Heidi Reid, Glorious by Heidi
www.gloriousbyheidi.com