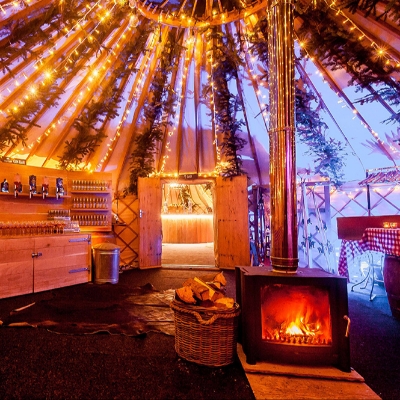 In-tents!
Q. We'd love a yurt wedding, but we've now postponed our day to winter. Is it still possible to have our dream setting?
A. Lotty Stapleton says: Yurts are one of the few structures that are perfect for winter, providing a beautifully cosy atmosphere throughout the colder months. The first thing you'll need to think about is heating. Keeping your guests warm and toasty will make the day so much more enjoyable. Our smaller yurts can hold a wood-burning stove in the middle, which not only keeps you snug, but also makes a great focal point. We can also provide specialist marquee heaters to warm up the bigger spaces. Working on a thermostat, they automatically blow in warm air if the temperature drops – don't worry, they sit outside the structure so they don't distract from the aesthetics.

We also recommend ensuring you choose a yurt (or yurts) with plenty of space inside for all your loved ones, so no one has to stand outside during your drinks reception if the weather is bad. We also suggest the addition of hard flooring if there's a chance the land could get boggy.
Lotty Stapleton, Yorkshire Yurts
www.yorkshireyurts.co.uk