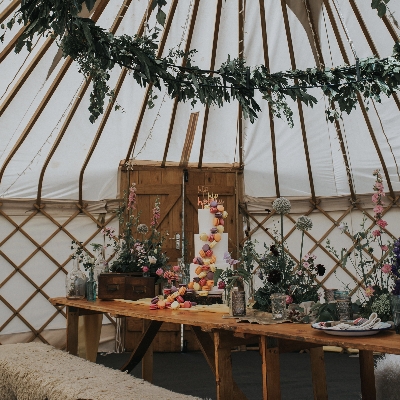 Under canvas
Q. There are so many different types of tent to get married in – we're totally confused! Can you give us a rundown of what's available?
A. Lotty Stapleton says: When looking for a structure to host your wedding in, you're spoiled for choice. Although the style varies, they have one common feature: they allow you to let your creativity run wild!
- Marquees. Clear span, framed, sailcloth… the list goes on! If you're after a quintessentially elegant backdrop, take a look at our traditional pole options. The Petal Pole and Celeste are perfect choices for a touch of grandeur.
- Tipis. These have become a very popular option. Based on the classic Scandinavian structures, they suit a laid-back festival vibe. They're cone shaped and can be joined together to create the space you need.
- Stretch tent. This is a modern style where stretchy fabric is supported by poles underneath. You can choose to have the sides pegged down or raised up. With the flexibility of moving poles around under the fabric, you can create a striking shape.
- Yurts. We may be biased towards this option, but we're sure you can see why. With a circular shape, domed roof and charming wooden lattice walls, yurts provide a cosy atmosphere and a great party space. Add a wood-burning stove for ambience or go for clear sides to bring the outside in.
Lotty Stapleton
www.yorkshireyurts.co.uk