Leeds couple craft their own wedding scent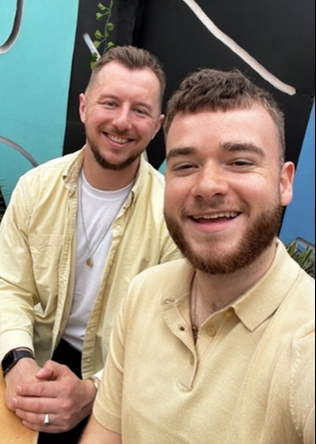 Incorporating a bespoke wedding scent into your wedding day is an upcoming trend as Yasmin Sharp, essential oils expert at Nikura, explaines, "With more than 10 million hashtag views on TikTok (#weddingscent), UK couples are looking to add a unique element to their big day. There are many ways to incorporate scent into your wedding including crafting candles, soaps, wax melts, diffusers, rollerballs, potpourri, and even scented paper for (invitations and stationery, such as menus, order of service, and place cards)".

Alex and Oliver are getting married in Leeds on 30th September 2023 and spoke with Nikura about how they have created their own bespoke scent for their wedding day...

How are you introducing a wedding scent at your wedding, and in what quantities? We've created custom candles to be lit around our venue, each guest has a custom candle as a wedding favour with our wedding label/branding on it and we also have created handwash with the same scent to be used in bathrooms around the venue too.

Why did you decide to have a wedding scent at your wedding? Owning a candle company and having worked closely mixing and creating custom scents before, we realise how important it is to create a sensory experience. We knew we wanted to create custom candles as favours, as it feels personal to us as a couple and nice nod to our shared business together - but by having the scent incorporated throughout the day we thought guests would be able to reminisce and really remember by having that sensory experience carried all the way through to when they burn that candle afterwards.

Which fragrances did you choose, and why? It's a custom blend with notes of: dark tobacco, honey, vanilla, and sandalwood. They're some of our favourite scents and reminiscent of the type of musky scent we'd choose as cologne, taking inspiration from some of our personal favourite aftershave/scents (Tom Ford & Penhaligons).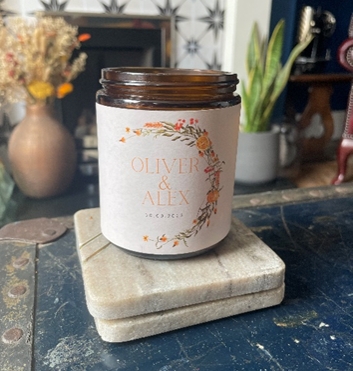 Did you DIY or purchase from a vendor? We did it all ourselves, but I think we were lucky as with owning a candle company (Flaming Crap) we mix custom scents a lot and have managed to perfect our process. I'd definitely say if you're not sure to work with a trusted supplier, whether that's a small business or a larger well-known brand (e.g. Jo Malone offers partial scent creation workshops).

How much roughly did it cost you? We created our candles at cost price with materials we already had, so altogether it cost us probably around £150-200 for about 5L of hand soap and 100 candles. I'd caveat though this is probably on the cheaper end, as this is done cost and we have arrangements with suppliers and already had stocks of wax etc.

How easy did you find the process of making your own wedding scent? We found it easy but again it's more of a learnt skill. Mixing oils to create a unique blend can be difficult and dangerous if you're unsure. I'd always recommend asking an expert or working with a company. Also, bespoke oils can be incredibly expensive, and balancing different oils together to create a pleasing scent can rely on using different quantities of each, so its key to understand which scents work well together and the material in which they're set into.

For more information on wedding scents, visit: https://nikura.com/blogs/discover/bespoke-wedding-scents