Nationwide hunt for the next big jewellery designer
British award-winning luxury jeweller, ROX, which has a store in Leeds on Albion Street, has launched a nationwide jewellery design competition, Future Makers, to help find the next generation of jewellery makers.

The competition is open to all aspiring jewellery designers and makers, with entrants invited to submit a commercial jewellery design which will be manufactured by ROX in their jewellery workshop. The winner will also receive a four-week internship with the jeweller.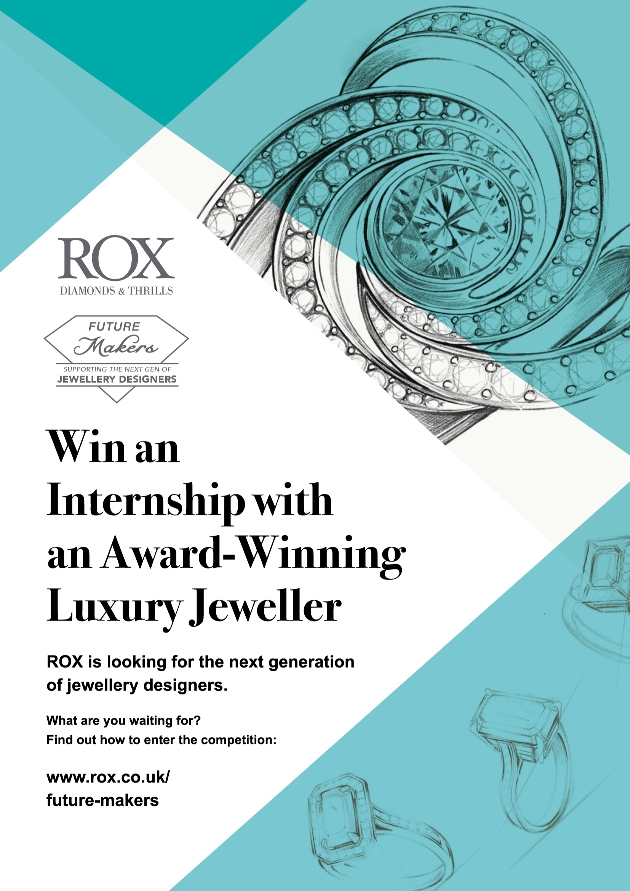 Founded in 2002, ROX specialises in bespoke jewellery diamond rings and luxury watches. Kyron Keogh, the co-founder of ROX and one of three judges who will help to select the winner of the competition, said: "We truly believe that British jewellery designers are still among the best jewellery designers in the world. Jewellery making is one of the few crafts that remains very true to its roots in the modern world. While modern technology has aided design, the traditional techniques of jewellery crafting have remained consistent from when they first started. It's traditional craftmanship that's been passed down for generations that we want to celebrate through our competition, all while encouraging entrants to bring a modern twist to the fore."

In addition to Kyron Keogh, ROX co-founder Grant Mitchell will bring his expertise to the judging panel, as well as Alumnus Professor at the prestigious Glasgow School of Art, Janice Kirkpatrick OBE, an award-winning designer with more than 35 years' industry experience.

Janice said: "This is a fantastic opportunity for budding designers to experience the world of commercial jewellery design, whether you're new to the industry or looking to expand your knowledge. ROX is passionate about championing British design and manufacturing at every turn. I'm looking forward to helping judge the entries in a bid to supporting the next generation of designers that will set the future trends for us all."

In addition to an overall winner, nine runners-up will be invited to a champagne reception where ROX 10 favourite designs will be showcased in a gallery format in-store. Head to the Future Makers competition page to find out more about the competition and to apply.

To enter, visit: https://www.rox.co.uk/future-makers