Fox & Butler – purveyors of luxury greeting cards – has unveiled its new collection of notebooks, journals and jotter pads marking the brands arrival into the premium stationery sector. Building on the success of the brand's launch at Spring Fair, the range has expanded to 65 cards in the collection which have proved to be a huge hit with retailers and consumers alike. The new collection of stationery is the first of its kind for Fox & Butler and has been developed in response to customers wanting luxurious yet understated paper goods that embodies both sophistication and a modern design sensibility.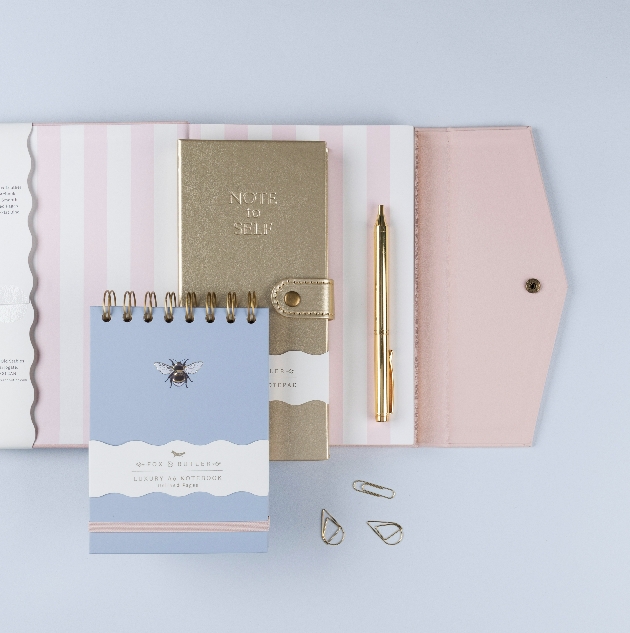 The new premium stationery range will launch with an initial drop of four items featuring 3 notebooks & a jotter block - all made from fine Italian papers and faux leather.

Jotter Block RRP £12
Pink and white candy-striped square jotter box, containing gold gilt-edged cream paper. Perfect for phone messages and shopping lists. Approx. Size: H:95 x W:95 x D: 95mm

Pink A5 Faux Leather Notebook RRP £20
Beautiful pink faux leather A5 notebook, featuring an envelope-style front cover and a brass press-stud closure. Containing 208 cream lined pages with lie-flat binding. Approx. Size: H: 215mm x W: 157mm x D: 24mm

A6 Wiro-Bound Bee Notebook RRP £10
Lilac Wiro-bound A6 notebook with a pink elastic closure. Featuring an embossed bee design, with gold foil detail. Contains 192 cream unlined pages. Approx. Size: H: 153mm x W: 110mm x D: 15mm

Gold Faux Leather Slim Notepad RRP £12
Slim gold faux leather notepad, with a brass press-stud closure. Contains 192 cream lined pages. Perfect for your shopping and to-do lists. Approx. Size: H: 205mm x W: 95mm x D: 20mm

As well as the beautiful stationery items there's also a selection of boxed notecards available – providing a great pick-up item for shoppers who like to be organised with their social correspondence.

Amy Thirkell, Head of Product Management, Pigment said: "Inspired by our love of all things paper, we've taken the quality and opulence of Fox & Butler cards to design this new range of beautiful stationery. The collection is perfect for retailers looking to elevate their gift and stationery offering whilst also providing a great upsell for their shoppers – all with great profit margins. We're confident that these new additions to Fox & Butler will be just as successful as the greeting cards, and we look forward to extending the range very soon."