Peperami mad couple say I do!
A self-confessed "Peperami-obessed" couple tied the knot in style by scrapping tradition and having the UK's first Peperami themed wedding on August 11th. Francesca Brooke-Fenton, 37, and Luke Hindmarch 33, from Leeds are so "genuinely in love with Peperami" they decided to go ahead with quirky theme, which the brand agreed to organise. The wedding saw a meat cake, a Peperami bouquet and a special guest of honour – Youtuber, Yung Filly in attendance. The happy bride walked down the aisle in a green dress embellished with the Peperami mascot Animal on the back, whilst the groom's suit also featured a cheeky message on the back saying 'let's party like an animal.' Even the bridesmaids wore especially made Peperami Roasted Chicken Bites earrings!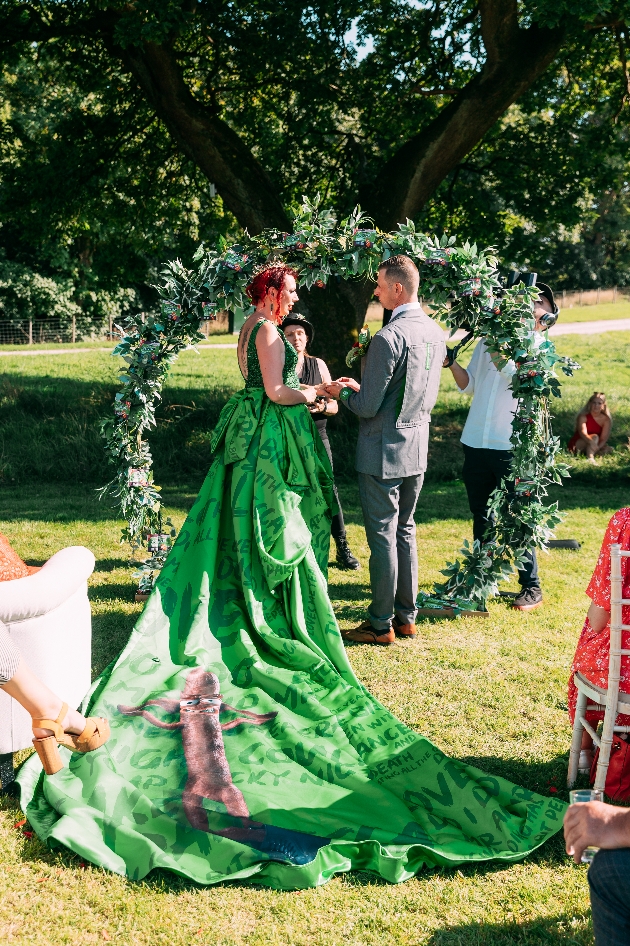 New research from Peperami has revealed that quirky costumes, bizarre wedding cakes and over the top wedding dresses are becoming the latest trend to hit the wedding scene – making a memorable mark on their invitees.

The research of 2,000 adults found that 29 per cent stated a 'fantasy wedding' would be their theme of choice, including the likes of Lord of the Rings, Alice in Wonderland, Game of Thrones and Star Trek. While 23 per cent would opt for a fast-food theme, with the likes of KFC, Pizza Hut, Subway, and McDonalds taking centre stage.

Although the idea of a themed wedding appeals to many, 79 per cent of Brits wouldn't actually be brave enough to go through with it, giving into the usual wedding conventions. Nevertheless, the results demonstrated that many of us would love to attend a themed wedding, with 44 per cent stating it would make great memories, it would be a great laugh and an amusing story to tell after to their friends.In fact, of the respondents who weren't married, 83 per cent said they want to get creative with their nuptials should the occasion arise!

To encourage Brits to embrace the unconventional and sway from the traditions, the leading meat snacking brand is pushing the boundaries and gave one lucky couple the chance to have their own 'Go a Bit Peperami' wedding experience to fulfil their themed wedding fantasy.