Celestial weddings to trend in 2022
A new study has revealed the best 2022 dates for couples to get married under the stars, based on the nights in the wedding season with the clearest stargazing views.
Burton Constable Holiday Park, which offers luxury holiday accommodation, has researched the predicted moon phases and darkness intervals for nights between May and October 2022.
The Park analysed the Fridays and Saturdays in the 2022 wedding season, which are the most common days for UK couples to get married, according to ONS data.
Couples wanting to stargaze at their wedding should view the stars on a night with a new moon, where the side of the moon illuminated by the sun is facing away from the Earth. This stops reflected sunlight from washing out and hiding the starry night sky. Avoid dates with a predicted full moon or high illumination as the bright light will wash out any stars.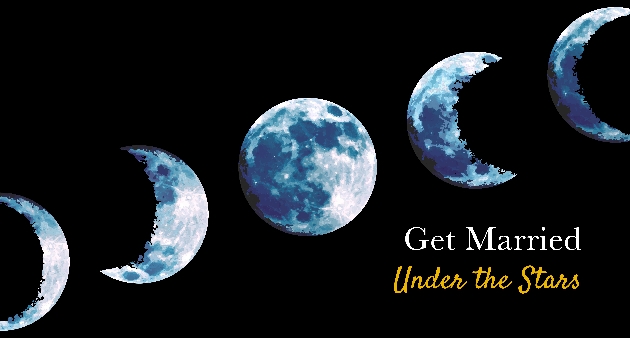 The findings discovered that Saturday 27th August is the best date for stargazing weddings, with 0% illumination, providing a clear view of the stars. August is also the most popular wedding month, so this could be the perfect date for a celestial-themed celebration.

The best Friday for stargazing, and the second-best stargazing wedding date overall, is the 29th July, which is also due to have 0 per cent illumination from the moon.

The top three Saturdays for marrying under the stars in 2022:
27th August (0% illumination)
30th July (1% illumination)
24th September (4% illumination)


The top three Fridays for marrying under the stars in 2022:
29th July (0% illumination)
26th August (2% illumination)
1st July (3% illumination)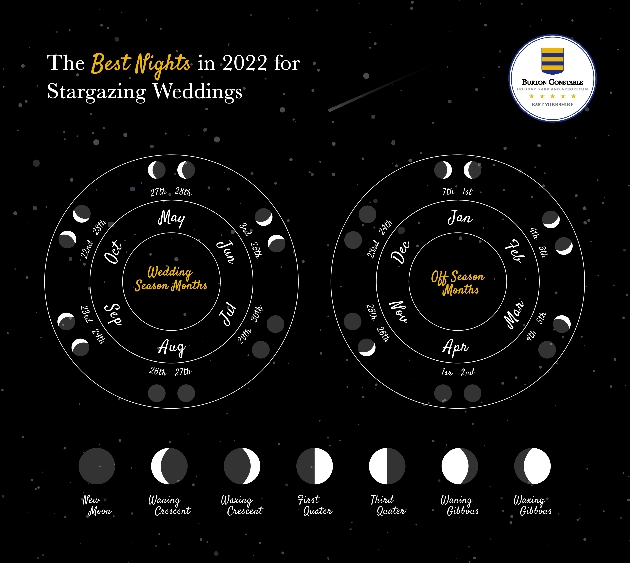 The research follows data from Pinterest, which suggests that astronomy loving couples will be leading the pack when it comes to wedding themes in 2022.

Lunar-themed events are predicted to take off in 2022, with moon party decorations seeing a huge increase in interest (+140%) along with star-themed parties (+140%).

For brides-to-be, lunar wedding dresses are predicted to see a +180% increase in interest this year. And for couples with a lunar theme in mind, bioluminescence aesthetics will see an increase in interest of 80%.

Jack Straker, Spokesperson for Burton Constable Holiday Park, said: "It's great to see that celestial weddings are becoming more popular in 2022. Stargazing is a fantastic activity for anyone looking to get out into nature, and can provide a stunning backdrop for events. A star-filled sky can add a unique element to evening celebrations, and could even be combined with celestial decor. With a high quality camera or mobile, you can snap some fantastic photos against a starry background. We pride our Park on being a beautiful spot from which to relax and admire all that nature offers, so it's nice to see that people are now wishing those elements into their big day too."

About Burton Constable Holiday Park
Burton Constable Holiday Park & Arboretum is a VisitEngland 5-star rated holiday park in the depths of the East Riding of Yorkshire. There are various accommodation types to choose from, including luxury holiday lodges and deluxe glamping pods, perfect for newlywed couples to spend their first night as a married couple.
The holiday park, which has been family owned since 1968, is surrounded by stunning countryside views and a lakeside bar. It's also within 200 acres of the magnificent Burton Constable Hall grounds, which offers its venues for wedding ceremonies and receptions.