Sophie and Elliot met via Match dating site. The couple laughs that it's an ongoing joke that Elliot paid more for Sophie – as Sophie had a discount code for the site! What a bargain!
Sophie adds, "We met relatively early on in our subscription, so we did have to have the conversation about whether or not we needed to renew!" As luck had it, the stars were aligned for these two teaching professionals and now, they have their six weeks summer holidays to spend together!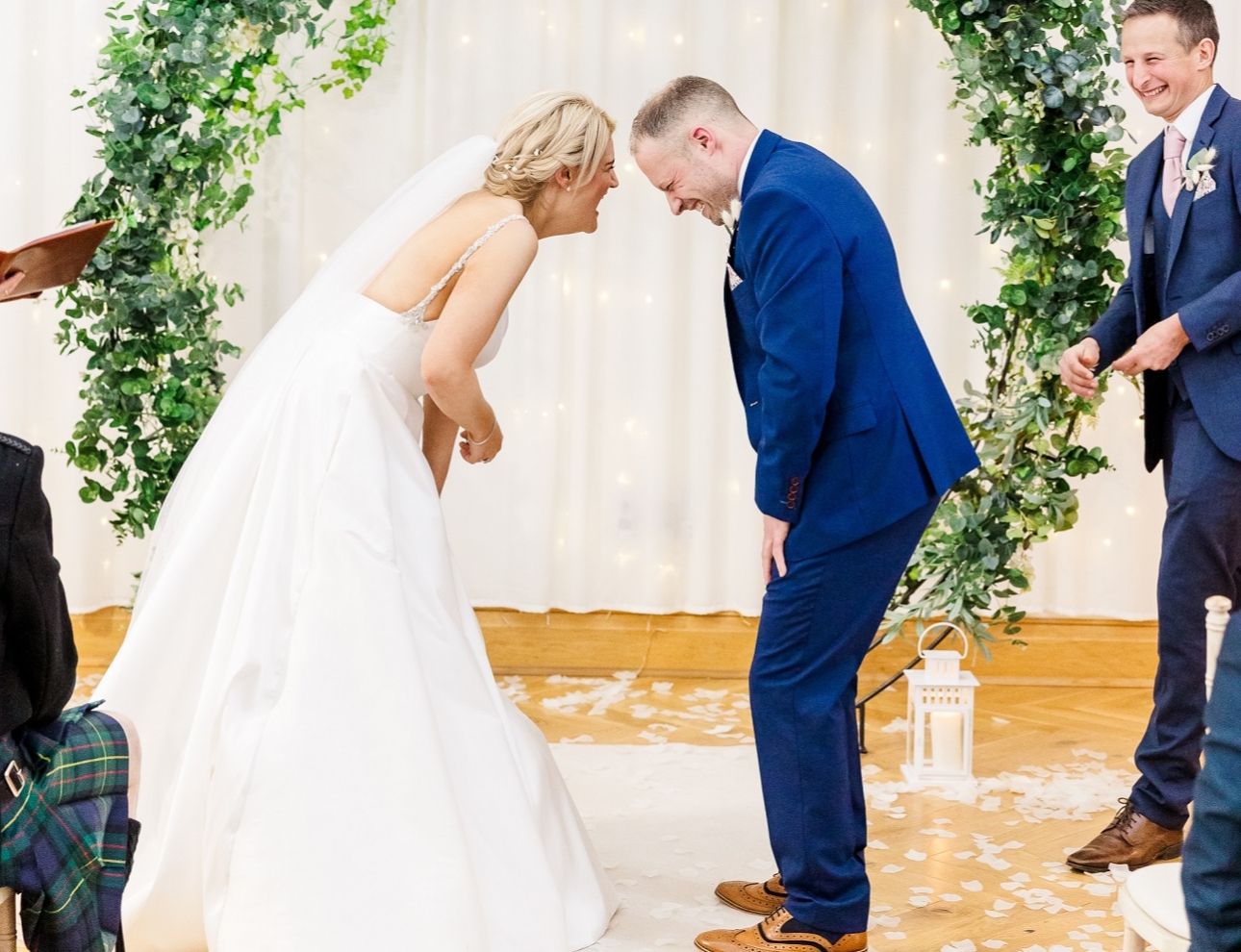 Elliot proposed to Sophie on 25th August 2020, on the shore of Loch Ness in Scotland. "Scotland has been a favourite holiday destination for both us and our families when we were growing up. Sophie explains. "Elliot proposed with my grandmother's ring which made it even more special.

The whole event was a surprise and we celebrated by drinking champagne and going out for a meal, most of which was spent in silence as we were in shock! We went back to our holiday cottage to drink more champagne and play scrabble (which is where the scrabble theme for the wedding came from).

The pair said their I do's at Hornington Manor on 19th February 2022. Here, the Cole's tell us more about their day...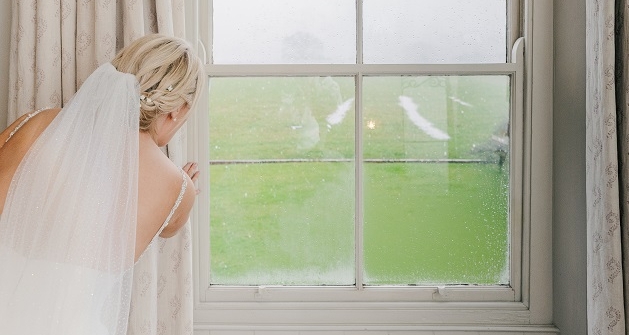 We were able to have the venue for the whole weekend which meant our guests were able to have a holiday themselves and we were able to spend time with everyone. Jo, the events coordinator was a huge selling point by being so warm, welcoming and relaxed – she made us feel like the place really was ours.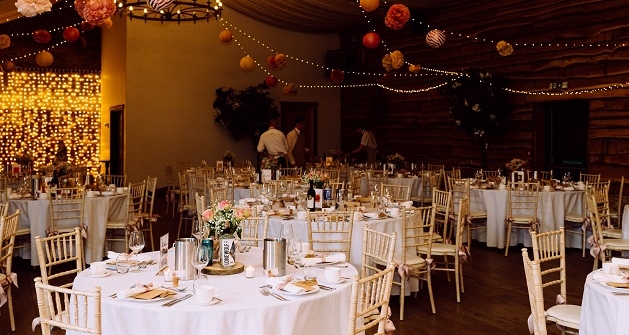 We were attracted to Hornington Manor because we were given free rein to do what we wanted to it including choice of suppliers and decorations.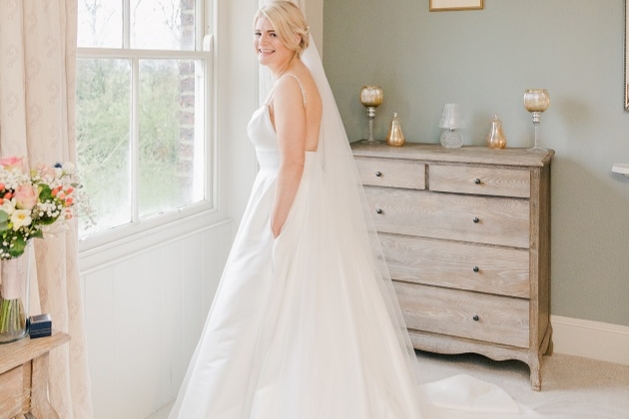 My wedding dress was called Welrose by Ronald Joyce. I loved the sparkly detail in the straps and the low back. I also loved that it had pockets in which I was able to keep my personalised vows and a tissue for all the tears!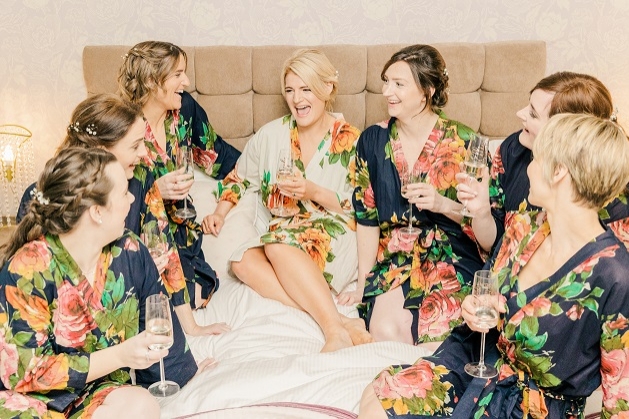 I was so excited! After I had had my hair and make-up done, I cried as I felt really overwhelmed.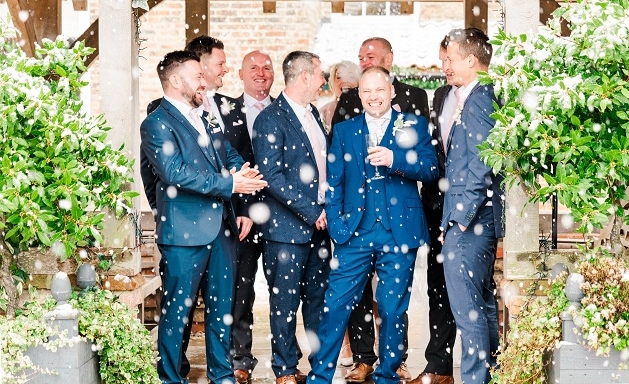 Elliot wore a navy suit by Herbie Frog. This was accessorised with a Liber ty print tie and pocket square. The best men wore the same pink tie as the groomsmen but with a matching pocket square to Elliot.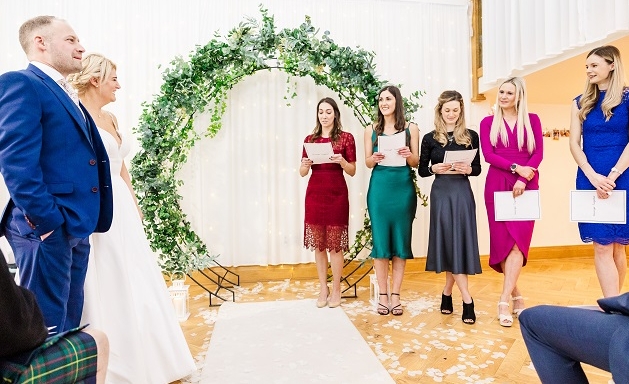 The ceremony was our favourite part. One of the readings was a personalised poem written by our friends from our running club and we hadn't heard it before, it was so lovely.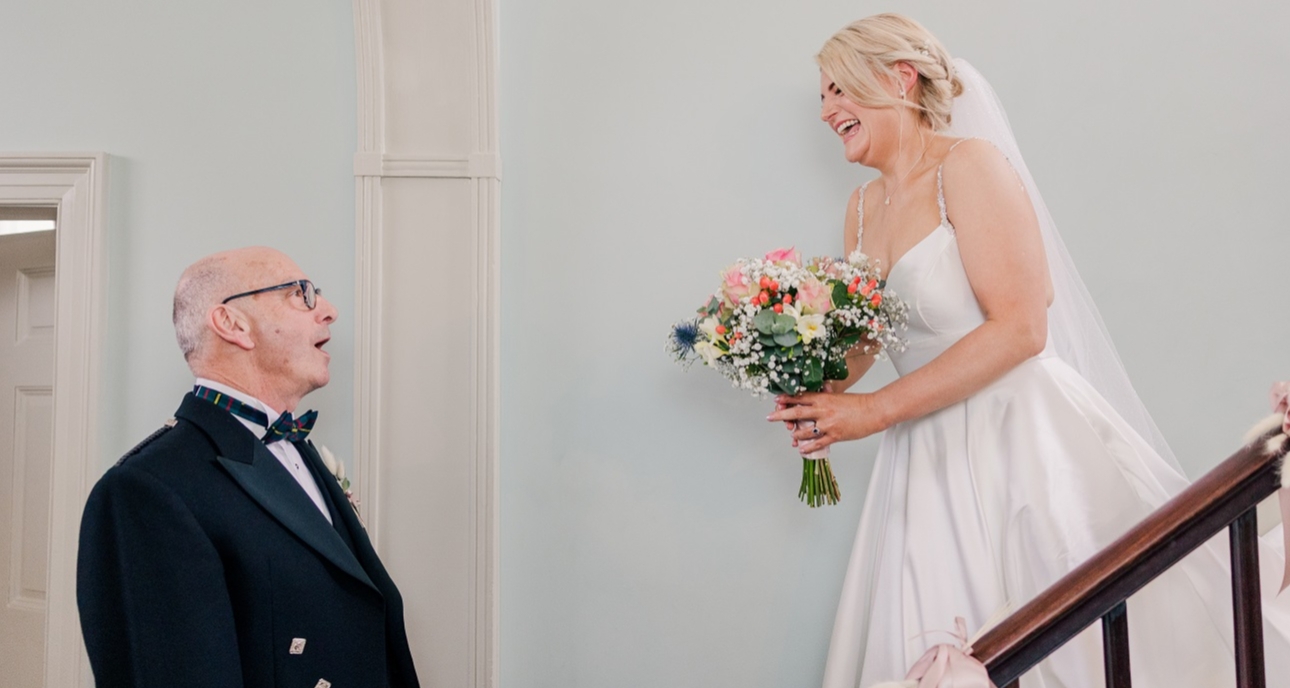 Memories to last a lifetime...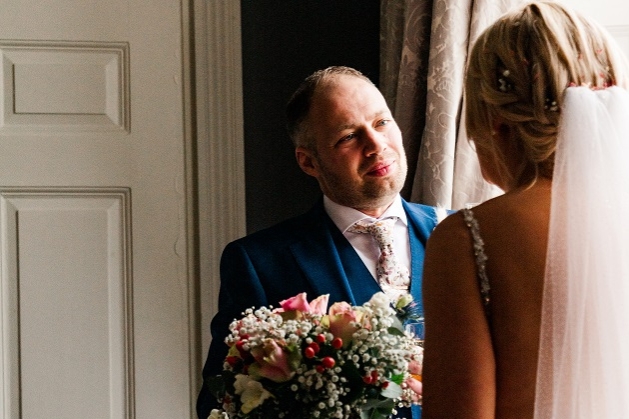 My dress was accessorised with the most beautiful floor length veil with sparkles which glistened in the lighting at the venue.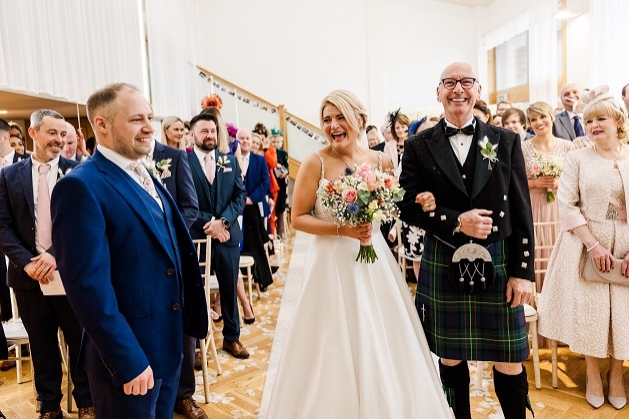 We still say now that we've never felt so loved as we did in the lead up to and on that day. We were overwhelmed by this and wish we could do it all over again.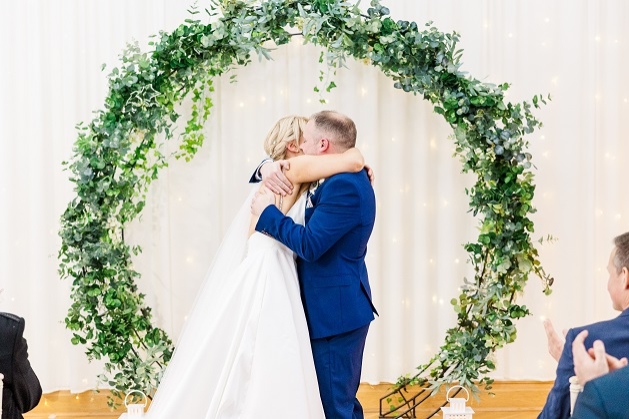 Prior to, during the ceremony and for the drinks reception, guests were entertained by Champagne Strings, the string quartet that Sophie is usually a part of (although someone else stepped in for Sophie on the day!).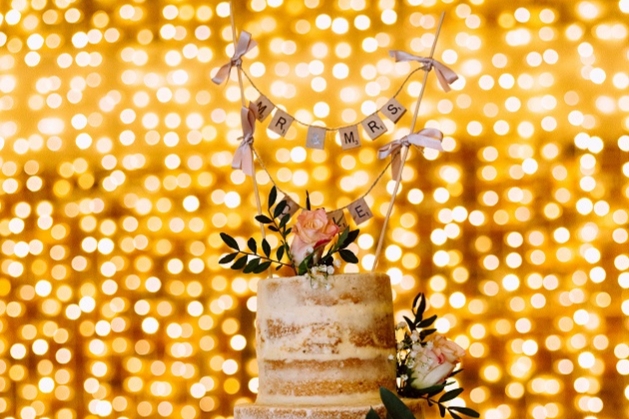 The cake topper was handmade by Sophie.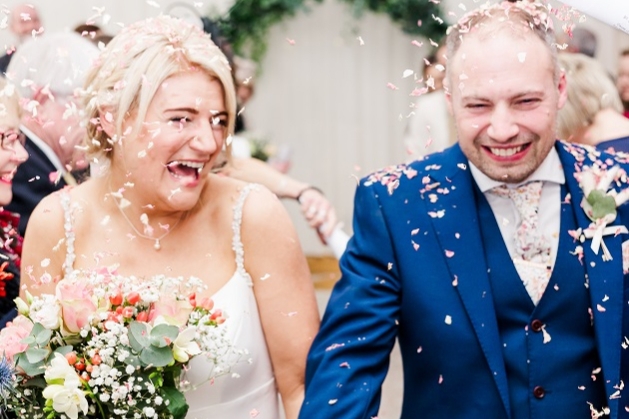 The night before the wedding, Storm Eunice hit! It knocked down a tree onto a house and there was a power cut to the whole venue. We were due to have a party (which we continued to have) but it was all done in candlelight, which looking back now was very special, at the time we were a bit panicky!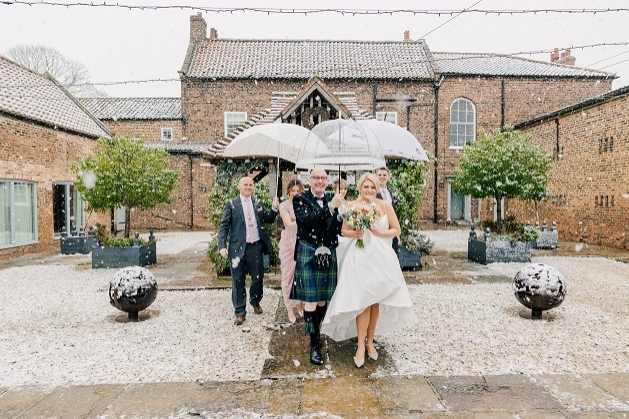 Elliot remembers, "Whilst waiting for the bride to enter (and Sophie was speaking to the registrar) the heavens opened and it started snowing. The flakes of snow were massive and it was the most beautiful sight, so we really did have a white wedding! Sophie is known to love snow, so it made it all the more special."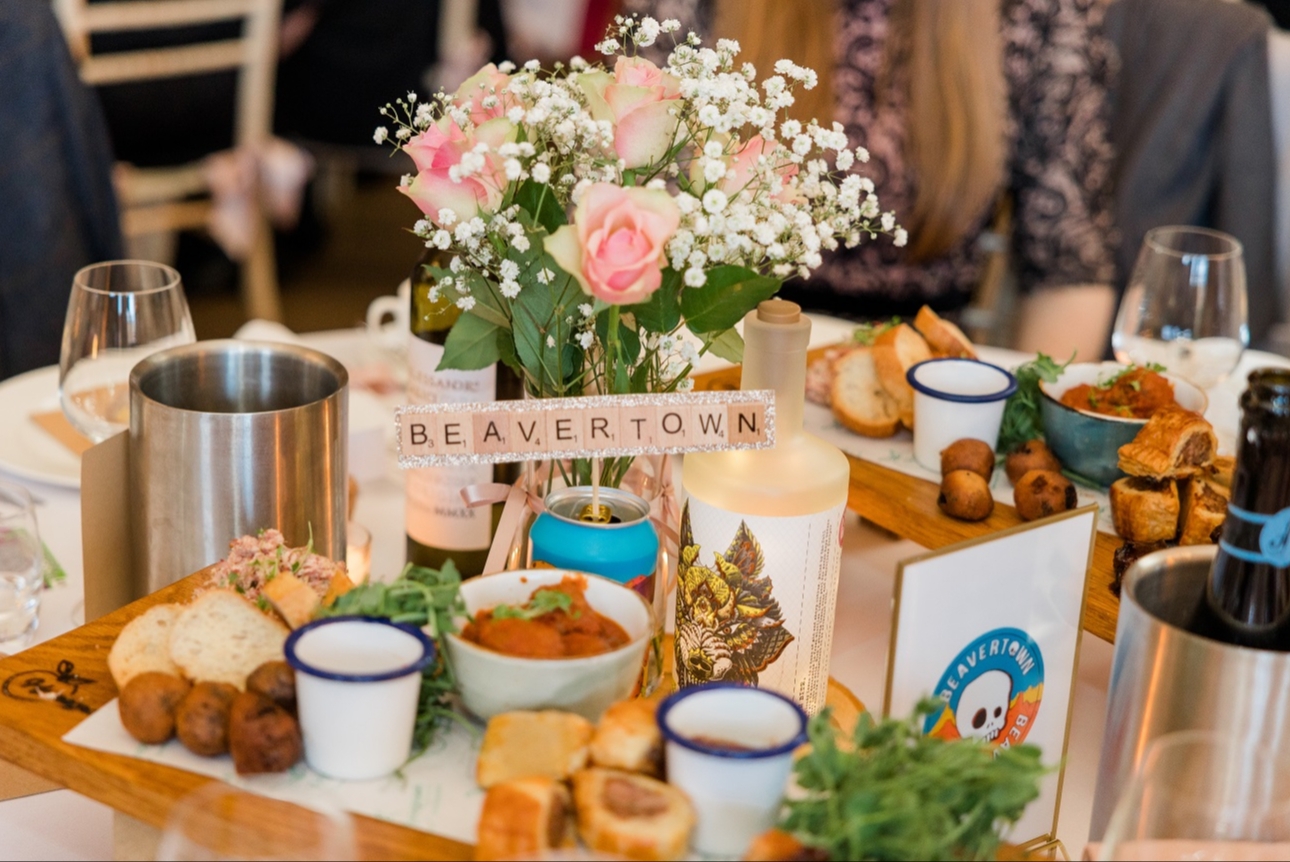 Tables were named after breweries. Elliot is a massive craft beer fan and this was reflected in our wedding. In addition to this, we provided a beer from a local craft brewery and the money from this went to Mencap and a charity close to the groom's family.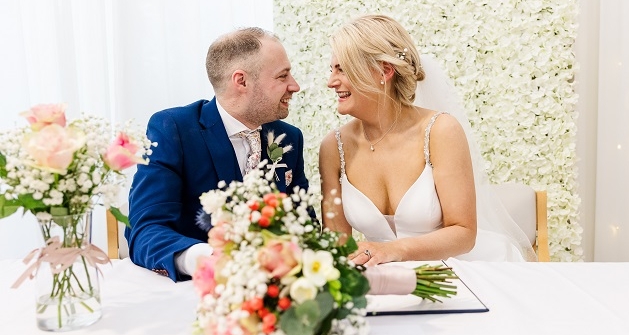 THE COLE'S TOP TIP! Enjoy it! Take a step back through the day and look at all the people that are there because they love you. It really is the best day ever!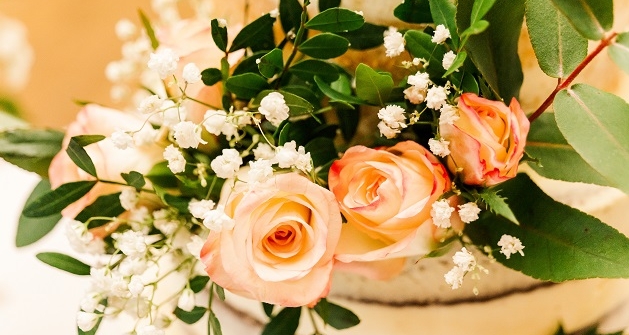 The flowers were white and pink roses with the addition of freesias to my bouquet as they were my grandmother's favourites.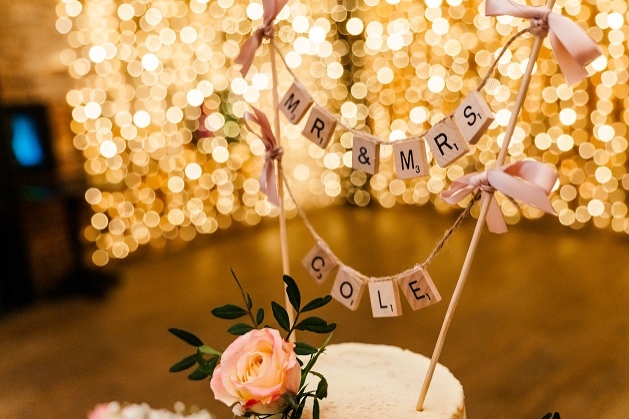 Favours were drinks tokens and a scratch card, as we liked being able to offer all of our guests, day and evening, a welcome drink. No-one won the big bucks on the scratch card though - as far as we're aware!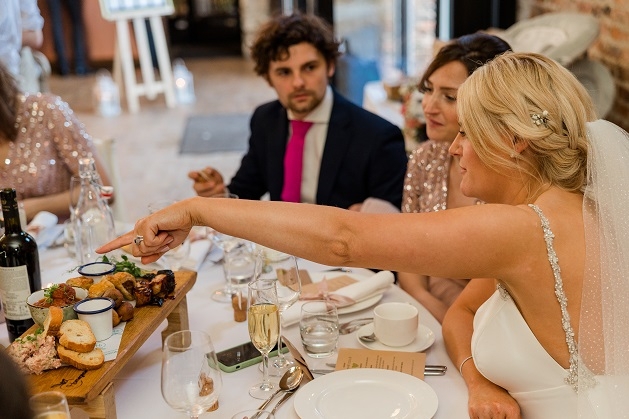 We chose Homegrown Hospitality as our caterers as we wanted proper, homemade food which would fill our guests up. Sophie's favourite food is pie, so it was a perfect choice for a winter's day.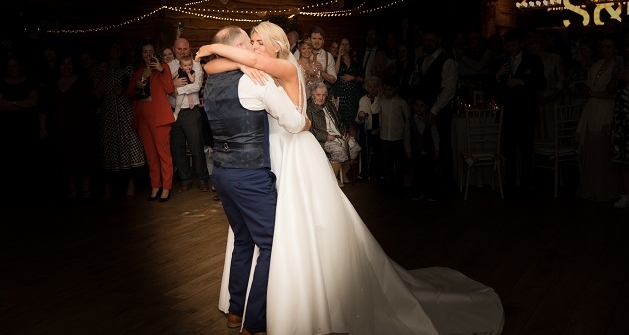 On all the photos you can see how happy I am, and it wasn't put on, I spent the whole evening dancing and saying, "I've had the best day of my whole entire life."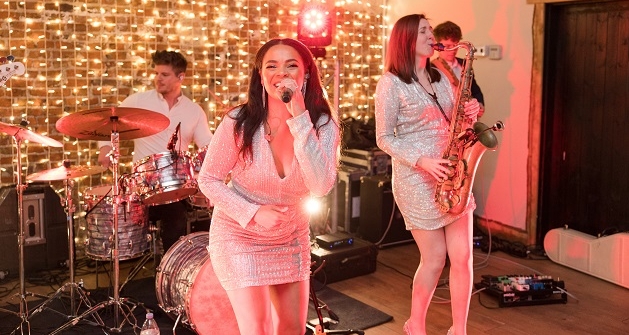 In the evening we were entertained by the most incredible band, Kudos who guests are still talking about now.
Sophie and Elliot's contact book