No one could have predicted how Tabs and Nick's first date would have started out seeing as she was supposed to be being set up with someone else! Not hitting it off with her date, Tabs asked to swap seats discreetly with her best friend, Eve, after the meal and ended up sitting next to Nick - the rest is history! Tabs tells us, "Nick's intelligence was one of the things I was most attracted to along with his sense of humour and how unbelievably kind he is. Nick was most attracted to my sense of humour - you can't take yourself too seriously!"
Nick bought the ring back in 2019 on the day that Tabs's five-year-old nephew Ben was diagnosed with a brain tumour. Tabs explains, "He said to himself he wouldn't propose until Ben was better and thanks to God, after an op to remove it and a year of chemo and radiotherapy, I got a ring but better still Ben got to ring the bell!" In September 2020, Nick got down on one knee in one of their favourite London haunts and a year later, on 18th September, 2021 they tied the knot at Birdsall House.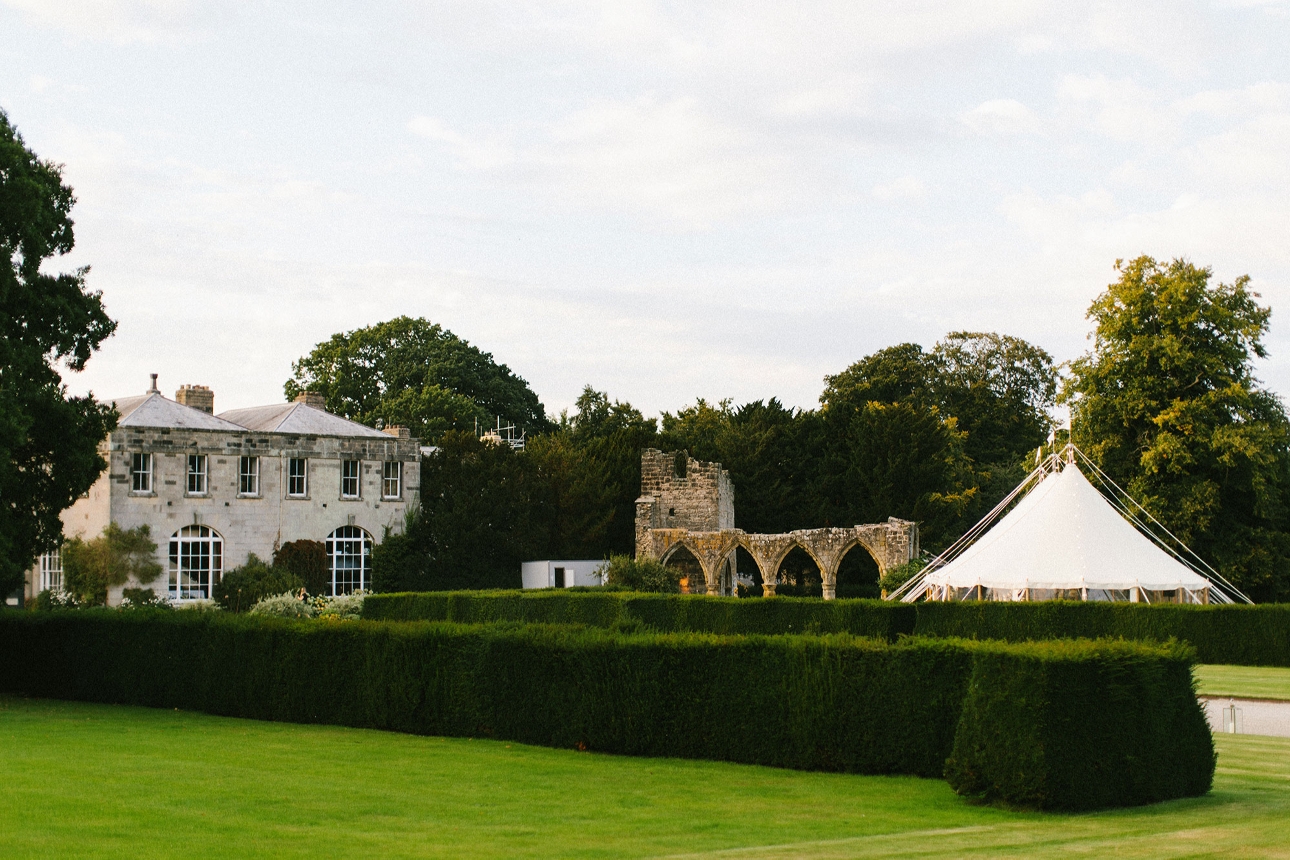 "Birdsall House is just perfection!" Tabs gushes. "There are not many stately homes that have been in the same family for centuries and so steeped in history. Positioned in an unspoilt part of north Yorkshire it's incredibly private but with so much space to play around with. Plus, owners Cara and James have created the perfect family home so it feels incredibly personal and truly relaxed." It was also important for the couple to be married in a church and with St. Marys on the grounds of the estate it was an obvious choice.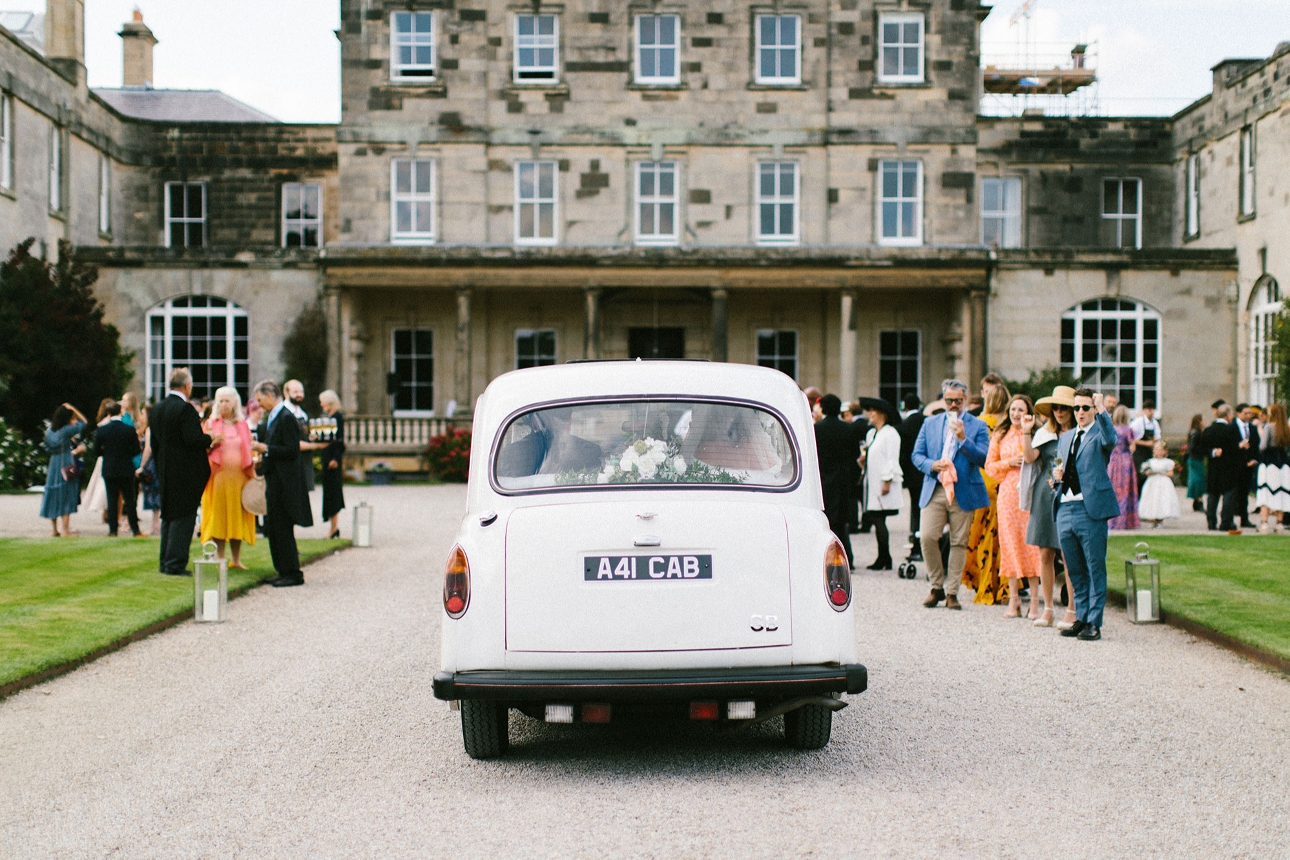 As a nod to the pair's memories of living in London, they chose a classic white taxi to transport them from the church to the grounds. "It seemed a bit ridiculous having a car to drive me five minutes from the house to the church and back again but as we left the church the driver suggested going for a 10-minute drive to allow everyone to get back to the house and for us to catch our breath. My goodness – what an incredible drive that was. Just us as newly married husband and wife – with a glass of fizz in hand! We drove through my parents' village and everyone at the pub was waving and cheering. Such a lovely moment!"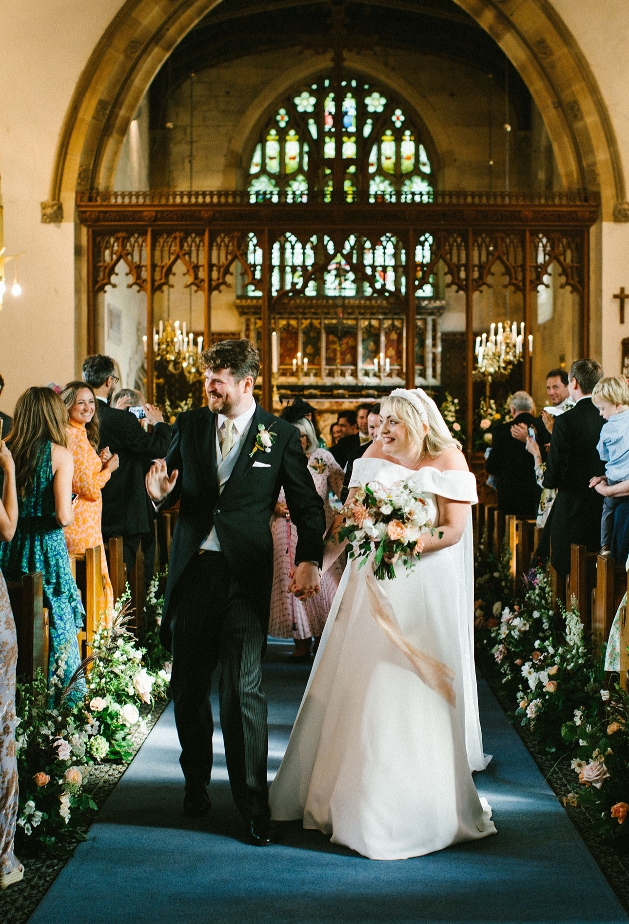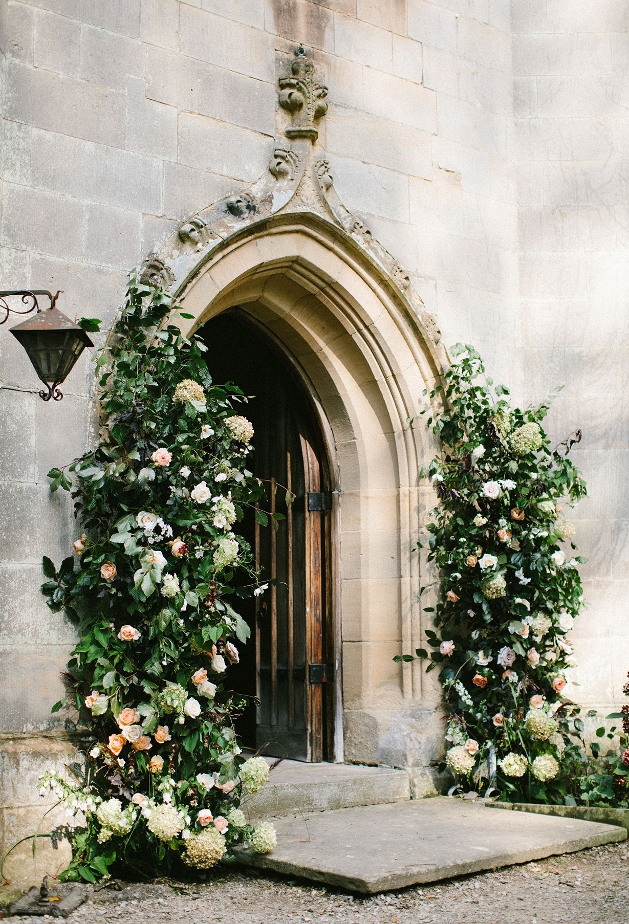 Food was a part of the day the newlyweds wanted to be remembered. "Tom Coe at Coe Catering comes highly recommended not just from the Birdsall team but across north Yorkshire. We really wanted a dish we had in Provence as a starter which was gazpacho with basil sorbet – simple flavours but delicious! Often you go to a wedding and the food isn't memorable but so many people have spoken about the food after saying how amazing it was. The next day I noticed that two friends even text me during the meal with a picture of their fillet steak saying how incredible it was!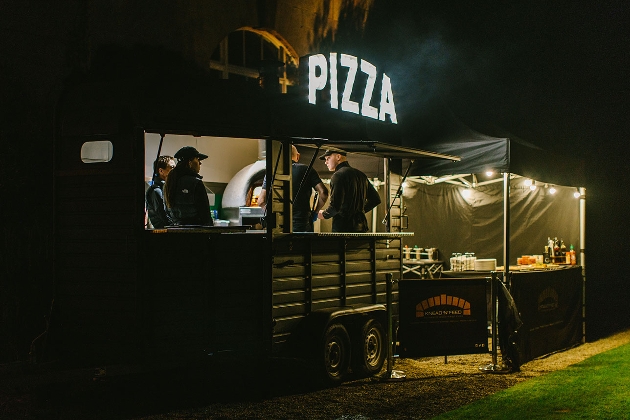 "We all know that after an hour or two of dancing, people get hungry so we had Knead and Feed pizza guys come and serve unlimited pizza until the early hours. It was so good I had a cold slice the next morning!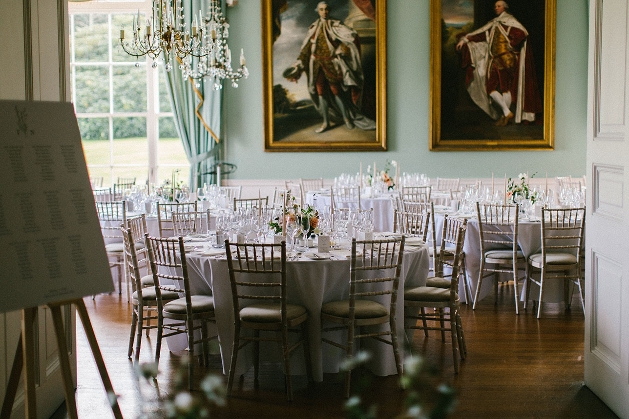 "We weren't going to do favours but then I went on gardening leave between jobs and found I had some time on my hands. Nick and I love going out for food and drinks so we created a mini Good Pub Guide – from the Three Chimneys in Skye to The Wiverton Bell in North Norfolk – we covered the breadth of the UK. Our tables were named after the pubs featured in our wedding favours and were held up by a wine cork to carry on the theme."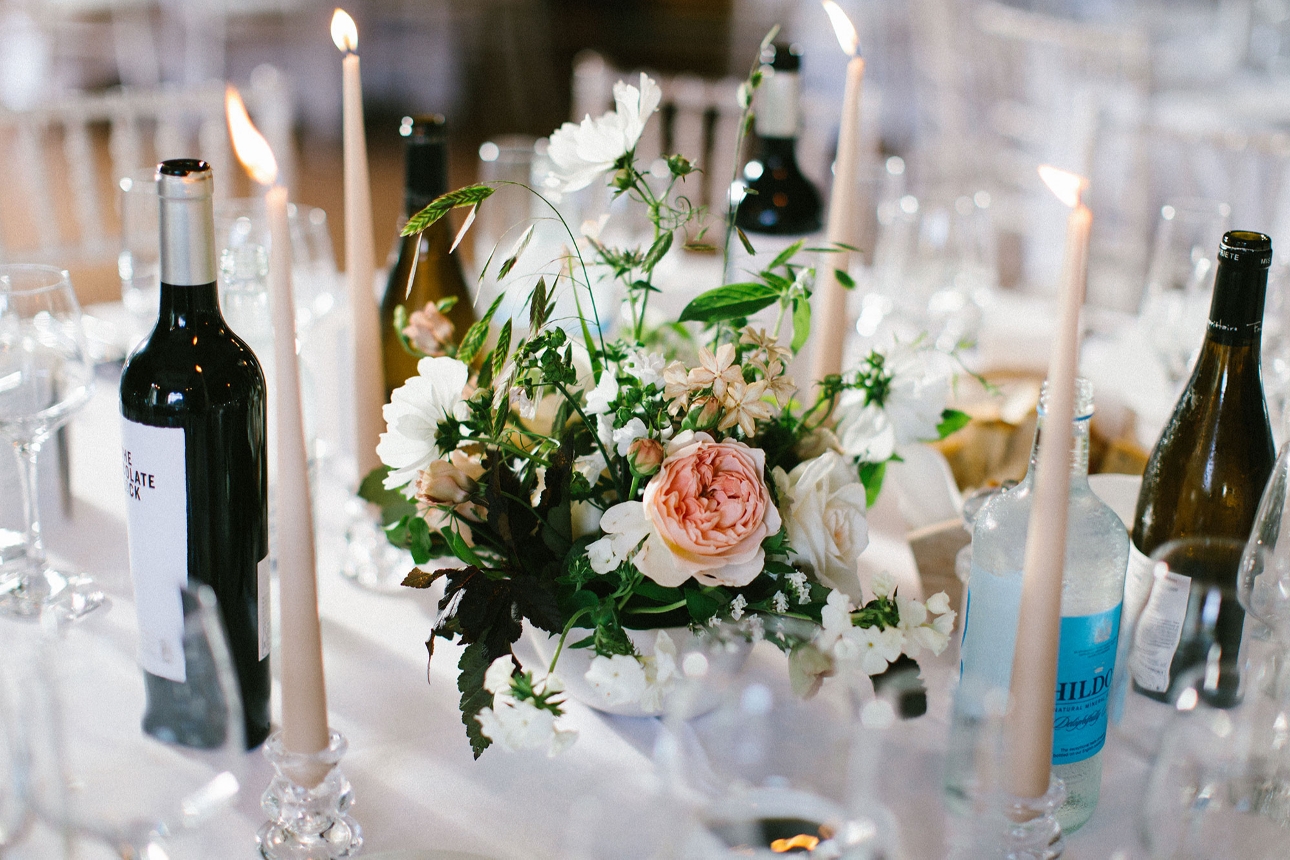 The table was finished off with a fantastic bowl of flowers spilling out over the table from florist, Lucy and her amazing team, along with some tall tapered candles.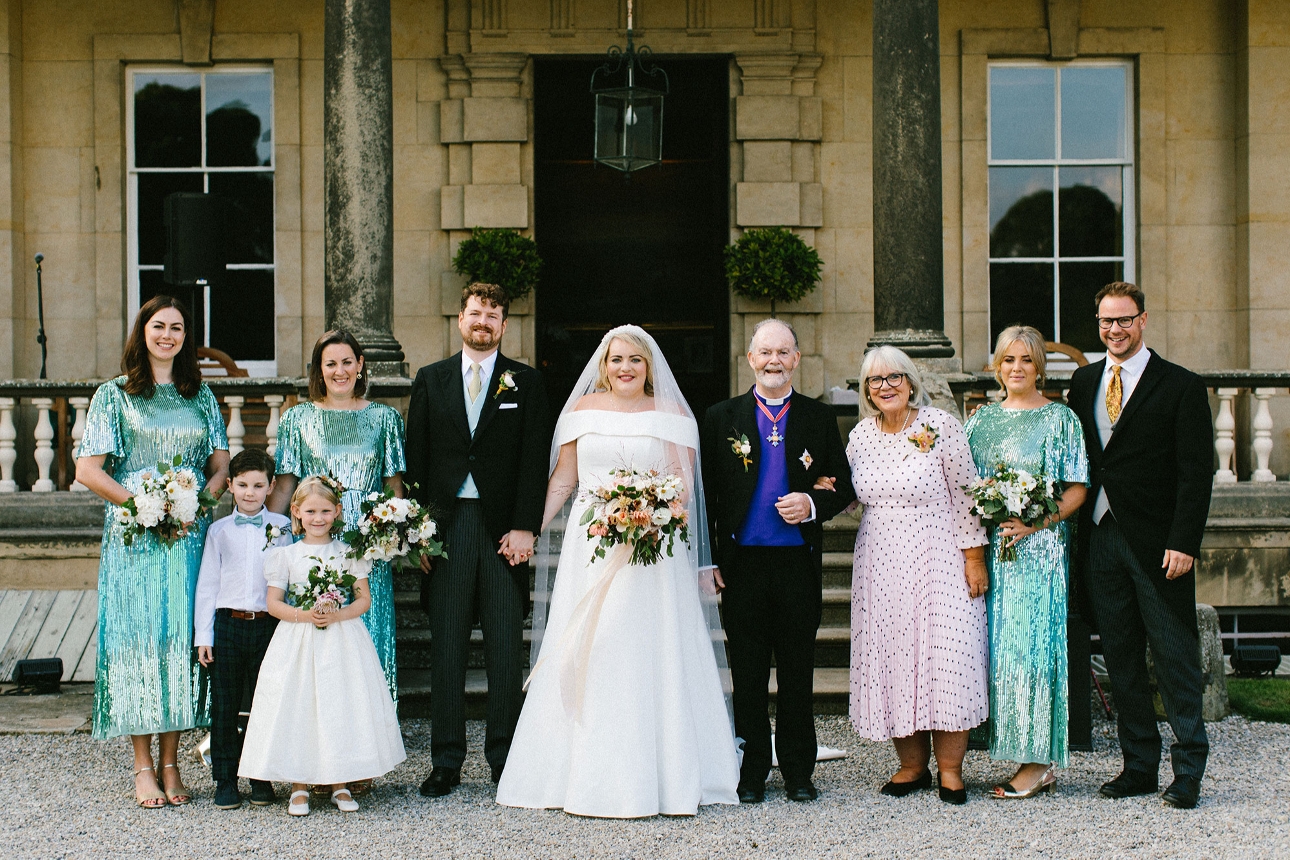 Being a lady that knows exactly what she wants, Tabs tried on one dress and one dress only. She explains, "I've always known what I like and what I don't. I'm proud to say that I get that from my mum. I suppose being a bride in my mid '30s I know myself and my body. I'm a size 16-18 and one thing I'd love to see change is the sample sizes - why should I have to squeeze myself into a size 10? Surely, they should have two sample sizes, a 10 and maybe a 16? I also bought an embellished dress from Never Fully Dressed which I changed in to for the partying teamed with a pair of Veja trainers and my classic red Nars lippy. Nothing was going to stop me from dancing all night!"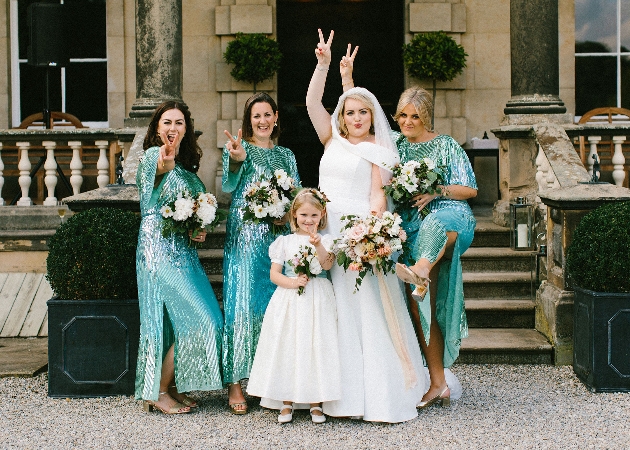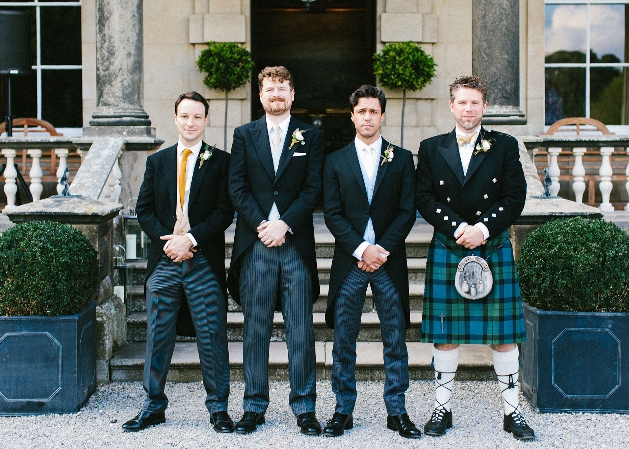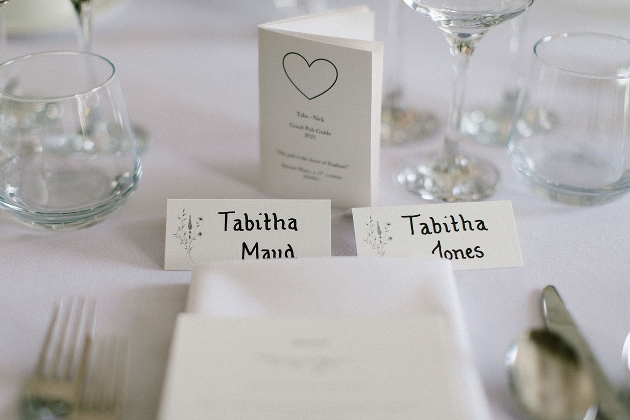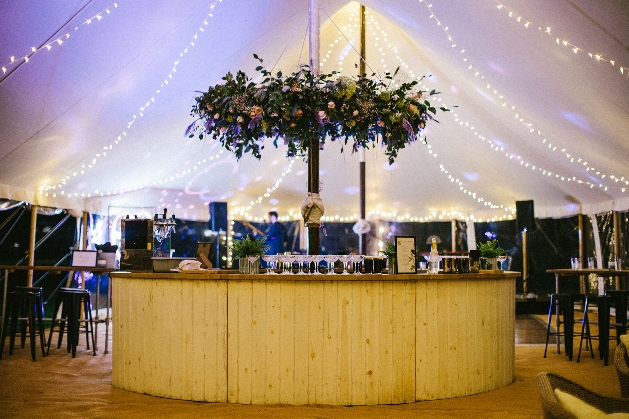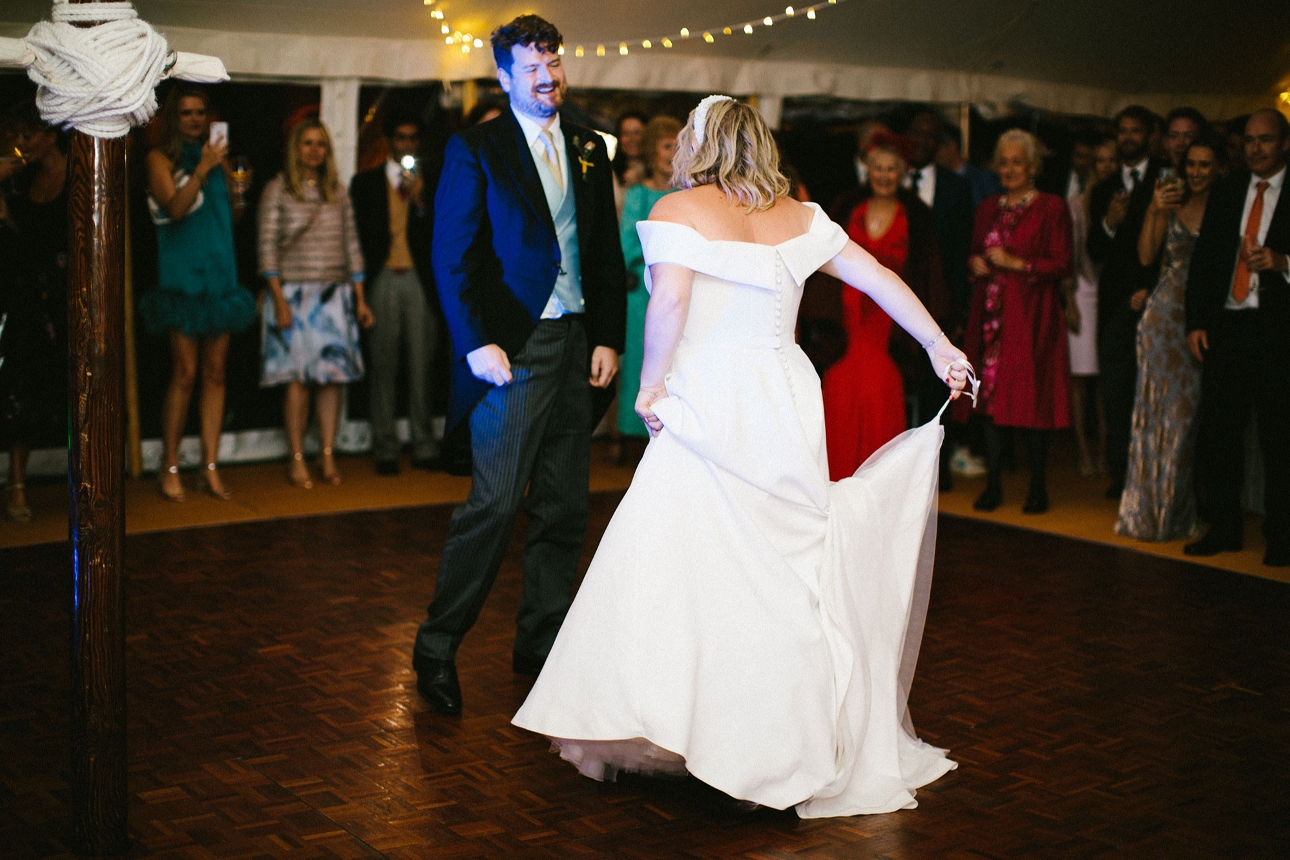 During the wedding reception the newlyweds had chosen Kate Lister and her partner Alex Hill (both of Foo Birds) to perform whilst the guests sipped champagne in the sunshine. "Her voice is like caramel and they sang some fantastic soul, jazz and pop songs." Tabs continues, "Then in the evening we had Flynn and Tonics who totally got the party started, they even let me perform an impromptu version of Say You'll Be There by the Spice Girls. Once they had finished their set they then DJ'd for us. Our first dance was I've got you Babe by Etta James."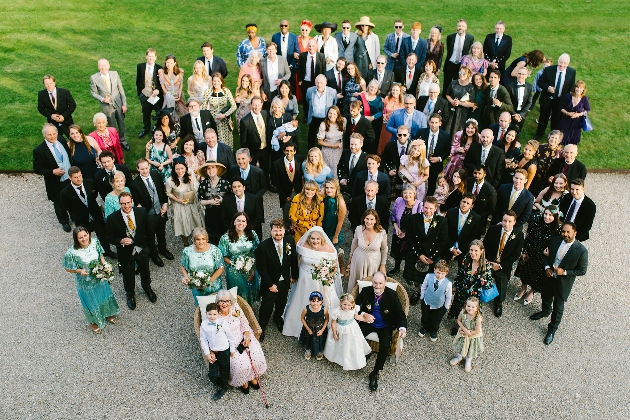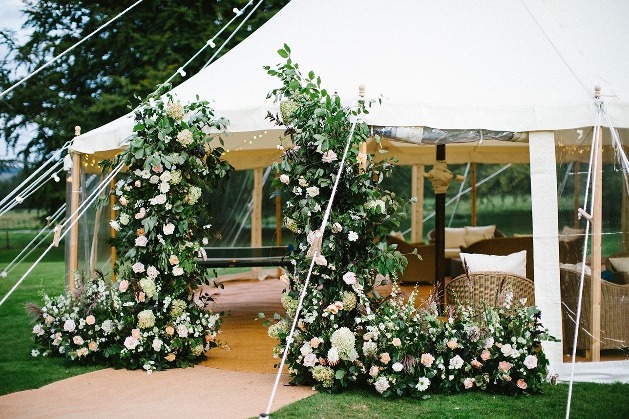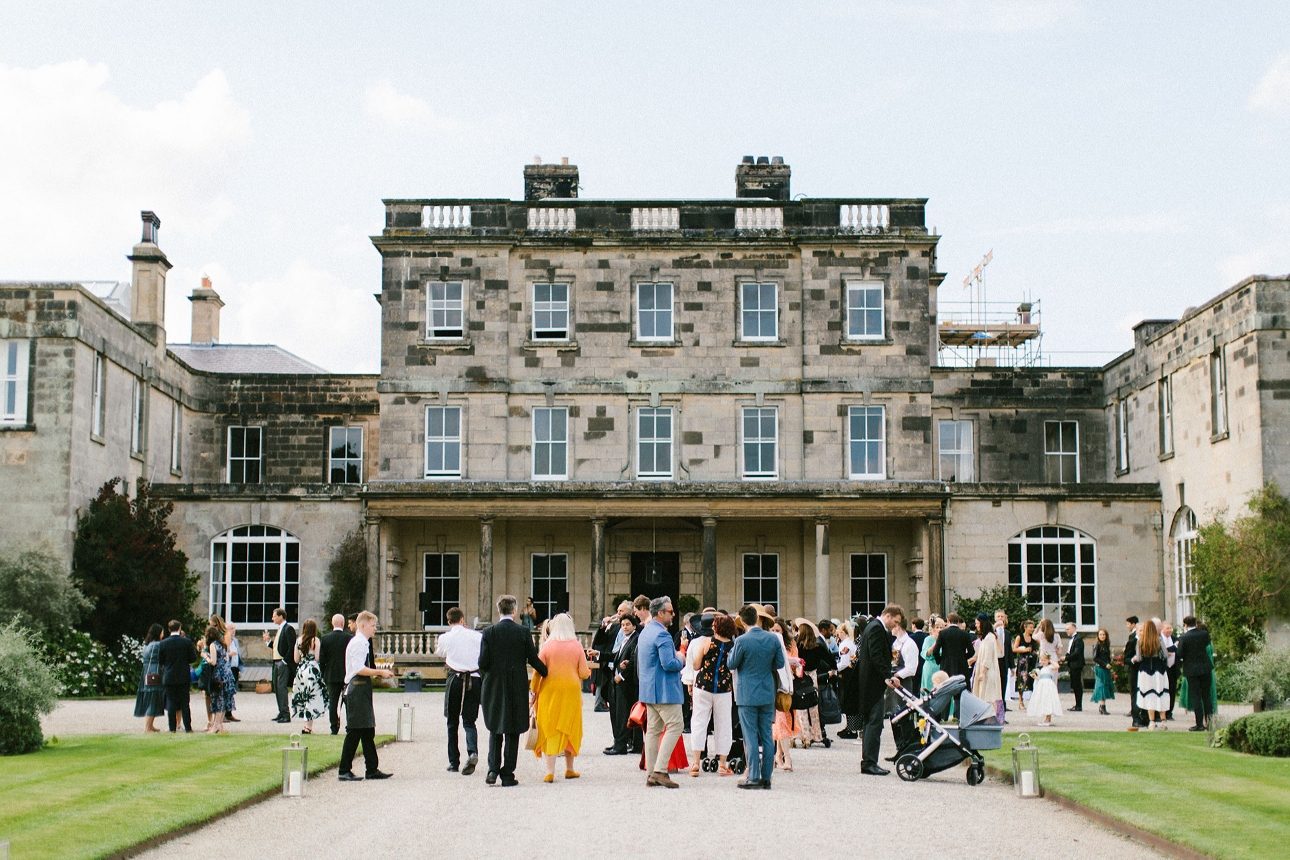 "I felt incredibly relaxed and ready to get down the aisle!" Tabs remembers." I suppose having dated for a decade and being older, we knew what we were doing. I also naturally love being centre of attention so I suppose this was a perfect day for me! Nick was incredibly cool, calm and collected.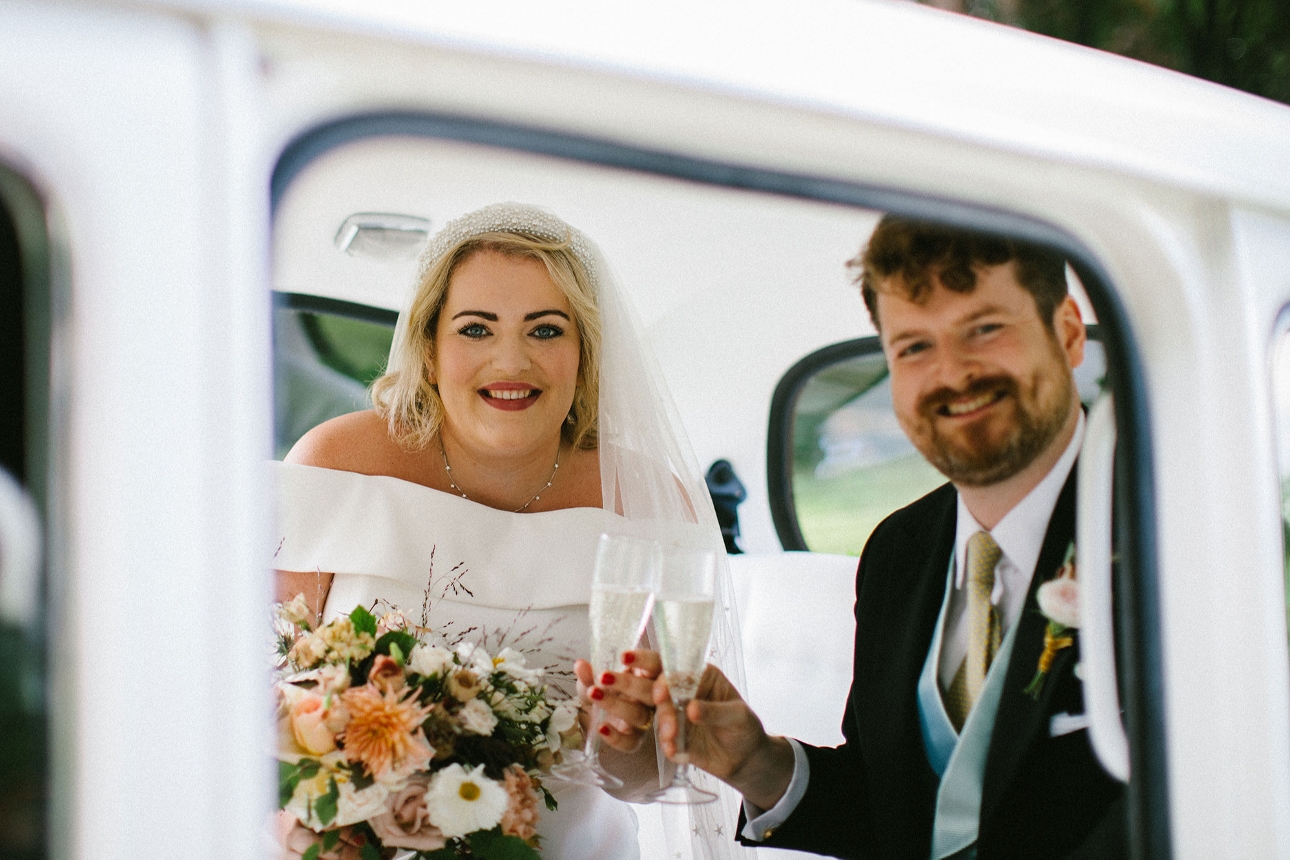 "My Dad is a Bishop and we asked him to take the service. It made it unbelievably personal from the vows to the address, he just smashed it. Dad also took me down the aisle, which meant changing from his Father of the Bride frock coat to his cassock during the first hymn. Luckily my brother-in-law, sister and friend were doing the music so we just had to have another chorus at the end to give him time to get back from the vestry! It was a right family affair and everyone said how special it felt."
Tabs and Nick's contact book