Caroline and George Rispin met at work in York back in 2014. Caroline tells us, "I loved George's energy and humour – he made me laugh like nobody else and I remember one afternoon we were working together and were so engrossed in conversation that we just didn't answer the phones! Everybody loves George when they meet him, he's so fun to be around and he's incredibly caring."
"We're both very ambitious and are attracted to each other's independent drive. We have such a strong bond because we share the same values – our relationship has been built upon trust, honesty, transparency, and an unwavering love and respect for one another." Just like their high expectations in life they also had the same expectations in another area as Caroline jokes! "We were also looking for a partner with height! I'm 5ft 11, so I needed a tall man and he's 6ft 5 – so I'll be forever looking up to him!"

In September 2019, at Hipping Hall Boutique Hotel, George popped the question. Caroline recalls, "It was the most special and shocking moment of my life, I had an out of body experience, I didn't quite know what to do." The next thing to do was plan a wedding! So, planning preparations began and on July 31st, 2021 the pair got married at The Grand Hotel & Spa, York. The party continued on into the night at The Larder Club in York for the couple's evening reception.
Here, Caroline tells us more about their day...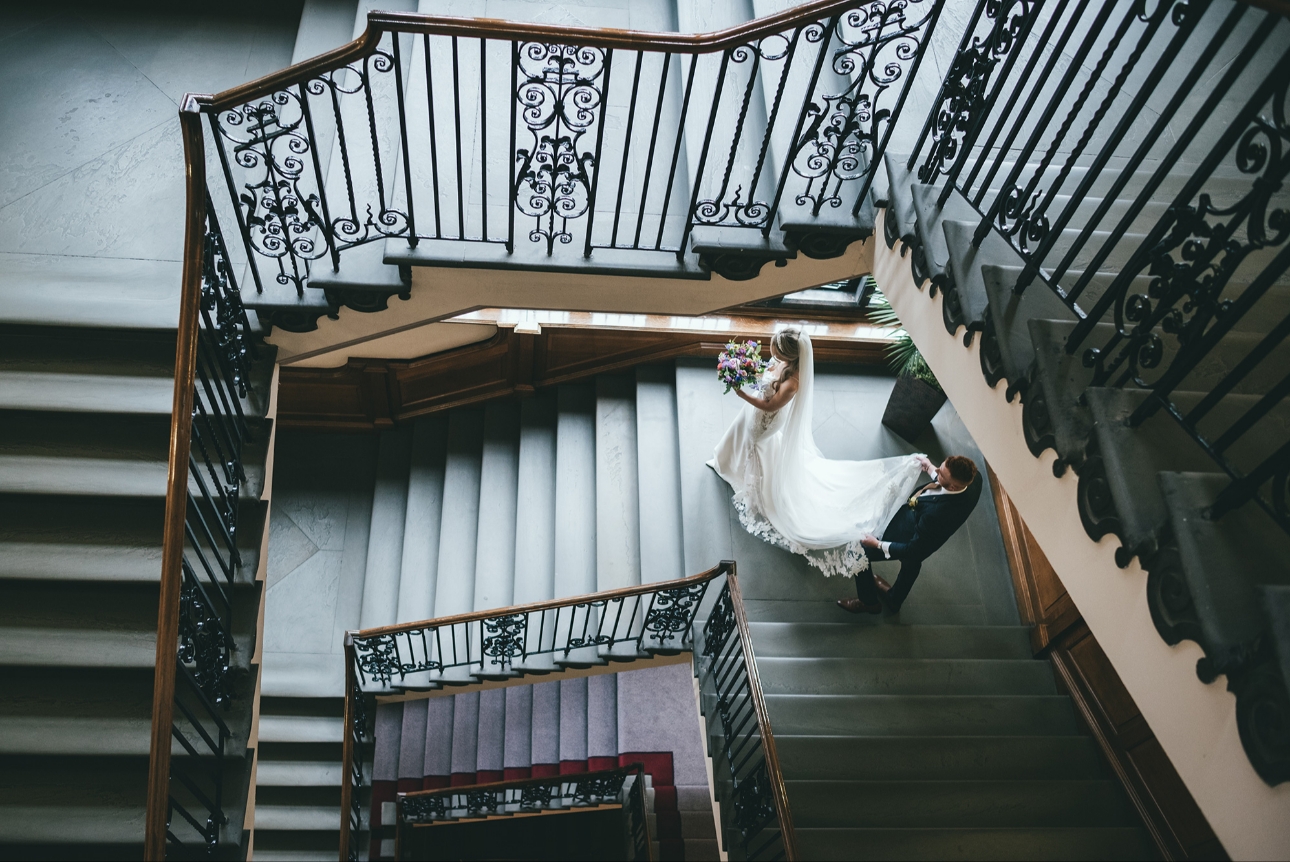 The happy couple both knew immediately that they wanted to get married in York, a fond place they lived and shared so many memories. After viewing three venues, they chose The Grand Hotel & Spa. Caroline describes, "It's a beautiful building, you can't miss it and everywhere you look is full of character and charm. I absolutely loved the boardroom which is where we got married with the chandeliers and big fireplaces and the views of York – you don't need to do too much decorating because it's already impressive enough as it is. It was exactly what we wanted and we knew that they're experienced in organising weddings so we'd be in very good hands!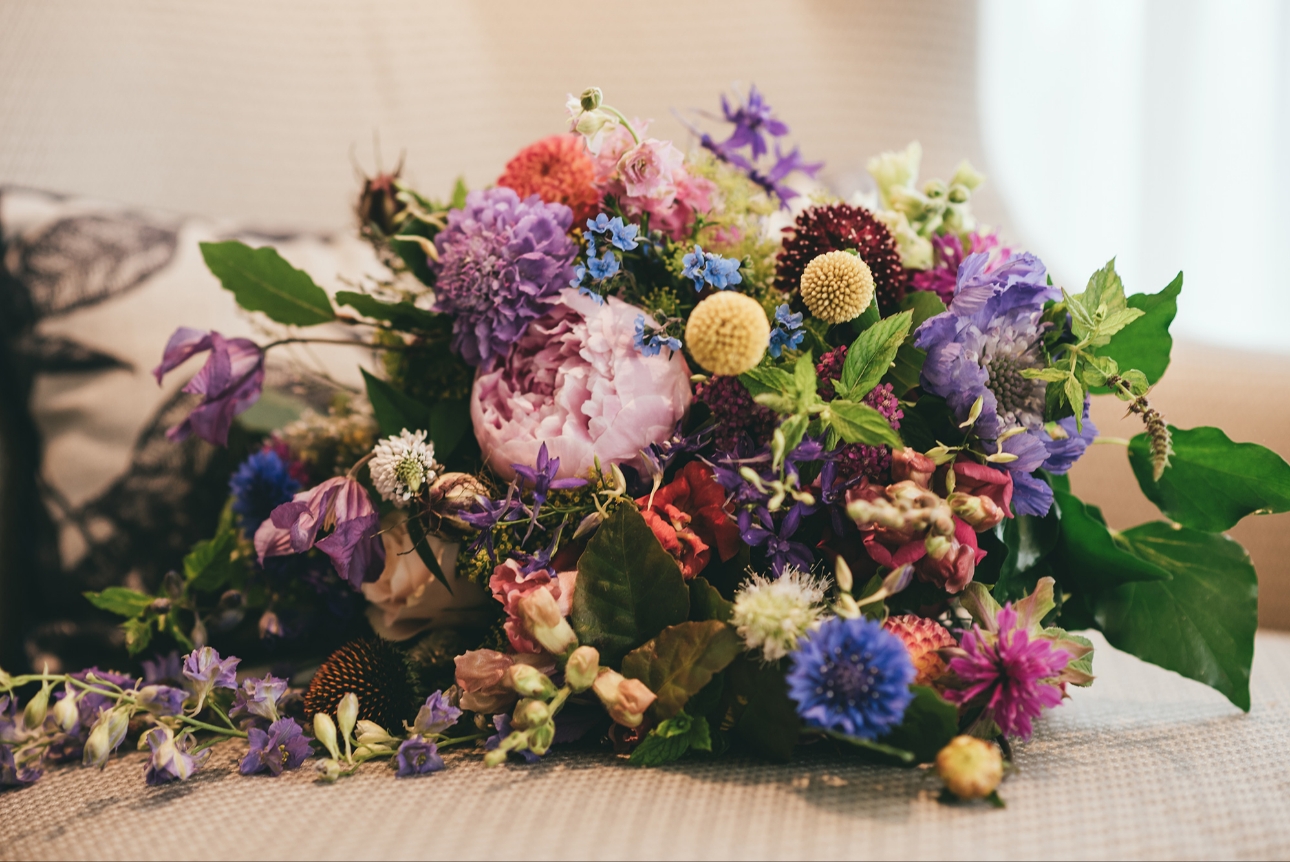 Bright and bold was the order of the day when it came to décor. "It reflects who we are and how we dress," Caroline explains. "We both like to wear bright and bold colours! We spoke to our incredible florist, Laura and basically just said we want as much colour as possible with a mix of different types of flowers – we don't just want roses – give us whatever you can get and experiment! We still can't get over how absolutely stunning the flowers were. We had jars of flowers as the centrepieces of our tables with candelabras which perfectly complemented the old charm of the room. We also had flowers on the fireplaces and candles for a romantic ambience. In my eyes the biggest advantage of having vivid, bright coloured flowers is how much they contrast to your wedding dress – they stand out so much more.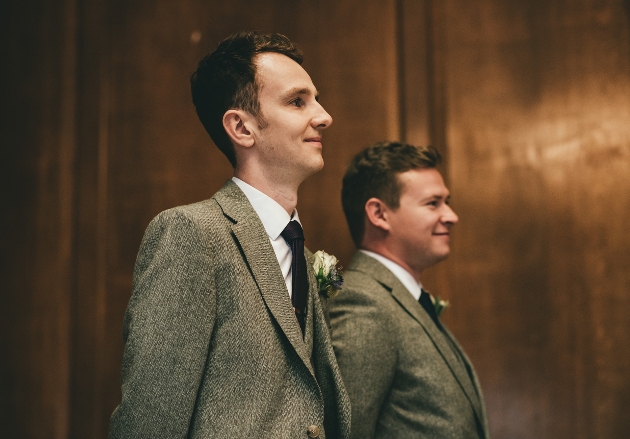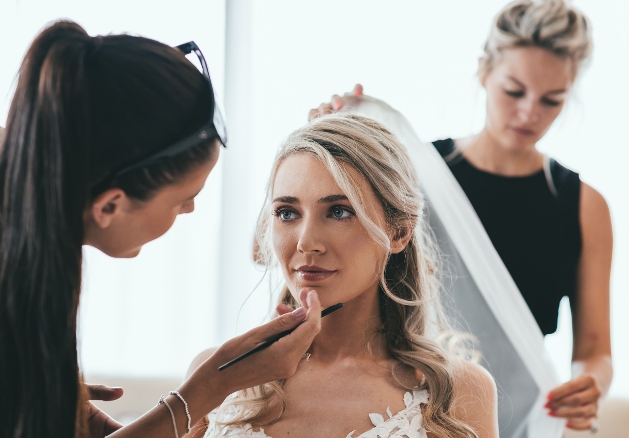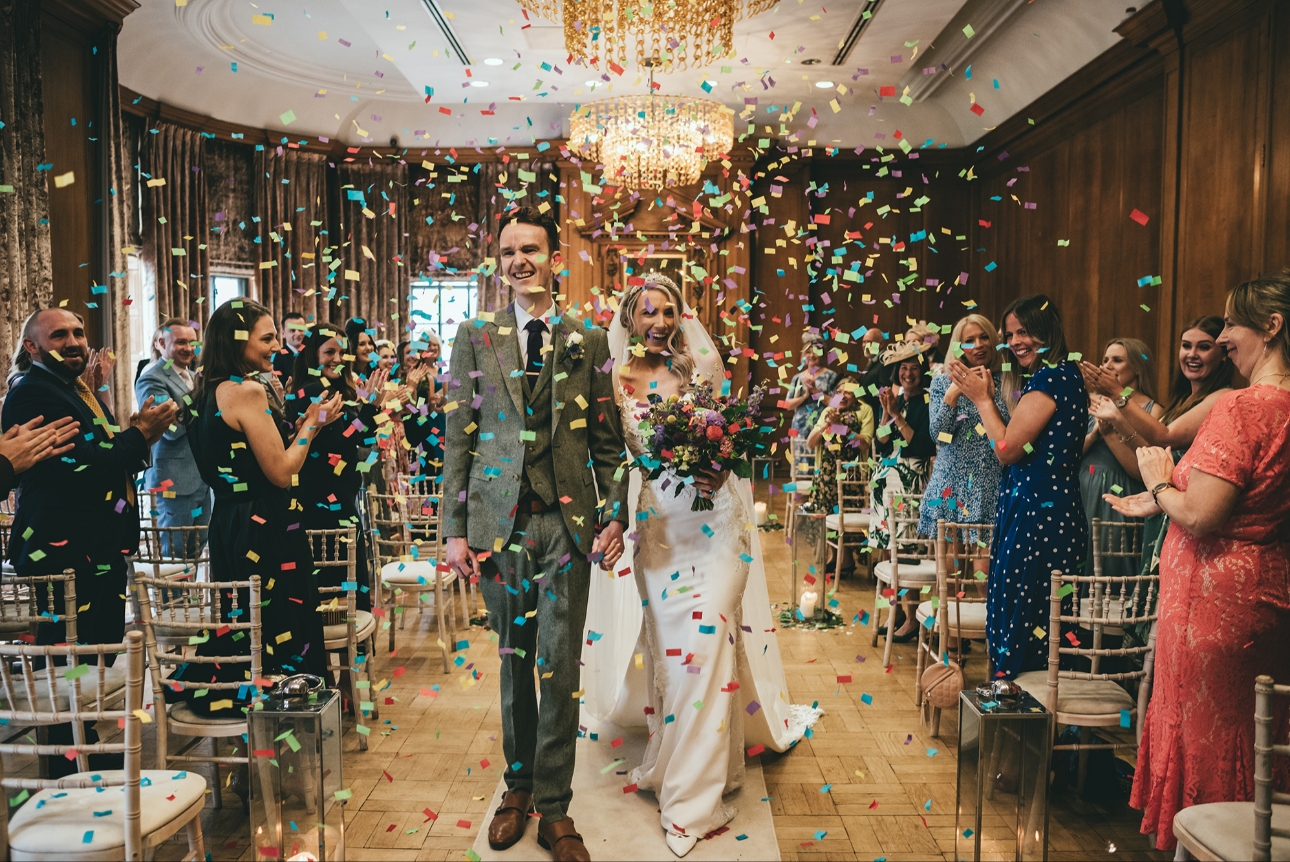 Caroline and George also purchased some coloured confetti cannons which the groomsmen and Man of Honour fired as they were walking back down the aisle which made for fantastic photos!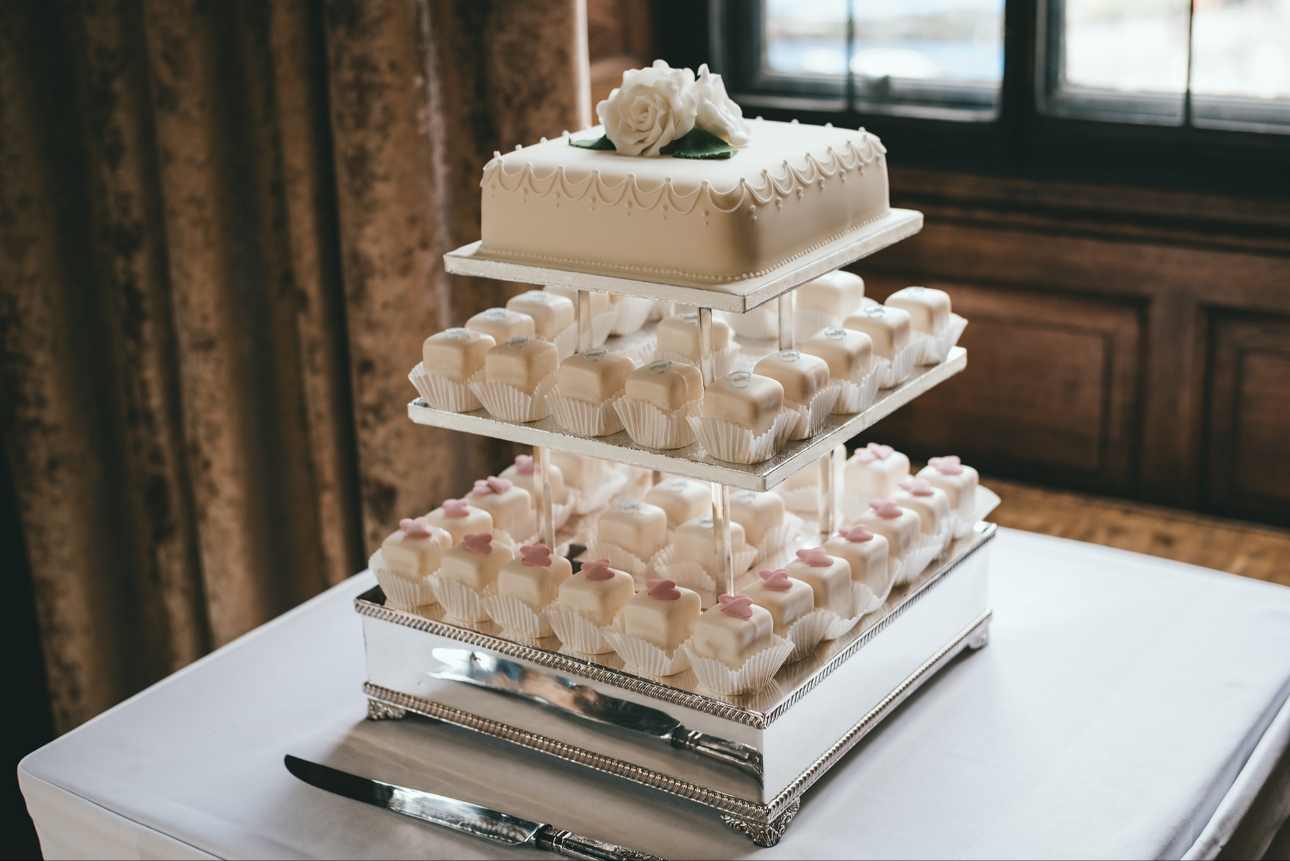 Infamous Betty's had to play a part in the big day. "We absolutely love Betty's and have so many fond memories of that place. We had the amazing Fondant Fancy three-tiered wedding cake with personalised designs – this was such a hit with all our guests, they could all have a fondant fancy instead of a messy big slice of cake! Our favours were gold Betty's guinea coins which looked lovely on our tables. George used to sell balloons as a child, so we wanted to incorporate them into our date – we had some massive white balloons with green foliage from a wonderful local supplier in Copmanthorpe, The Little Balloon Company, and they were dotted around the venue too."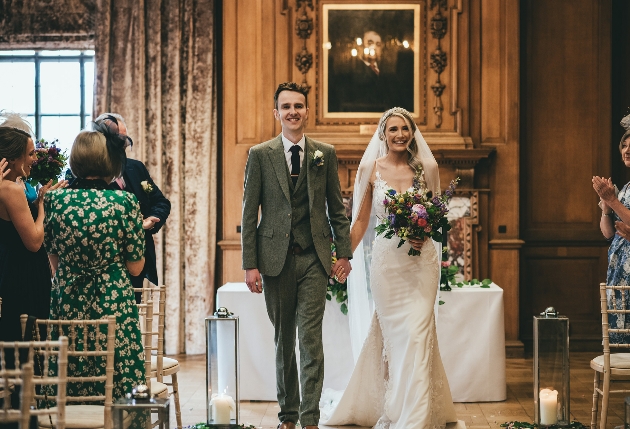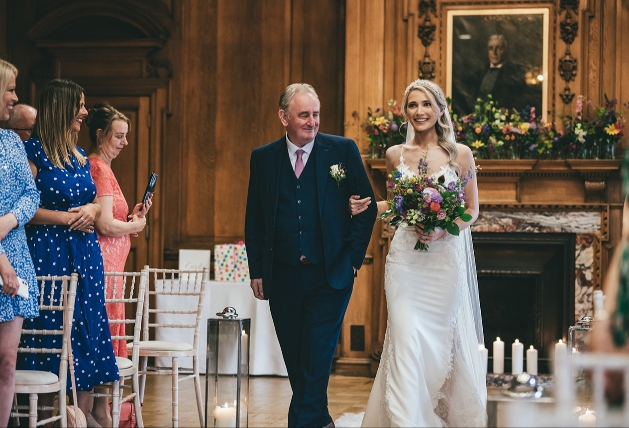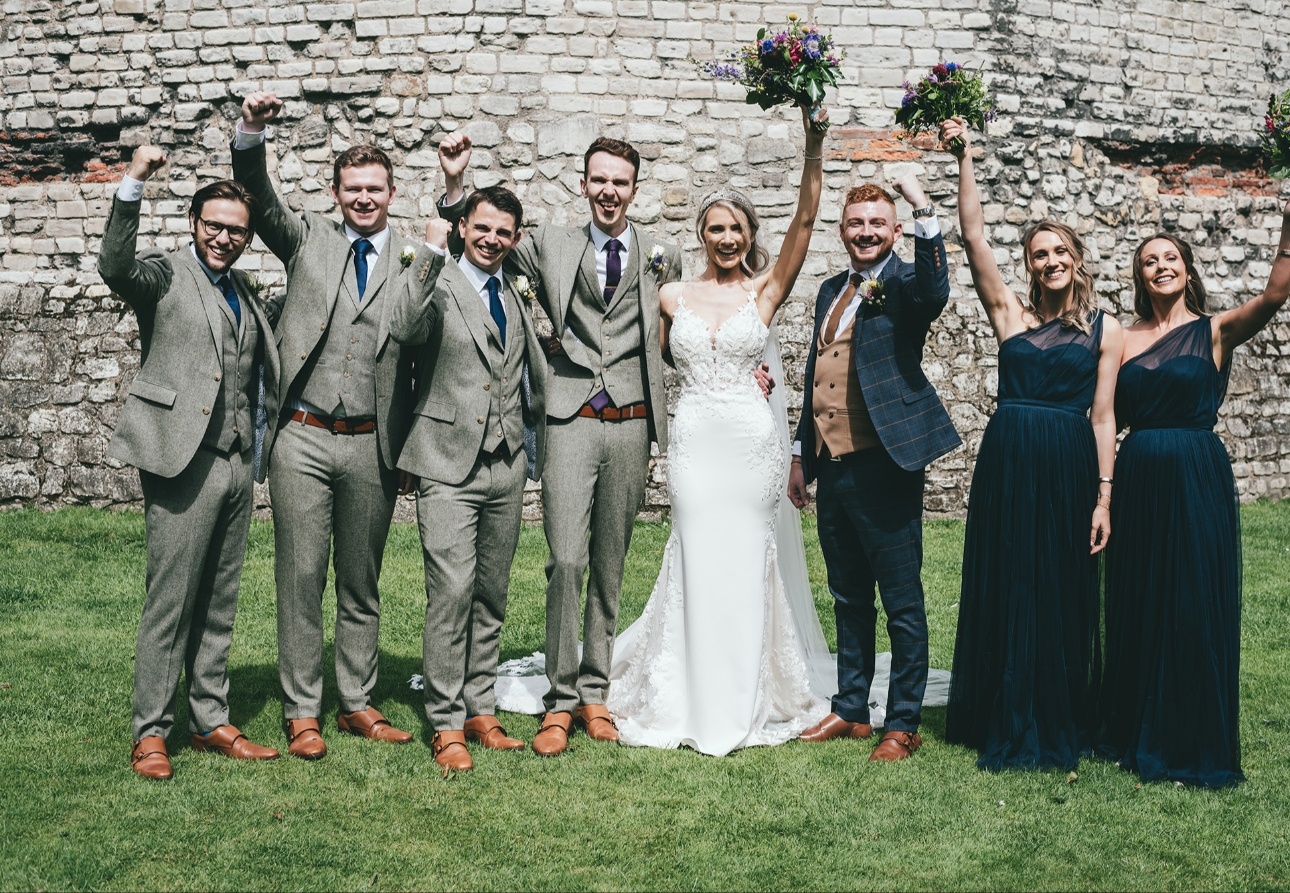 Caroline chose her Enzoani Nigella gown from the Scarlet Poppy Bridal Boutique. She remembers, "When I tried this one on, I fell in love with all the small beautiful intricate details such as the buttons all down the back of the dress, the lace train, the side see-through lace panels, the lace at the front with some sparkle and the delicate straps – it's elegant yet also sexy.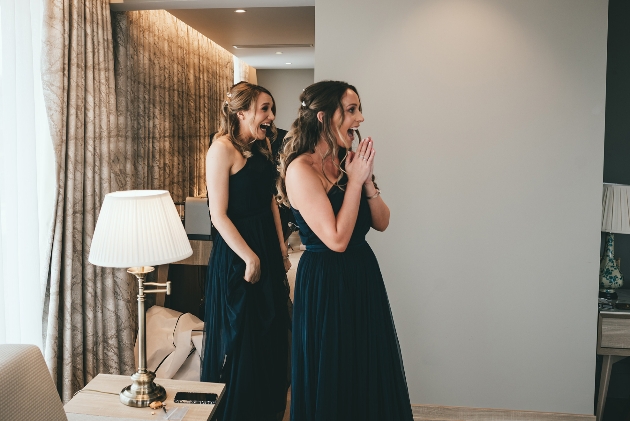 George and his groomsmen wore the same suit from Moss Bros, a green tweed three-piece.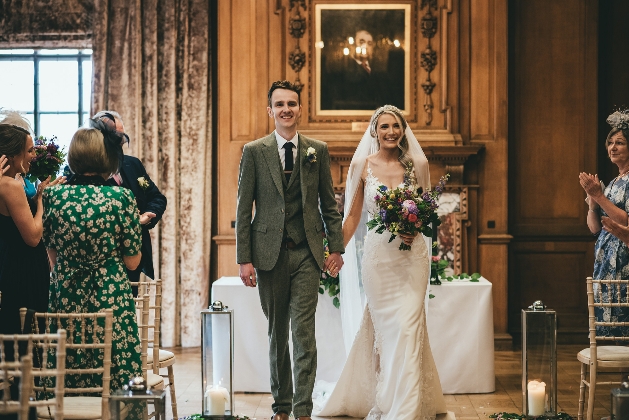 Caroline's two bridesmaids wore navy blue chiffon dresses and her Man of Honour wore a complementing suit.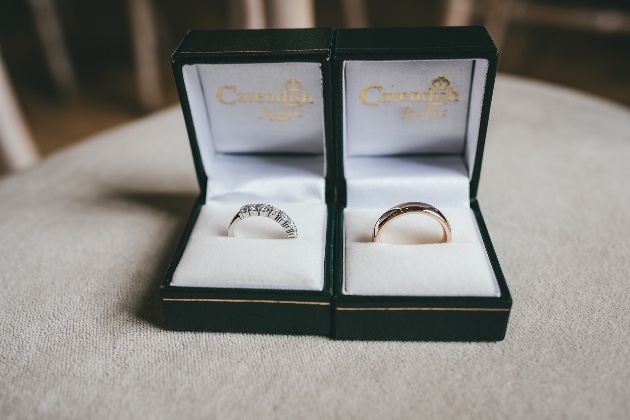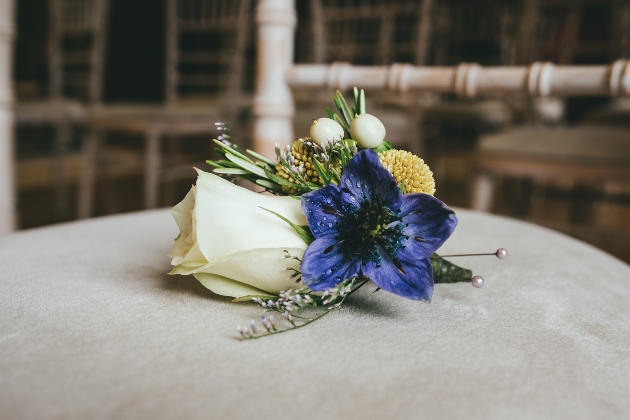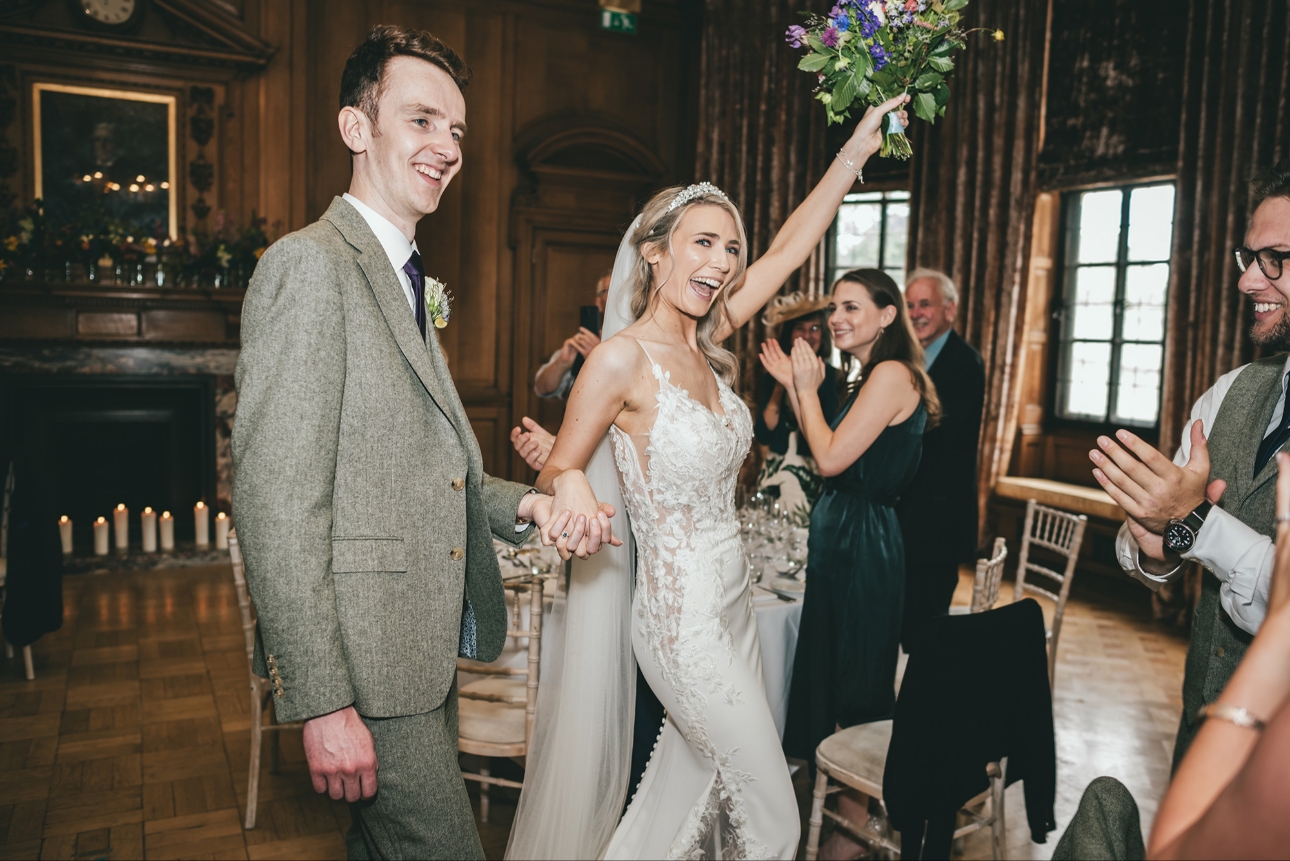 Caroline and George chose a string quartet to give the perfect ambience to the day. Caroline tells us, "The quartet for the ceremony was extra special because the celloist was one of George's good friends who offered to play for us. They were absolutely incredible and when I heard them as I was walking towards the boardroom, I couldn't contain my emotions. Because I was so late walking down the aisle they did however have to improvise and play songs that they hadn't prepared for!"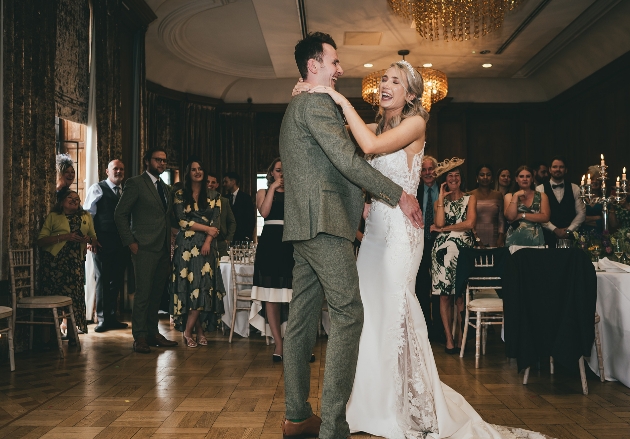 After the newlyweds first dance at The Grand, they said goodbye to family and along with all of their friends, went to The Larder Club in York for an evening reception. Caroline explains, "We wanted to have something separate with our friends so we could let our hair down and not be concerned about our terrible dancing in front of our parents! The Larder Club was the perfect evening venue for us, it was the first time they'd ever done a wedding reception the owners Jon, Laura and Rachel were so accommodating, they tailored the evening completely for us and turned their deli /cafe into a cosy evening event with photos of us and our friends in frames all around. Our amazing balloon supplier, Karen of the Little Balloon Company, even sourced us some balloons that perfectly matched the teal colour of the Larder Club."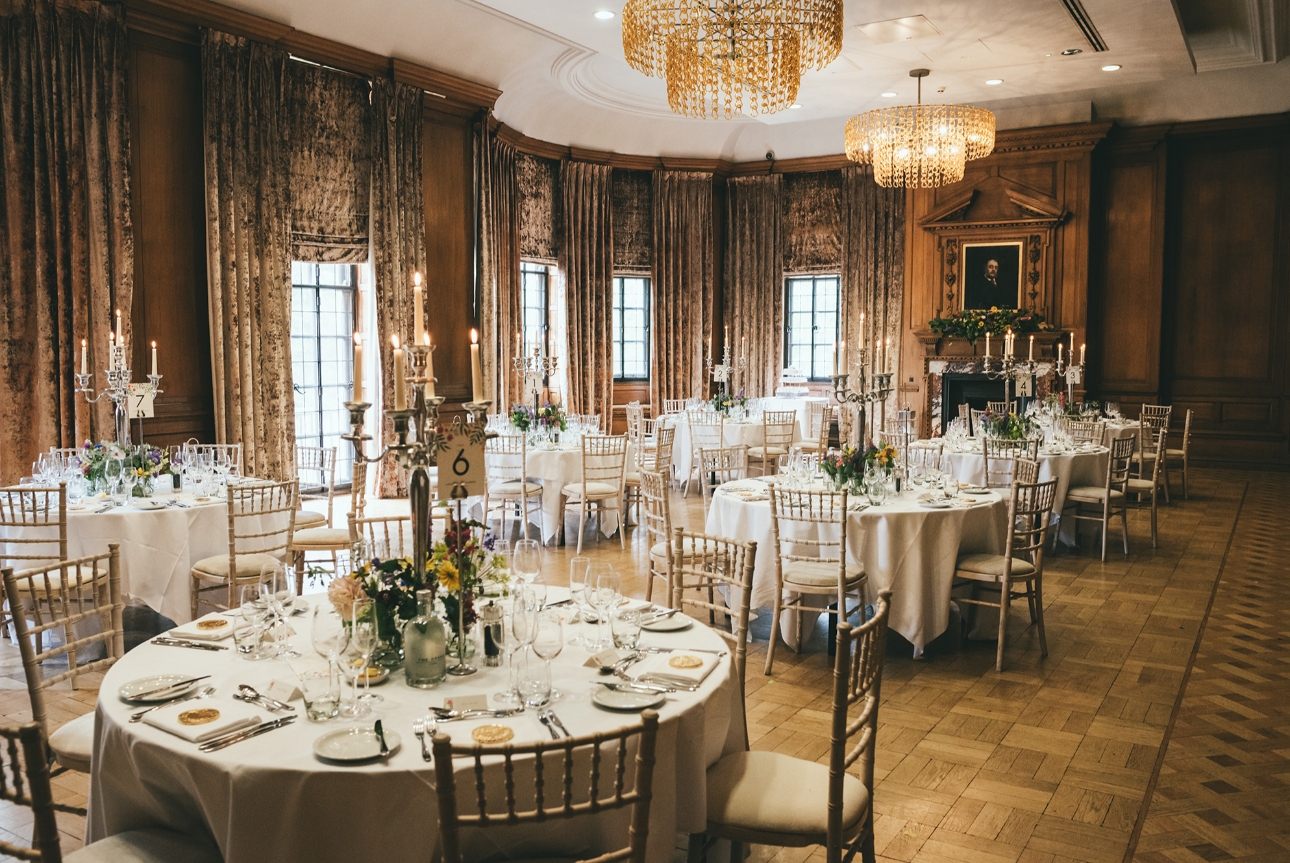 When asked how to describe the day, they both agree, "Nervous and excited sums it up! George had to buy himself a biscuit from a bakery to keep his sugar levels up! It was just the most surreal feeling waking up in the morning and knowing you're getting married to the love of your life in front of the people who you love the most.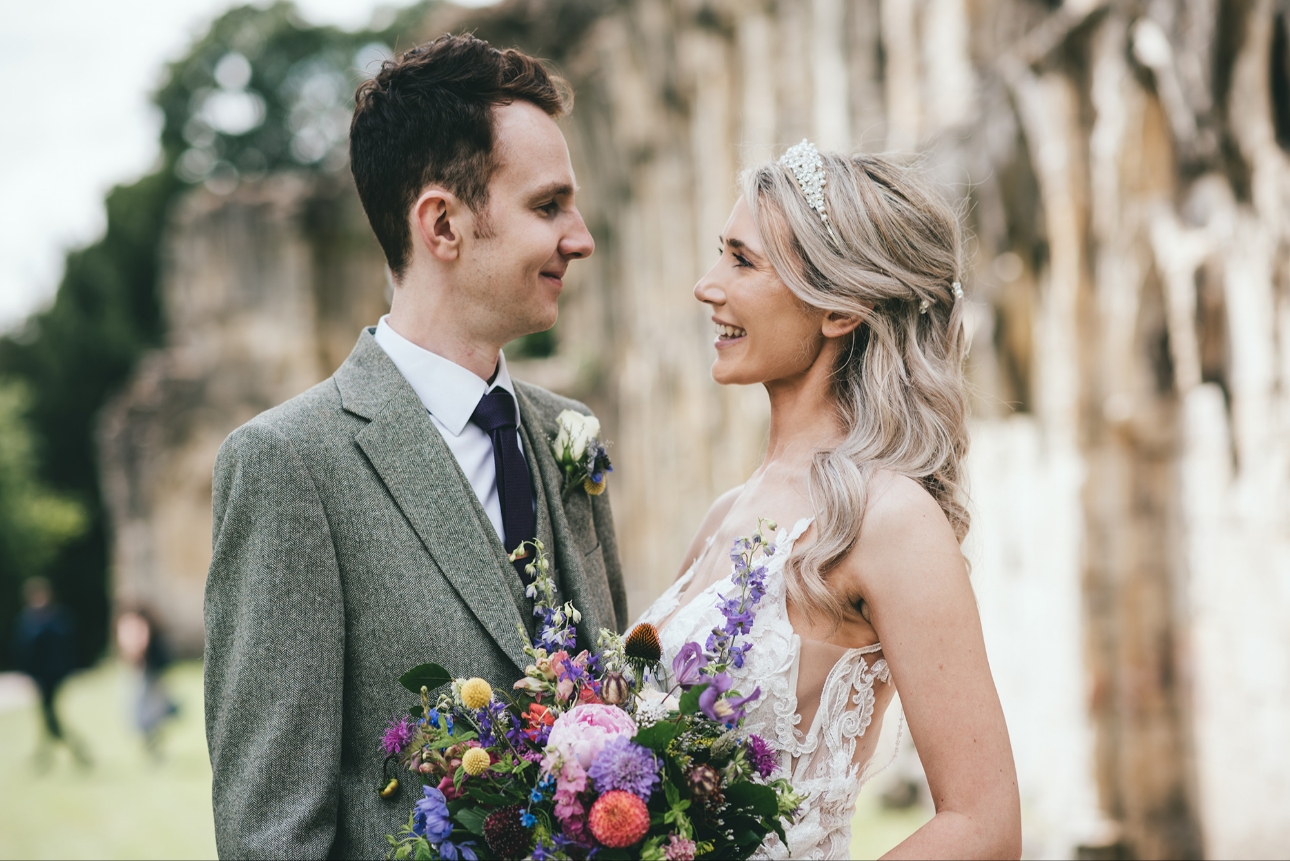 Caroline particularly loved the morning, getting ready with her three best friends and vividly recalls when one of her bridesmaids opened the door to my room and just screamed 'LETS GET YOU MARRIED!' This simply set the tone for the whole fun-filled day! Caroline reminisces about another magical moment, "Walking down the aisle with my Dad and the string quartet playing – it's a dream I've had since I was a young girl and I'm so incredibly thankful that I was able to do that although I definitely walked a lot quicker than what I had rehearsed with my Dad, I was practically dragging him down the aisle."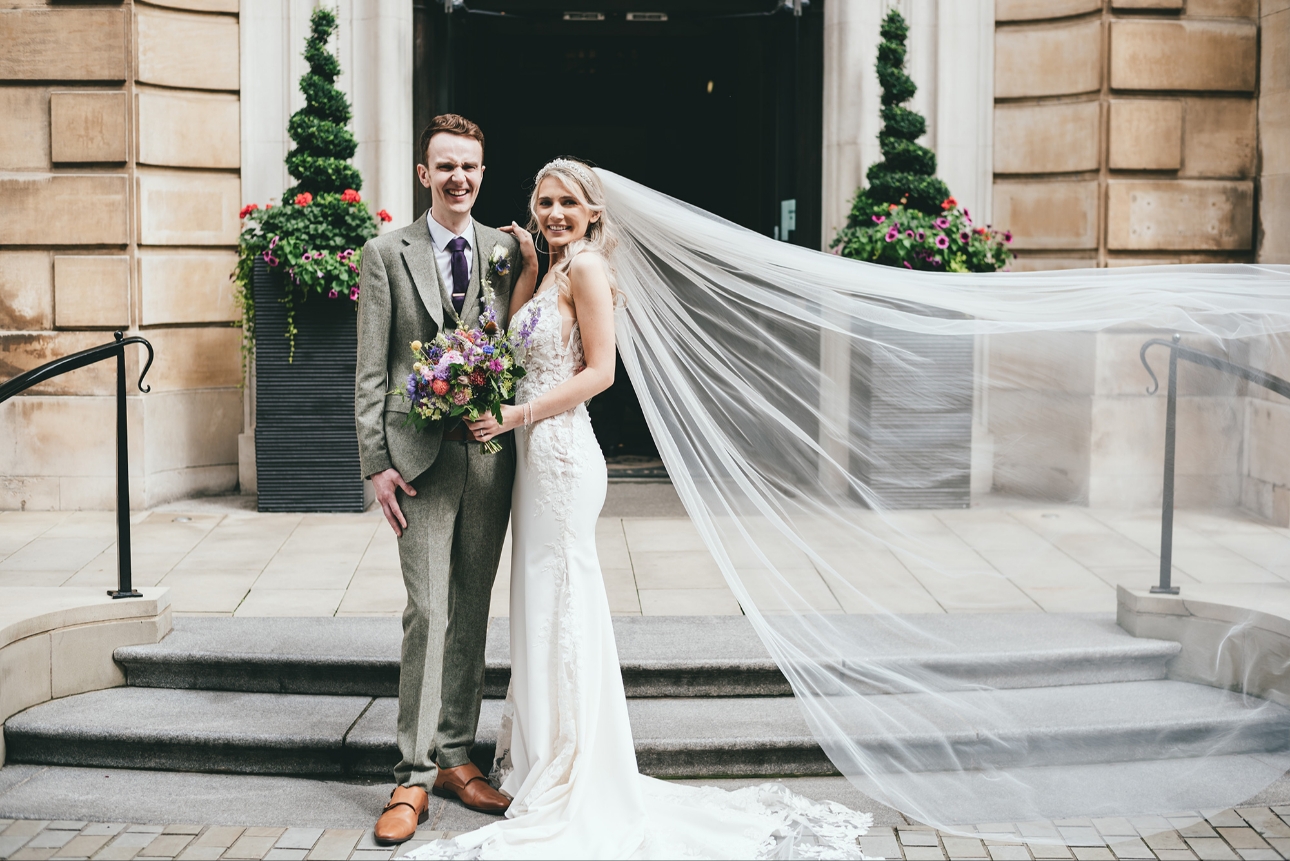 The pair had the day they'd dreamed of and know that it wouldn't have been possible without their wonderful suppliers to assist them before and during the day. "Honestly, we couldn't have asked for more genuine and talented people. Sam, our photographer, was incredible – there were moments I completely forgot where he was but he was always there taking the most incredible photos of us – photos that we'll look back on for the rest of our lives and remember how beautiful we once were!
Caroline and George's contact book