Both teachers, our newlyweds met when Rio interviewed Robbie for a teaching post at the school she works in. "At first, he thought I was quite intimidating," Rio laughs. "We grew very close as work colleagues, before deciding to give our relationship a go during the summer holidays. We soon realised it was exactly what we both wanted."

It was on a magical trip to New York at Christmas that Robbie popped the question in the most romantic of ways. "While walking through Central Park, I heard a guitarist playing my favourite song: Dreams by Gabrielle," Rio says. "I noticed rose petals and framed pictures of us next to where the guitarist was playing – I then realised Robbie might be about to propose. He got down on one knee and asked me to marry him; it was a complete surprise and one of the most perfect moments in my life!" After clarifying that Robbie had asked her dad (he had!), Rio said "Yes!"
After a year of lockdowns, restrictions and guidelines, Rio and Robbie managed to tie the knot on 29th December, 2020, with 15 guests – just before the UK went into its third lockdown. We caught up with Rio to find out how they planned their beautiful winter wedding at Sneaton Castle…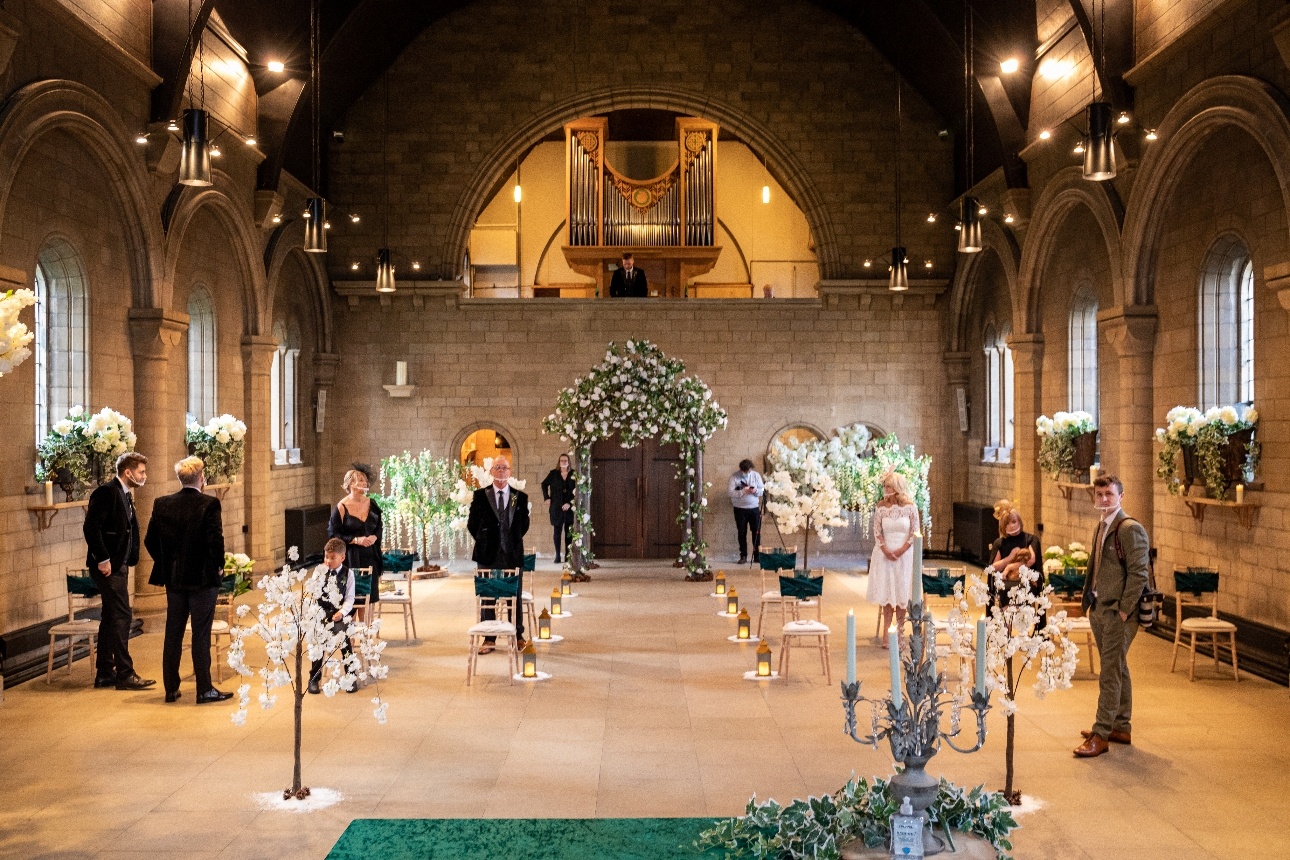 Rio fell in love with Sneaton Castle in Whitby as soon as she walked into the chapel. "My sister said we couldn't find a venue better suited to me if we tried!" Rio smiles. The intimate, cosy atmosphere was everything the couple could have wished for. "I loved that everything was neutral and white," Rio says. "I knew instantly that this was the aisle I wanted to walk down to get married."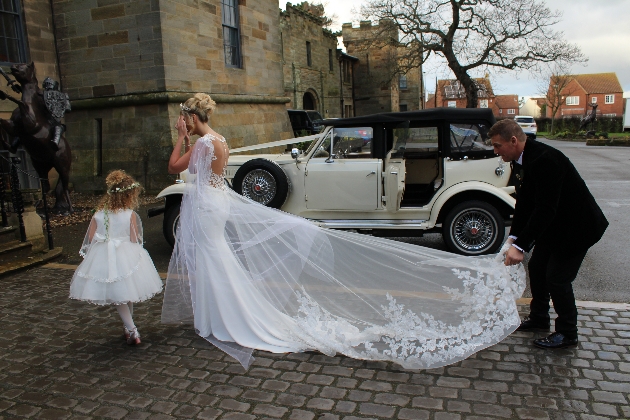 The couple chose a traditional Christmassy palette of gold and green to fit with the season. "The venue provided most of the flowers and decorations," the bride says. "I loved the floral arch and blossom trees that were already scattered around the chapel. Forever to Hold provided a chunky Christmas garland to fit in with our theme." The festive feel ran throughout the styling, with gold lanterns and artificial snow used to adorn the aisle and a rich green velvet tablecloth, which matched the bridesmaids' dresses, was used for the ceremony table. The pair also treated themselves to a luxury car from Whitby Wedding Cars for transport on the day.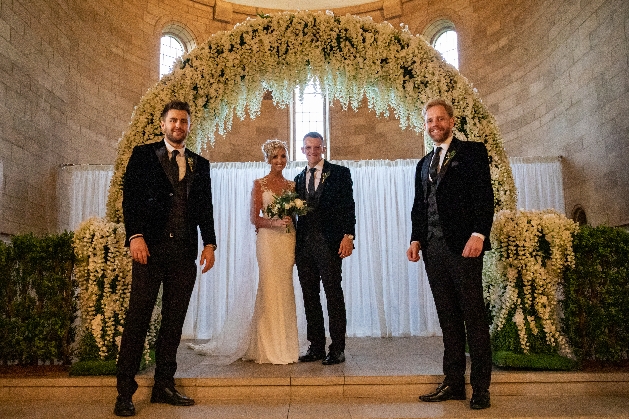 After the ceremony, the pair's 15 closest friends and family created a walkway for the newlyweds and threw artificial snow over them as confetti. "It was at that moment that I realised I was now Mrs Farrier," Rio smiles. Restrictions meant that a reception wasn't possible, so guests made their way home while the newlyweds travelled to the Lake District for a minimoon. "On the way we stopped for a McDonalds!" Rio says. "This was our unconventional wedding meal, but it just added to how perfect the day was."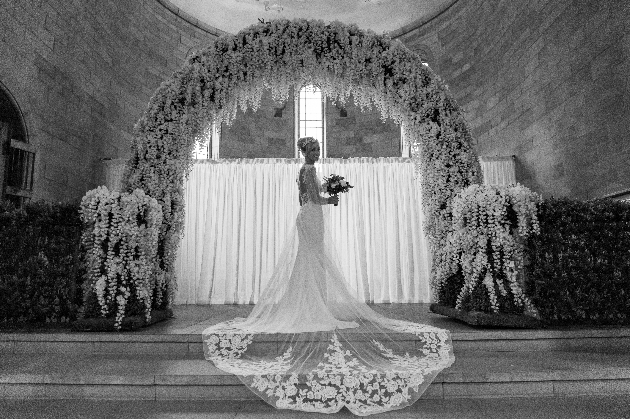 Rio knew exactly what she was looking for when it came to her dress. "I wanted a fitted style with a really long train," she says. "I went to The Little Pearl in Pickering and tried on the Hatton Cross dress by Dando London and I fell in love. We then tried it with the longest train in the shop; it was the perfect match and everything I had dreamed of." When the dress came in, Rio went back to the boutique to try it on with a seamstress, who created the most delicate pearl-scattered angel wings to complement the gown perfectly. "I found an elegant tiara and the look was complete," Rio says.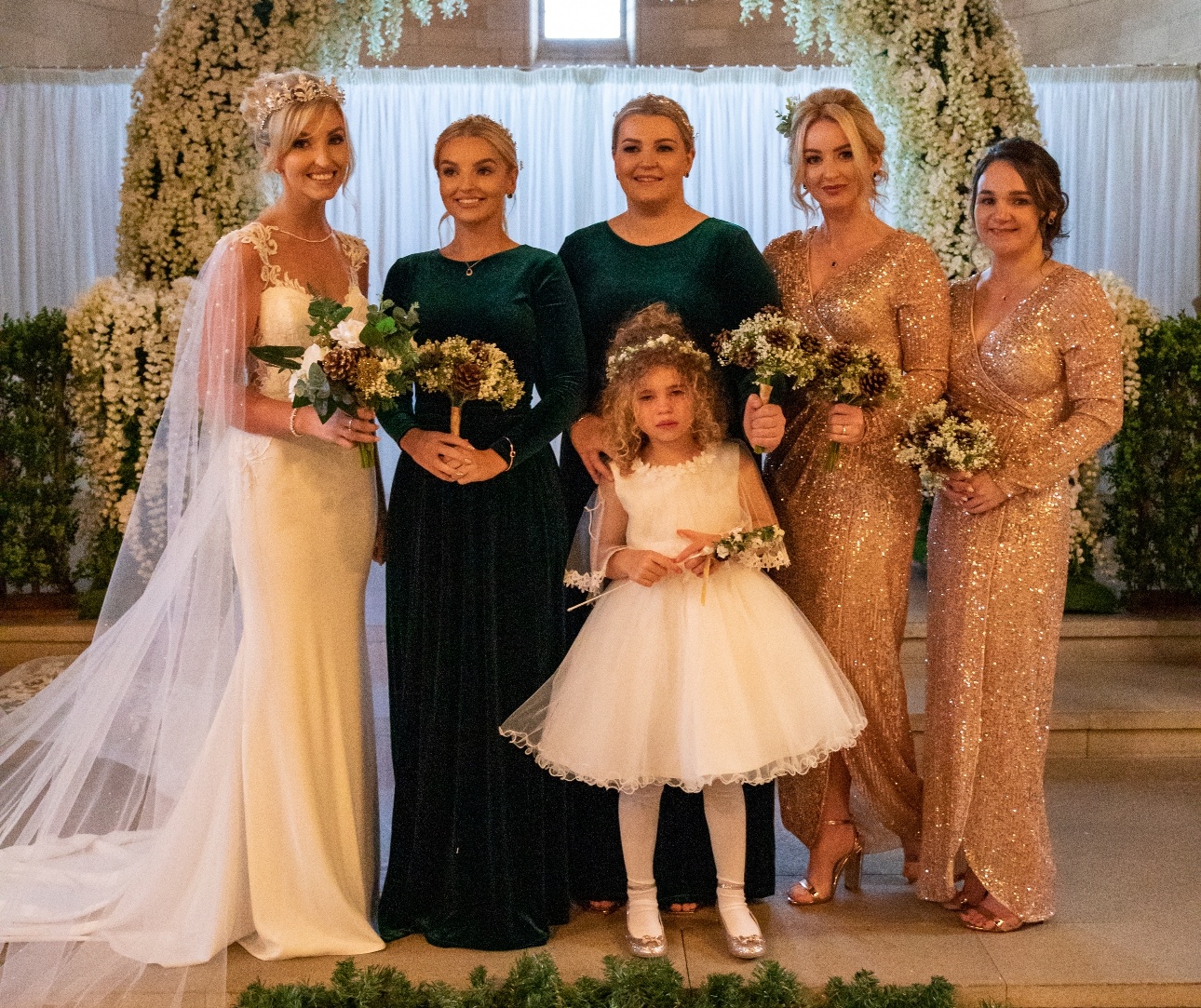 The couple had four beautiful bridesmaids. Rio's two sisters wore velvet green dresses and her two best friends wore glittery gold numbers. "I wanted Robbie to wear a green velvet suit jacket to coordinate with my sisters' dresses," Rio explains. "We went to Dandy Threads in Guisborough and found the perfect suit. It came in green and black, so Robbie wore the green and the other men wore black. This was complemented with a black paisley-patterned waistcoat."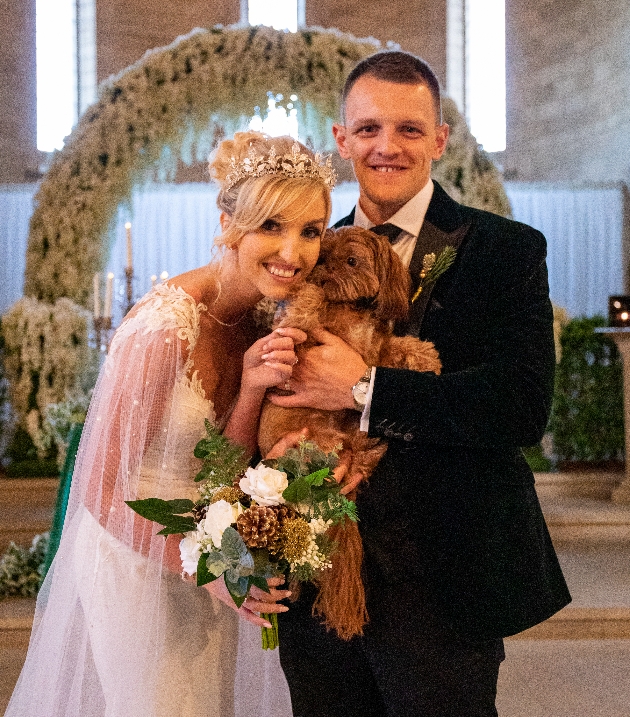 After changing venues, cancelling the reception and cutting the guestlist down to just 15 people, the pair had faced their fair share of stress in the lead up to the day. "A week before the wedding I was sat at home listening to the announcement of the counties going into tier four," Rio remembers. "We just hoped and prayed that Whitby wouldn't be added to the list. We always said that no matter what, we would get married, but we just really hoped it would stay at the 15-person guestlist, and luckily it did."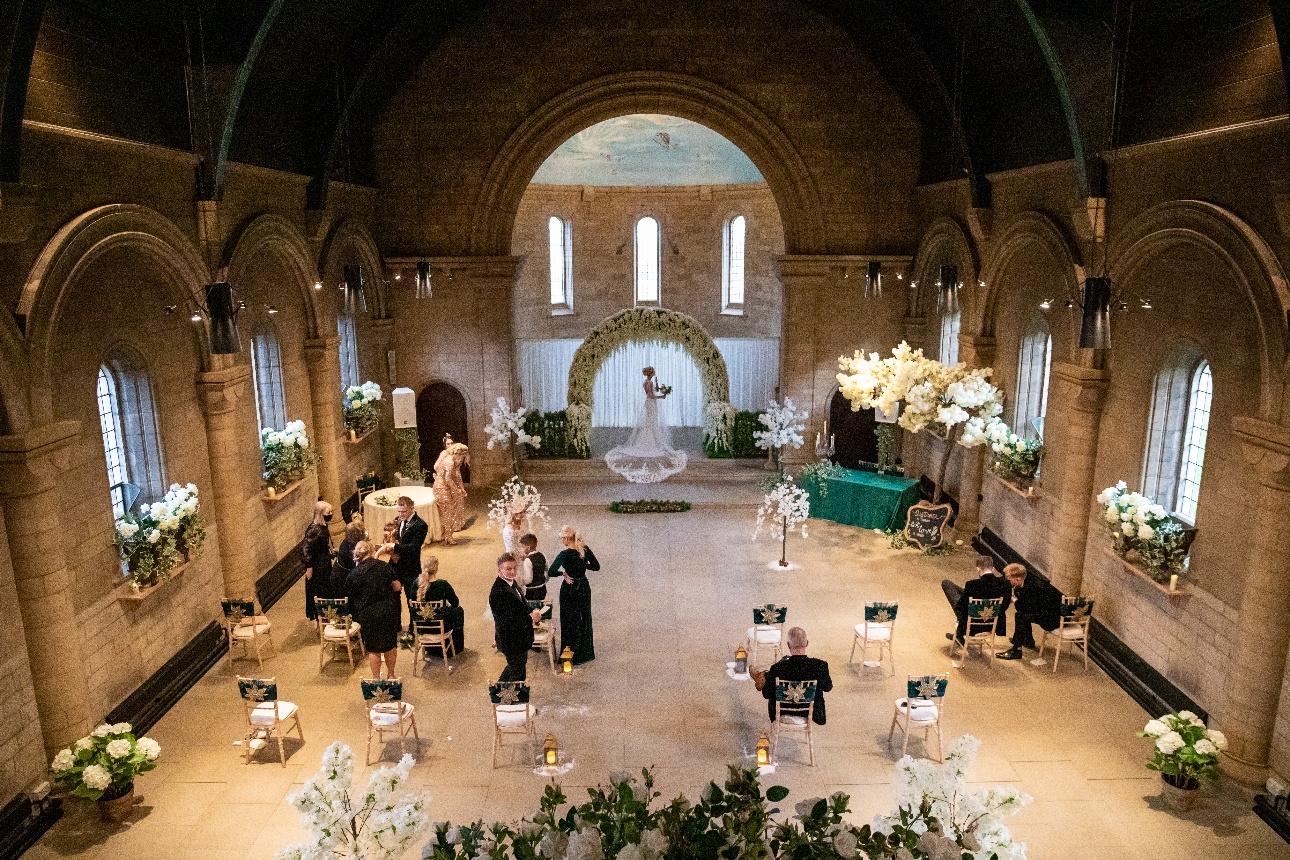 So what would the newlyweds' advice be to couples facing the same challenges? "If you want to get married, just do it," Rio says. "No matter what obstacle we faced, we found a solution, and we honestly wouldn't change a thing about our day. We got married for the right reason: love. Everything about the day was magical; it feels like a dream now." The couple have still got much to look forward to, with a blessing and reception booked at Sneaton Castle for June 2021. "If it can't go ahead, we'll just push it back until it's safe to do so," Rio explains.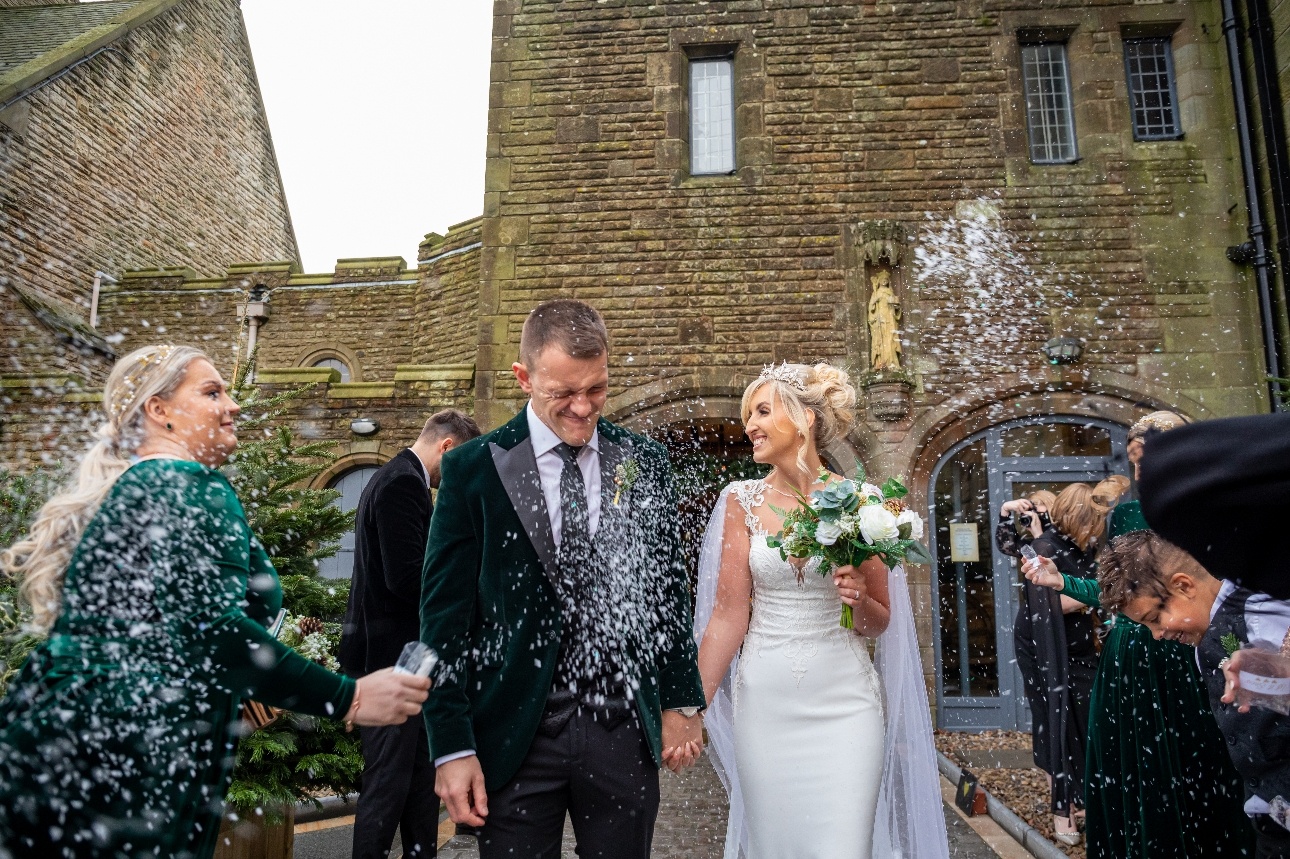 Rio's top tip: "Don't stress yourself. Ensure you're well organised in advance and everything else will fall into place. Even if something doesn't go as you expected, you'll find a way to make it work."
Rio and Robbie's contact book