When Briony and Mark first met through mutual friends, sparks flew immediately. "We instantly clicked," Briony said. "I knew I'd be with him forever. It felt like we'd known each other for years and he soon became my best friend." So it was no surprise that one day Mark would be planning to pop the question. "For years we've gone on holiday to Cornwall with our beloved cocker spaniel, Charlie," Briony tells us. "2017 was no different, and we set off with our two good friends, Hayley and James." When they arrived, Mark explained that he had booked a lovely dinner at Lewennick Lodge in Newquay. After the meal, he asked Briony to join him on the balcony, which looks out across the ocean and an amazing sunset. "I refused to go out because it was too cold," Briony laughs.
"So a disgruntled Mark said he was off to take the dog to the toilet in a nearby field." He soon rang Briony to ask her to bring him a poo bag. "Naturally, this wound me up. What sort of dog owner doesn't take a poo bag out with them?" Briony says. "I marched across the car park, and when I got there he gave me an envelope. Inside was the most thoughtful love letter." Luckily, her friend had arrived at this point, and after peering over Briony's shoulder and seeing the letter she frantically got her camera out, just in time to capture the moment Mark got down on one knee. "We all cried and squealed with excitement," Briony says. "I couldn't believe it!"
Back at home, the pair set the date for 30th May, 2019. We caught up with Briony to get the lowdown on how they planned their dream day at Wharfedale Grange…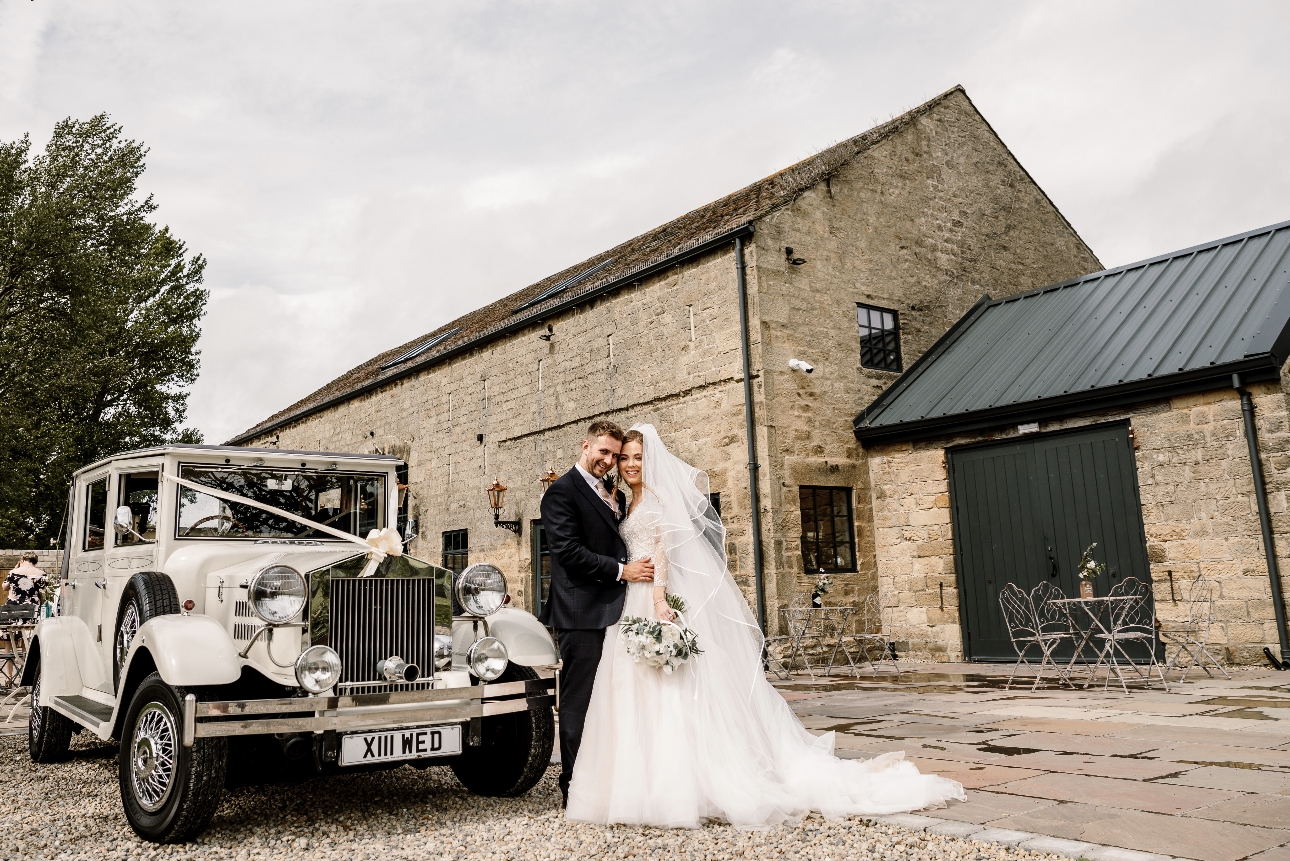 As soon as the couple stepped foot in Wharfedale Grange, they knew it was exactly the luxurious barn feel they were looking for. "The venue was breathtaking and every single detail had been thought of," Briony says. "The North Barn, which was filled with hundreds of twinkling fairylights, had an intimate feel for our ceremony, while the South Barn was brimming with luxurious touches, from the bespoke wooden tables and crystal chandeliers to the huge rose gold mirror ball." The wedding planners, Claire and Zach, even created a bespoke gin bar for the day, and the bottomless prosecco tap in the ladies' bathroom was a winner!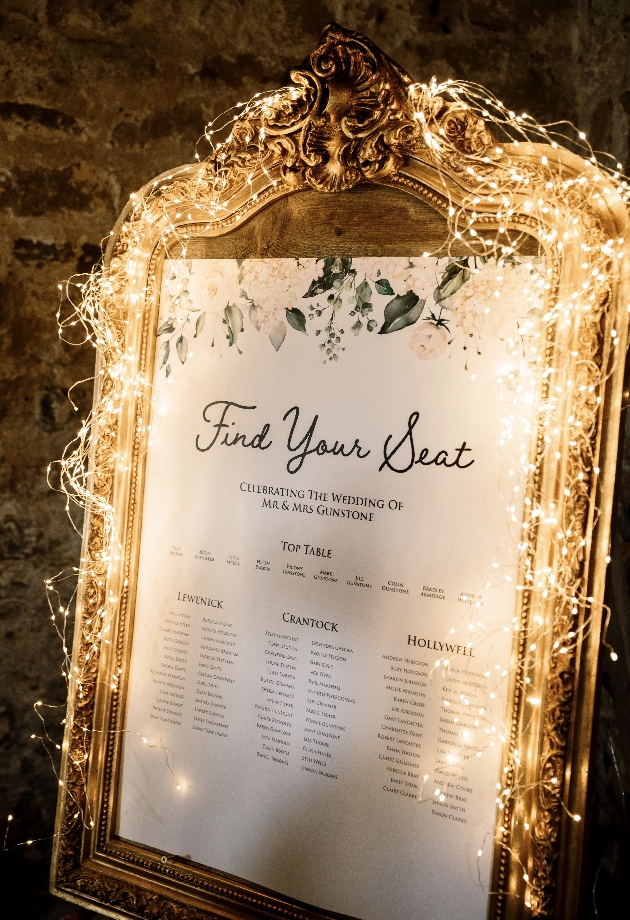 Briony and Mark knew from the beginning that they wanted a classic, luxury feel with neutral tones accented with gold and silver touches. "We wanted our flowers to be very natural in colour, with lots of creams and greenery in a loose style," Briony explains. "My bouquet was made up of peonies, hydrangeas and David Austin roses, complete with eucalyptus and herbs. On the tables were urns filled with cream flowers and greenery spilling out, alongside candlesticks and tea lights. Over the top table hung a beautiful floral installation. We also kept a family tradition of having small corsages for every lady at the wedding, which were handmade by my mum."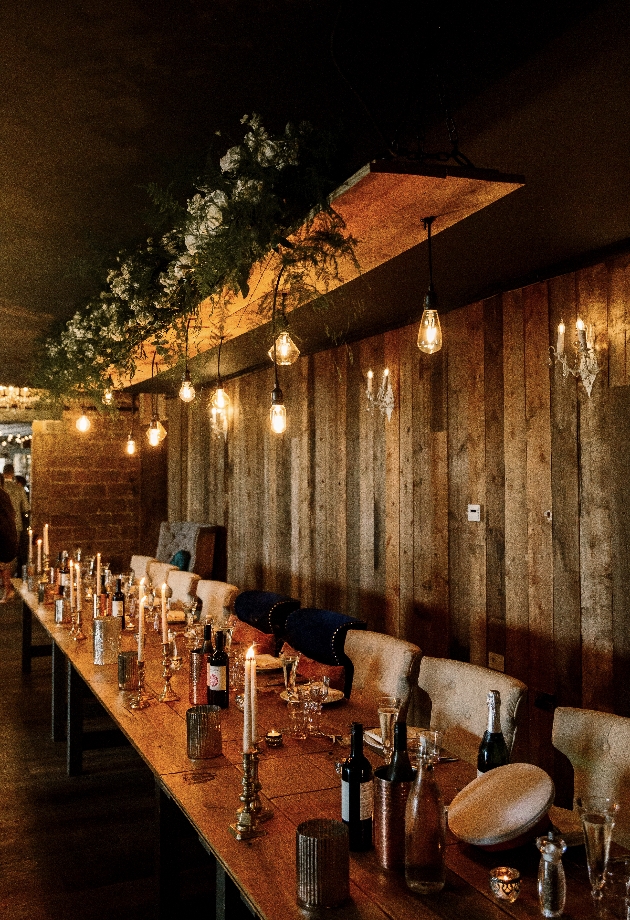 There were lots of lovely personal touches throughout, as friends and family helped make the day extra special. "My uncle is a talented chef, and he kindly handmade fudge and personalised it with our names and wedding date for the favours," Briony says. "One of my best friends made all of our wedding stationery for us, my aunty created a beautiful doughnut tower and Mark and I created a sweet table for the kids." There was also a special table with photographs of the couple's grandparents who were no longer with them and one of their beloved cocker spaniels, Barney.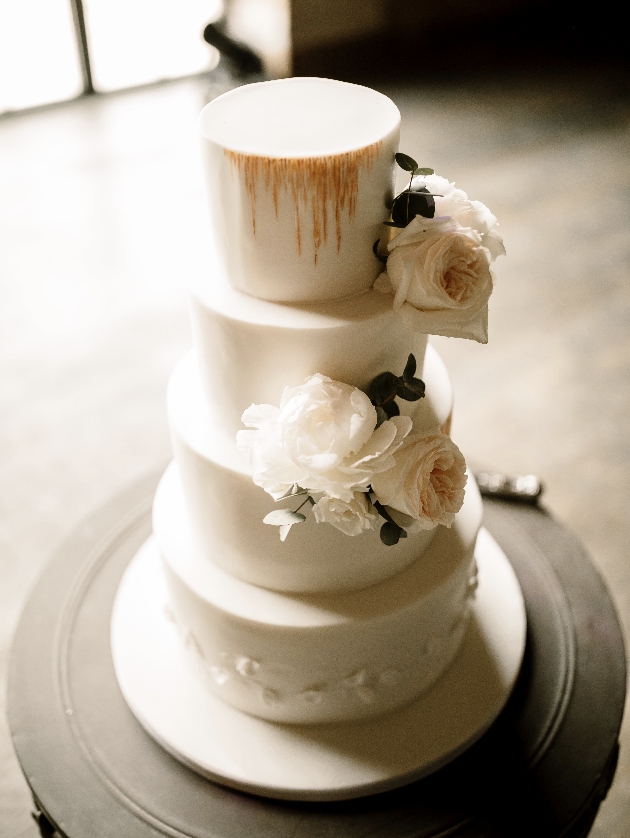 The pair chose a four-tier white iced cake; the natural look and pretty fresh flowers fit with the day perfectly. Inside was delicious sponge cake in raspberry and vanilla, red velvet, lemon and passionfruit and coconut.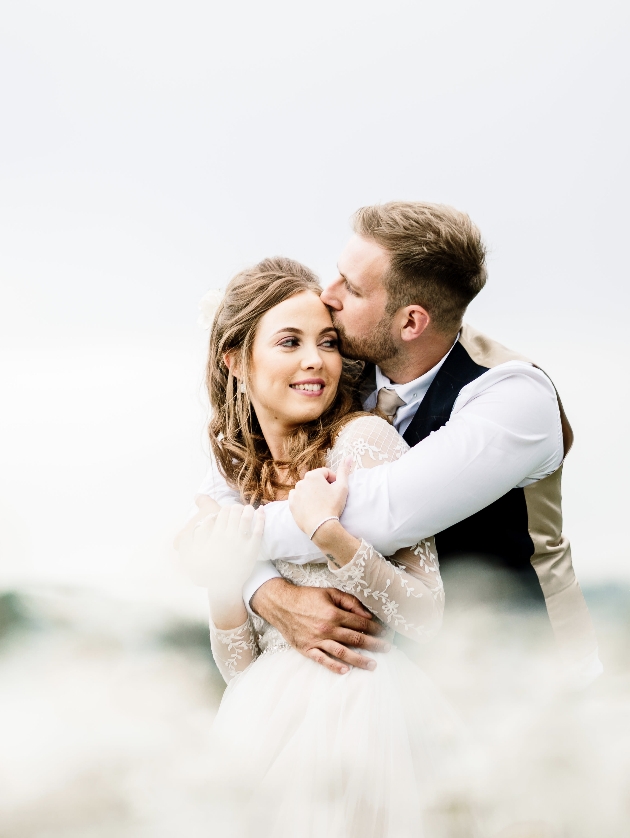 To make sure they arrived in style, two matching cream wedding carriages transported Briony and her party from her mum's house, where they got ready, to the venue. Mark and his groomsmen all met in the bridal room at Wharfedale Grange, where the venue laid on a delicious breakfast for them.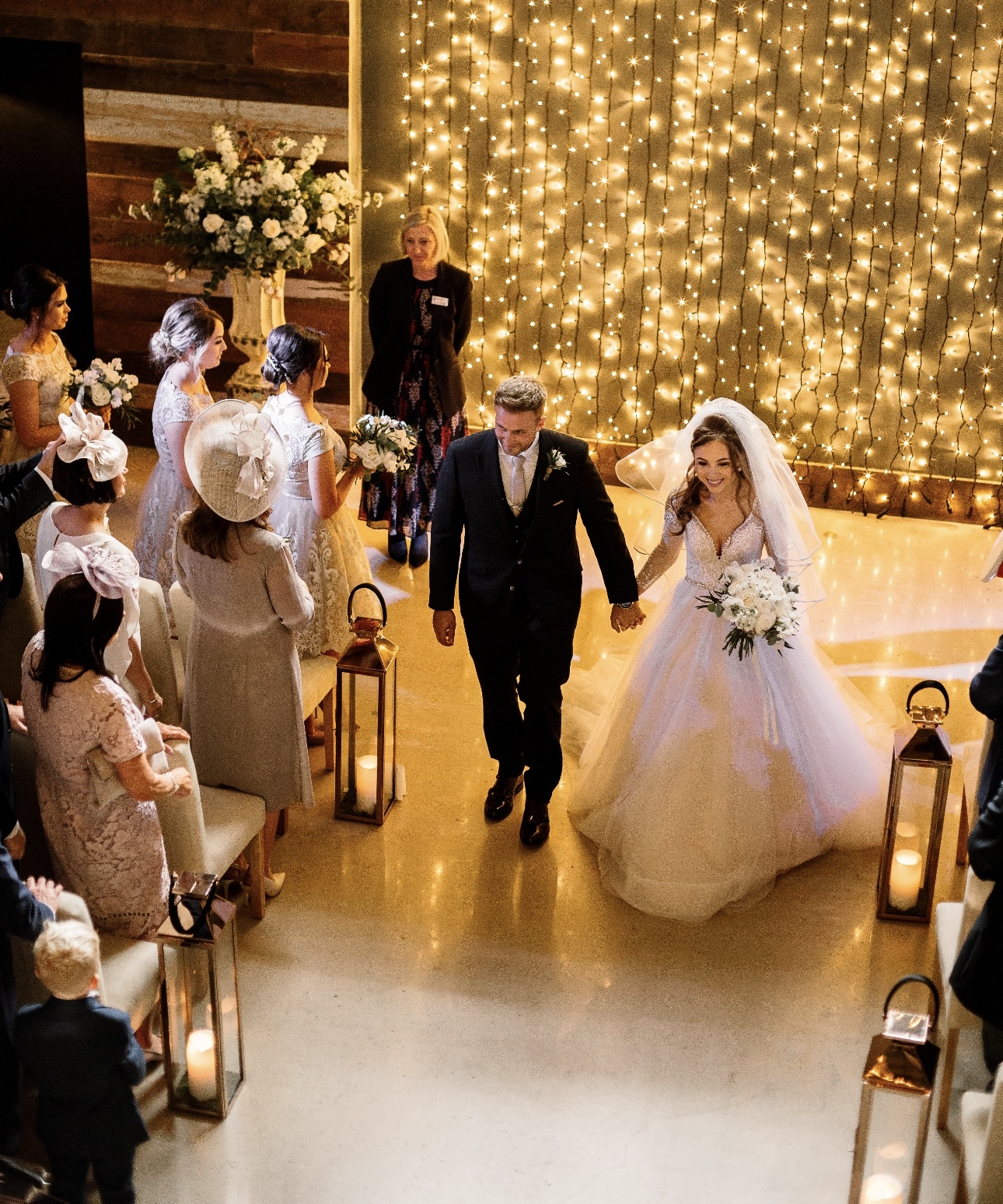 Briony went on a girls' day out with her mum, aunty and cousins to try on dresses and get an idea of what style would suit her. "I had no intention of getting my dress that day," she says. "I thought I wanted a fitted, boho style, but when I tried on my ballgown I knew it was the one. The structured bodice and sleeves gave me the classic feel I wanted, whereas the tulle skirt and soft colour were not at all what I thought I'd go for!" Her style was completed with a classic-glam make-up look and gorgeous locks with plenty of volume. Briony's bridesmaids looked stunning in silver embroidered dresses from ChiChi London.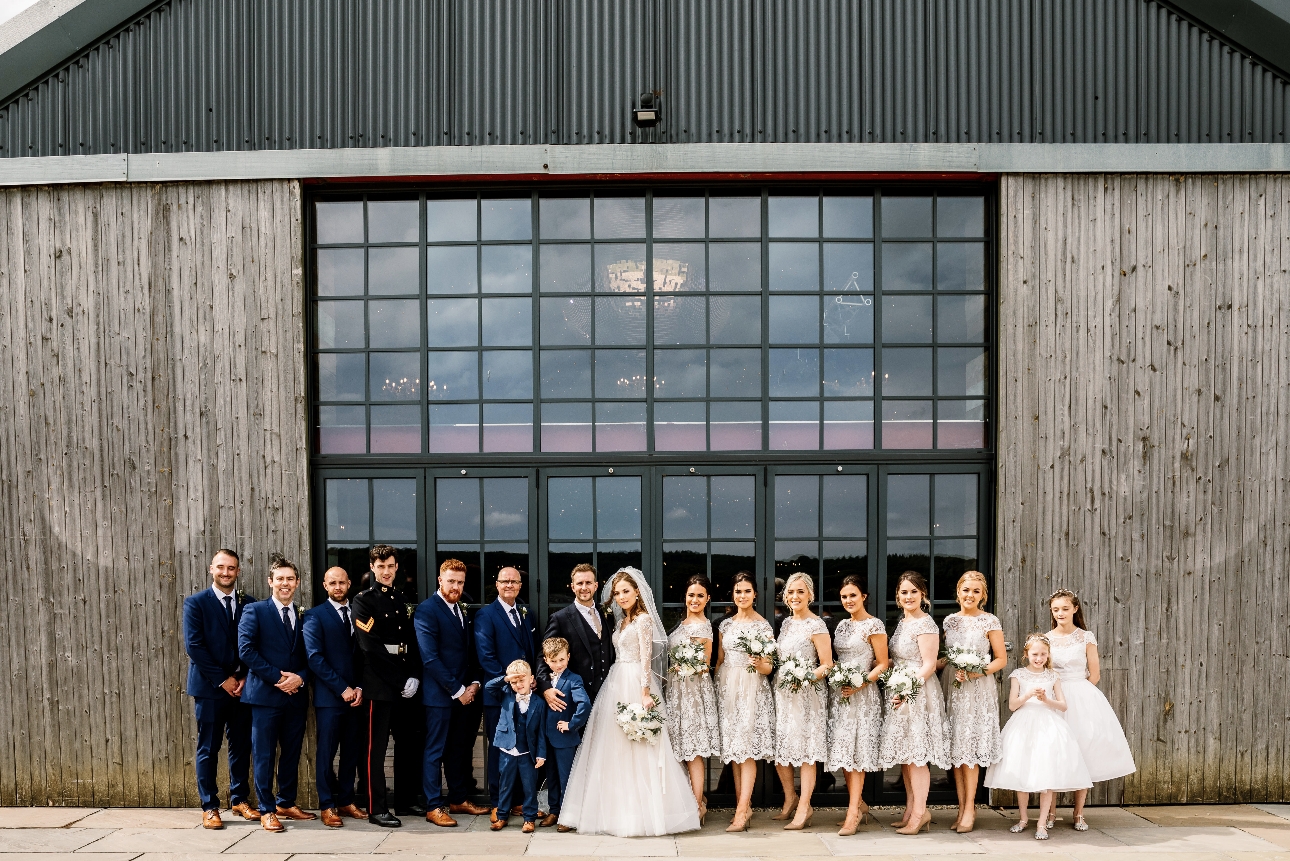 Mark had his suit tailor made at Moss Bros, and opted for a navy skinny-fit three-piece suit with a subtle check, finished with a champagne-coloured lining with the couple's wedding date embroidered on it.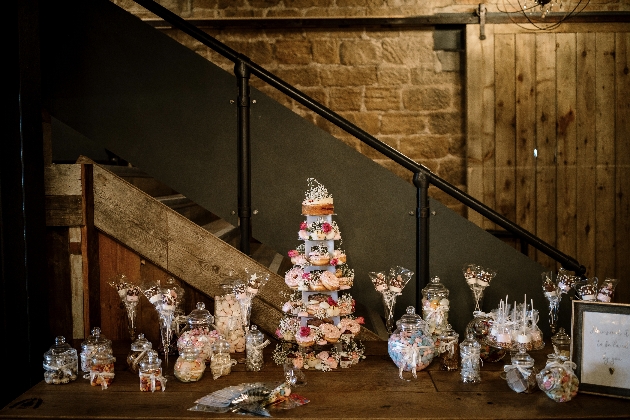 The couple aren't huge party animals, so it was a relaxed vibe they were going for. "Guests could design their own cocktails from the bespoke gin bar," Briony says. "To set the scene we had a string quartet; I entered to Secrets by Dallas String Quartet and we left to Beyoncé's Halo. They also performed at our drinks reception."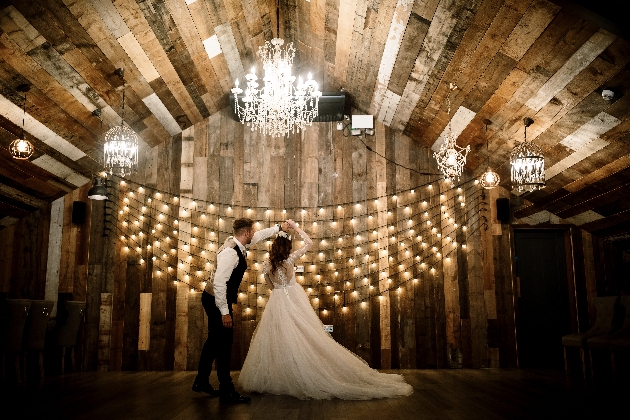 The evening reception kicked off with the newlyweds' first dance to Hold My Girl by George Ezra, complete with a confetti canon! "It was a moment we'll never forget," Briony says. "We were under the amazing mirror ball while confetti poured down over us." Jonny Ross Music then provided the entertainment with a saxophonist and DJ.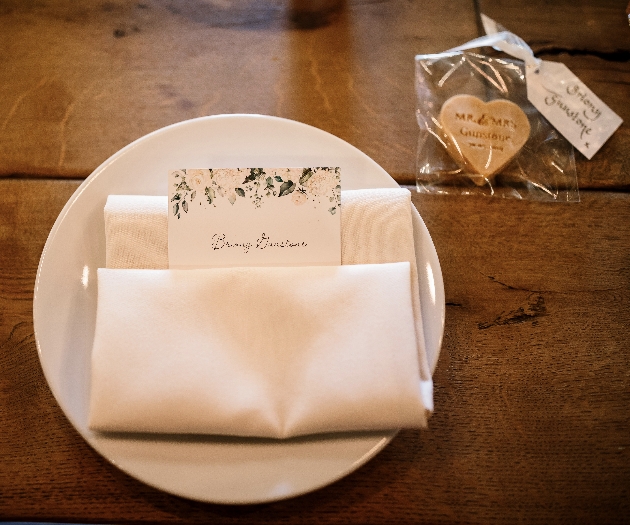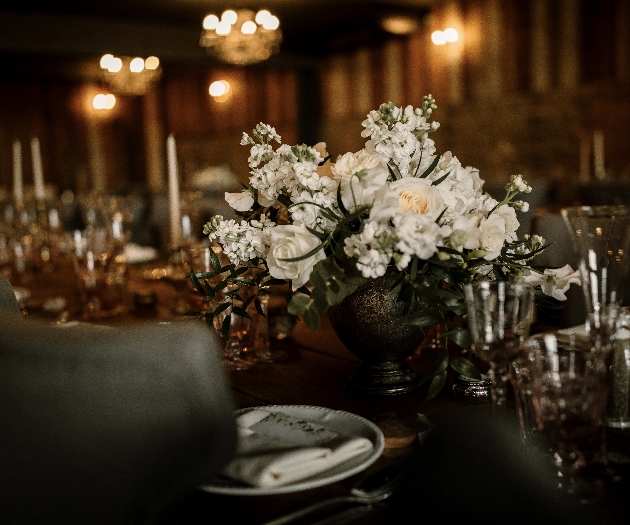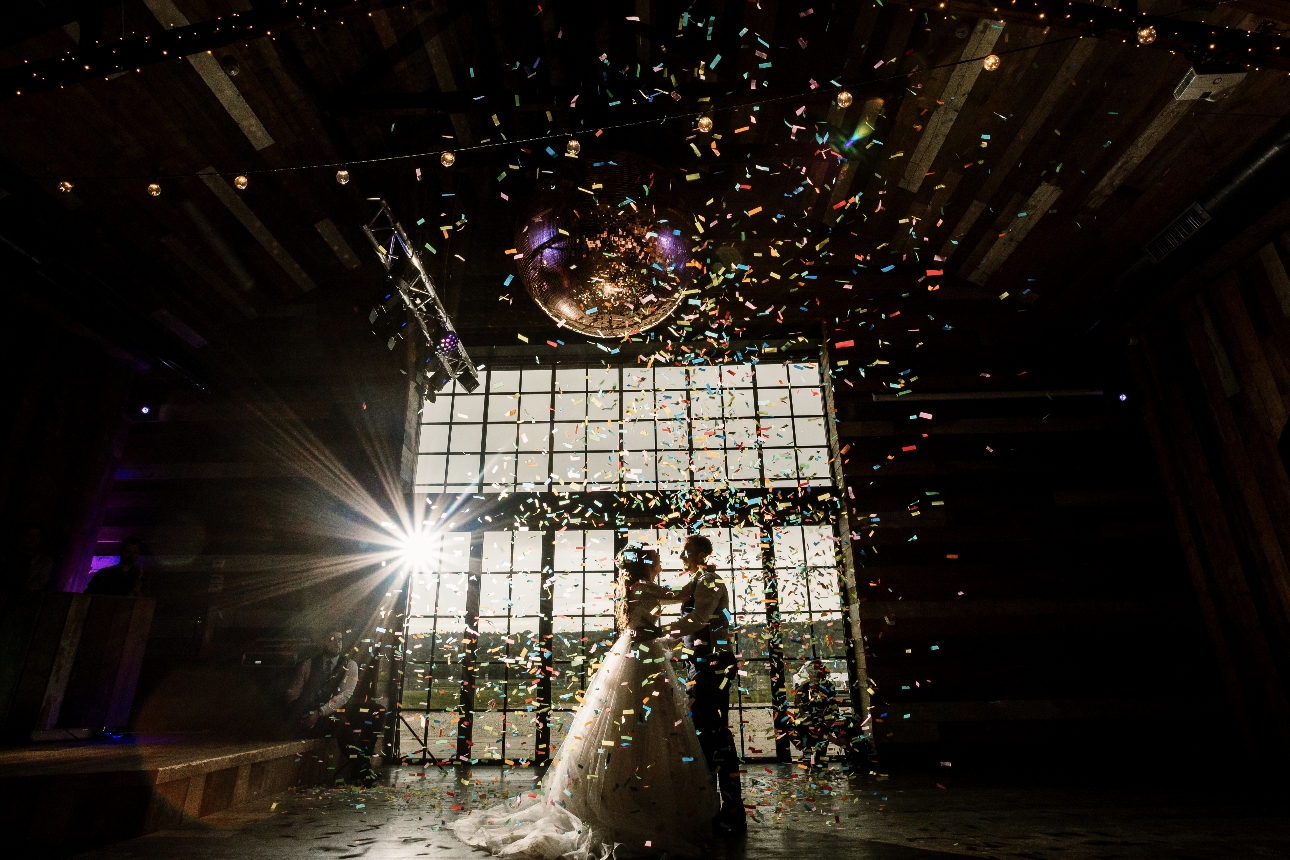 The couple are so happy that they have some amazing photos to look back on for years to come. "The photographs were one of the most important aspects of our wedding planning," Briony tells us. "Hayley Baxter is so talented and managed to capture everything perfectly. From the moment she arrived to when she left we felt at ease, and I truly believe this is why our photographs are so beautiful." The couple also invested in videographer Jason Lynch to capture the day. "We wanted the film to look cinematic, and that's exactly what we got. Jason and his colleague shot everything so naturally, a lot of guests didn't even notice them filming!"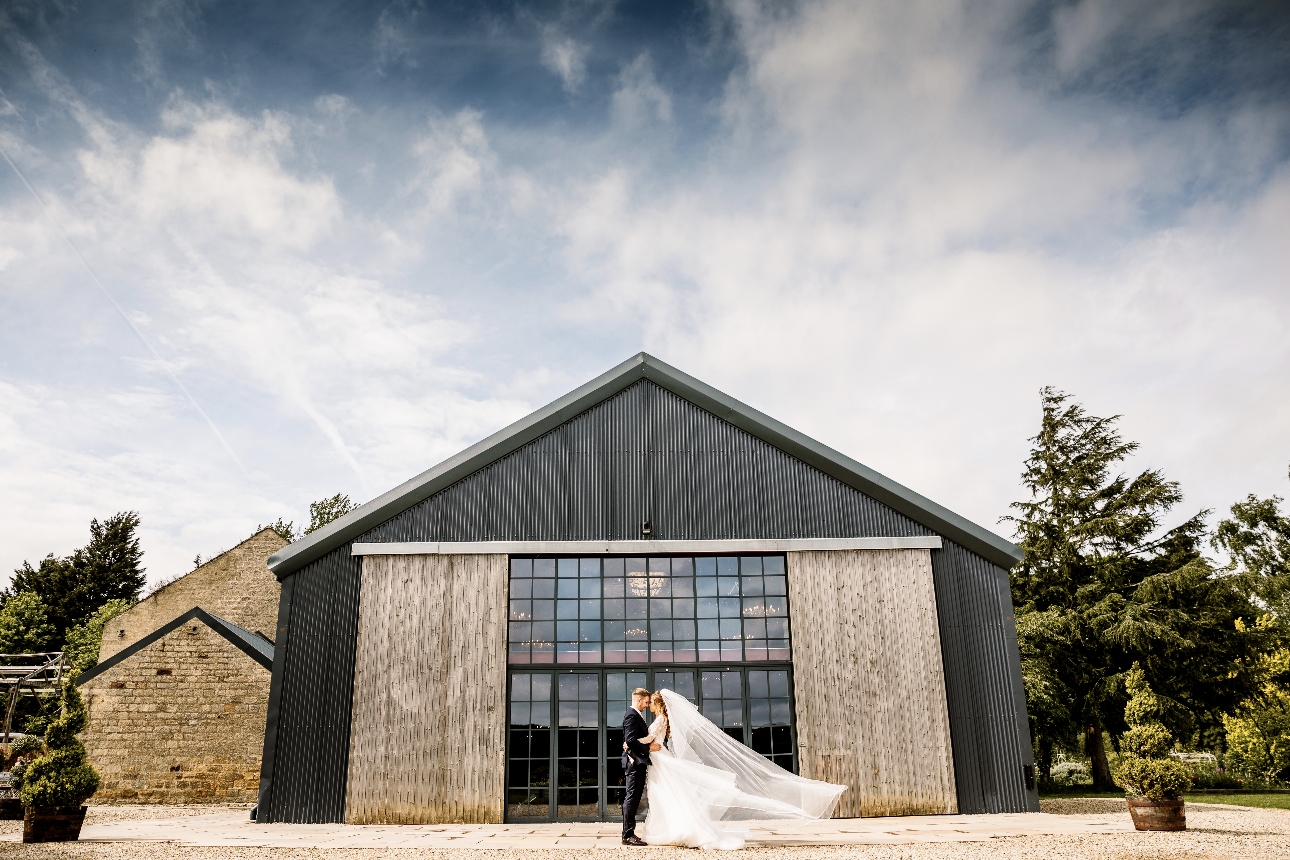 The day was not without its nerves. "I could barely eat my breakfast," Briony says. "As soon as I was waiting to walk down the aisle my nerves just disappeared and I was so excited to be getting married to Mark. He was the opposite, he wasn't anxious at all in the run-up to the day, but admitted when he was waiting at the end of the aisle his heart was pounding. When I appeared, he said it took his breath away and he got really emotional; it was such a lovely moment."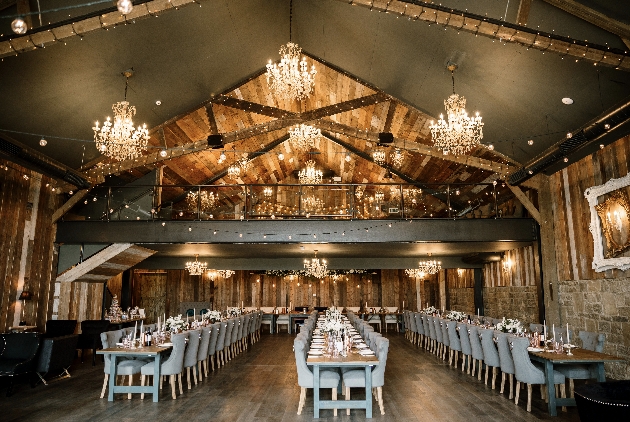 So what did the newlyweds take away from their perfect wedding? "Our whole day was so special," Briony says. "It was like being in a dream and we never wanted it to end. We will never forget it and we're so lucky we got to share it with our closest family and friends."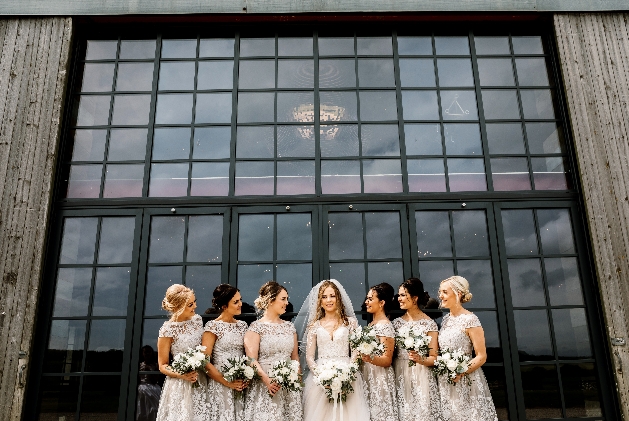 Briony's top tip: "Stick to the vision you've always had and you'll create the most special day of your life."
Briony and Mark's contact book