Becky and Louis' Denton Hall wedding was everything they'd dreamed of.
After moving to Leeds for work, Becky decided to sign up to an online dating website to meet new people. It was on here that she met Louis. "Our first date was such a success that we soon became official," Becky tells us. Louis was an intrepid traveller and inspired her to be more adventurous. "We spent time in Asia before returning home and settling back in Yorkshire," the bride says. The couple went to New York to celebrate Louis' birthday. "While in Central Park we heard a busker singing George Ezra's Budapest. I was excited because that's our song," Becky recalls. "As I went to put some dollars in his guitar case, the singer stopped and said that Louis had something to say to me. When I turned around he was on one knee with a ring in his hand!" After getting over the shock, Becky of course said 'yes.' The romantic groom-to-be even arranged for a local photographer to capture the moment. The newly engaged couple returned home and set the date for 14th July, 2018, with a church wedding followed by a reception at the gorgeous Denton Hall. Becky tells us more…
As soon as we drove up to the venue we fell in love with it. Tucked away in a tiny village, it's surrounded by picturesque scenery with a herd of deer living in the grounds. There's a picture-perfect lake and a terrace, which is ideal for a drinks reception. Inside it's very traditional and exclusive as they only have one wedding a week there.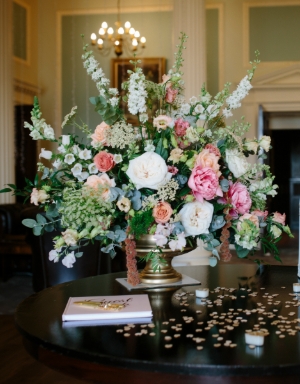 Leafy Couture created our incredible floral displays. My brief was loose and unfussy with lots of greenery. What the company provided us with complemented our gold and pink theme perfectly. Louis' mum and nanna handmade all the bouquets and buttonholes; they were stunning and everyone commented on how professional they looked.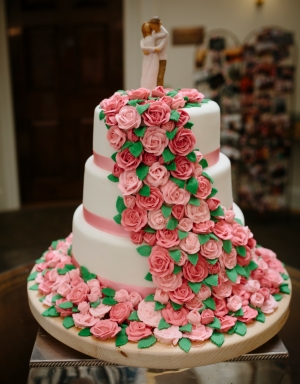 My mum made a delicious three-tier cake with roses trailing down the side. Everything was hand-piped so it took her months to make. She placed a little topper on it for us to keep as a memento.
Inspired by our love of travel, each table was named after one of our favourite places in the world. The top table was New York, for obvious reasons, and the bridal party sat at Budapest.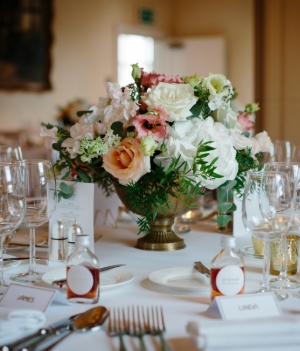 We treated our guests to homemade bramble whisky and sloe gin favours. We infused it for six months before decanting it in to small bottles with our names and wedding date on. The sloes made the alcohol turn pink – they matched the day brilliantly!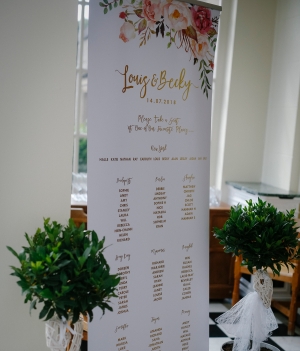 The hall is so stunning we didn't need lots of décor. We had a 6ft welcome banner and there was a lovely ambience courtesy of Wedding Venue Lighting, which provided fairylight curtains and pink uplighters. Louis also made a whiskey and cigar station for the evening.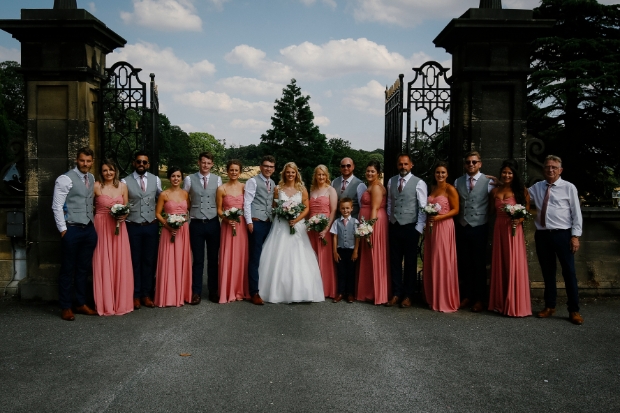 The boys all looked handsome in dark blue suits, grey waistcoats and pink accessories to match the bridesmaids. My best girls wowed in dusky pink floor-length gowns. Originally they were strapless but we asked a seamstress to make delicate spaghetti straps for them.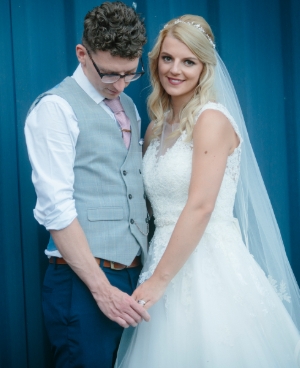 It sounds like a cliché, but I wanted to be a princess for the day. I found a beautiful Stella York dress, which had a full tulle skirt, a lace and sequin bodice and an illusion back. I'm quite big-busted so didn't think I'd be able to wear that style, but the lovely ladies at Abigail's Bridal Boutique advised me I could have a bra sewn in to the front.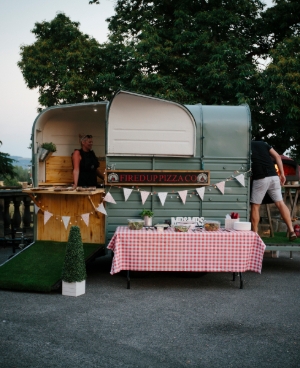 I never dreamed I'd have Michelin-star food at my wedding, but the amazing Box Tree Events is the exclusive caterer for the venue. The warm blackberry and hazelnut tart was the best dessert I've ever tasted. Walking around, I saw nothing but clean plates. At night, we enjoyed yummy wood-fired pizzas from a converted horsebox. My biggest regret is not eating more!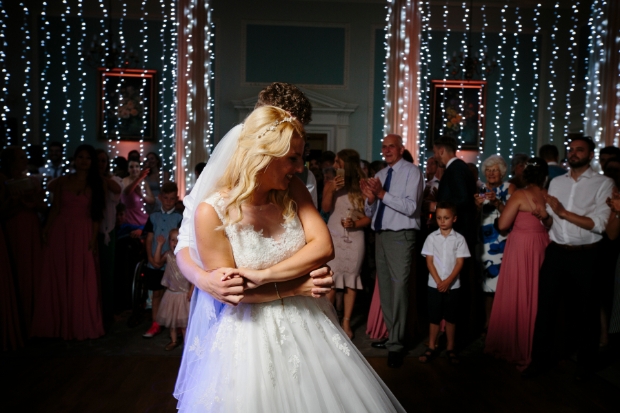 During the ceremony, a close friend of ours sang Your Song by Elton John; she had half the congregation in tears. In the evening, there was an acoustic guitarist called Matt Baxter who played Budapest for our first dance. I then got changed into my evening dress and came back down to the DJ playing Get Busy by Sean Paul – my favourite party tune!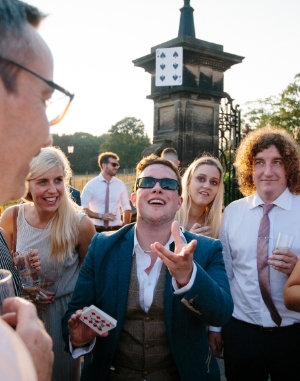 Yorkshire Booth Brothers provided a photo booth in the bar and we had lawn games outside to keep the kids entertained. Our magician, Mark Waddington, was a highlight for me – his tricks blew everyone away.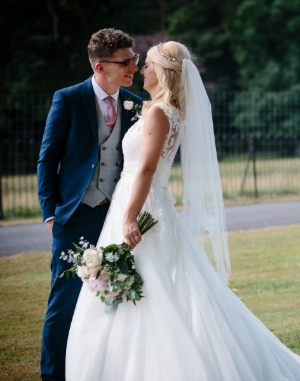 I was nervous the week before, but Denton Hall and Box Tree Events were so organised and took all the stress out of it for us so we could just relax and soak in every minute. We were on cloud nine – the smile didn't move from my face all day.
Louis got his vows wrong during the rehearsal so we practiced them until he got them right. I think the nerves got to him though as he got them wrong again on the day. Our photographer, Wynn Davies Photography, caught a great shot of him realising his mistake and everyone laughing in the background!