When Minju and Barry met in Qatar, where they both live and work, everything just seemed to click into place; they soon realised that they had similar values in life. "We got on so well, and enjoyed the small things together," Barry says. "We realised how much we were developing as individuals by being together." Barry's thoughts soon turned to popping the question.

"I told Minju we were going to Edinburgh for a New Year's trip, but that was merely a diversion," Barry tells us. "I had actually arranged a special proposal north of Glasgow at The Lodge on Loch Goil. It was hard to convince her we were about to arrive in Edinburgh when we were in the middle of the mountains!" Minju started to suspect something was up when they were greeted by staff and taken to the romantic Treehouse. "I got down on one knee on the balcony," Barry says. "It was very emotional. The next day, we drove to Edinburgh to enjoy New Year's Eve with family."

The pair set the date for 12th October, 2019, at the historic Ripley Castle. We caught up with Minju to get the lowdown on how they planned their big day…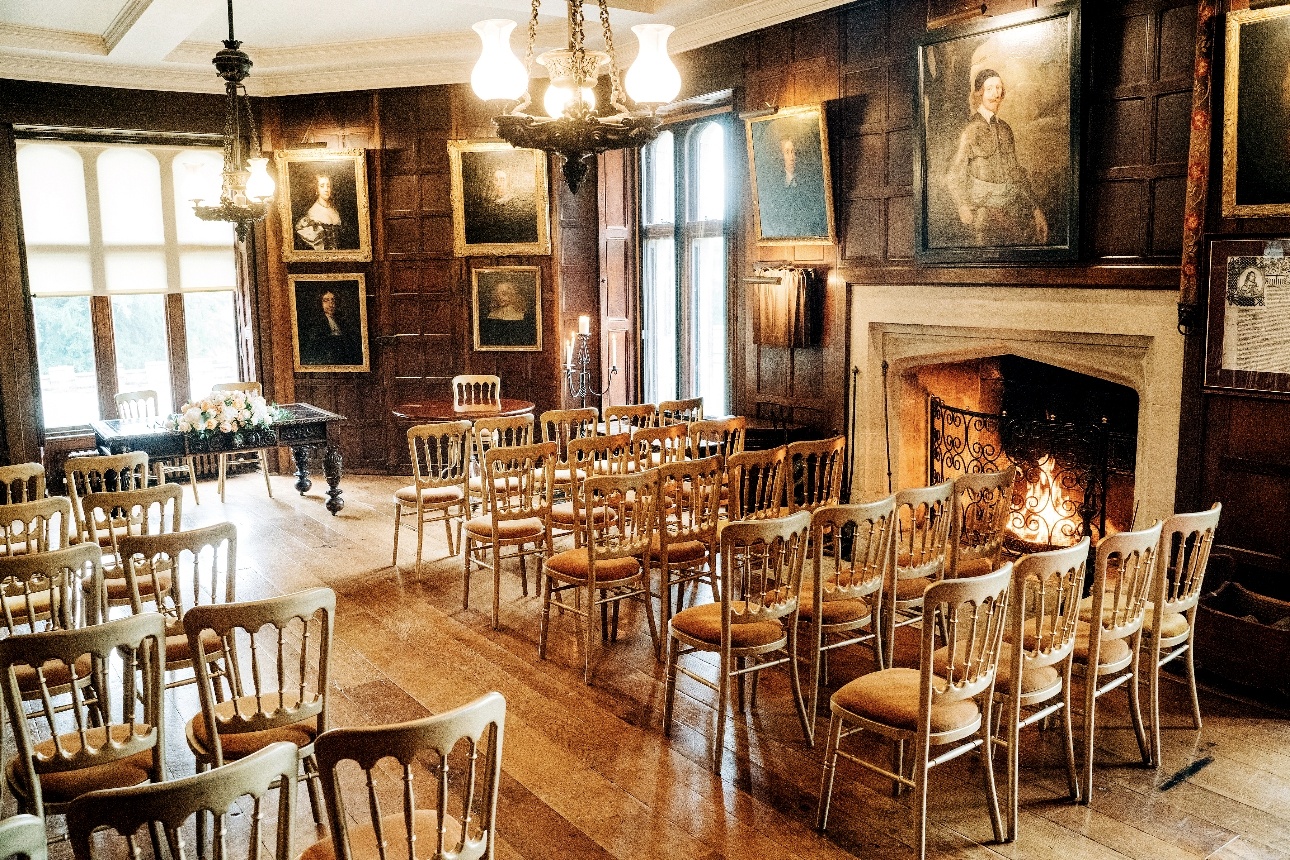 The couple loved the cosy, classy feel of Ripley Castle. They visited a few different venues, but kept coming back to the castle. "The setting was stunning and the staff were really professional," Minju explains. "There was great accommodation called The Boar's Head nearby, and it was the perfect size for us.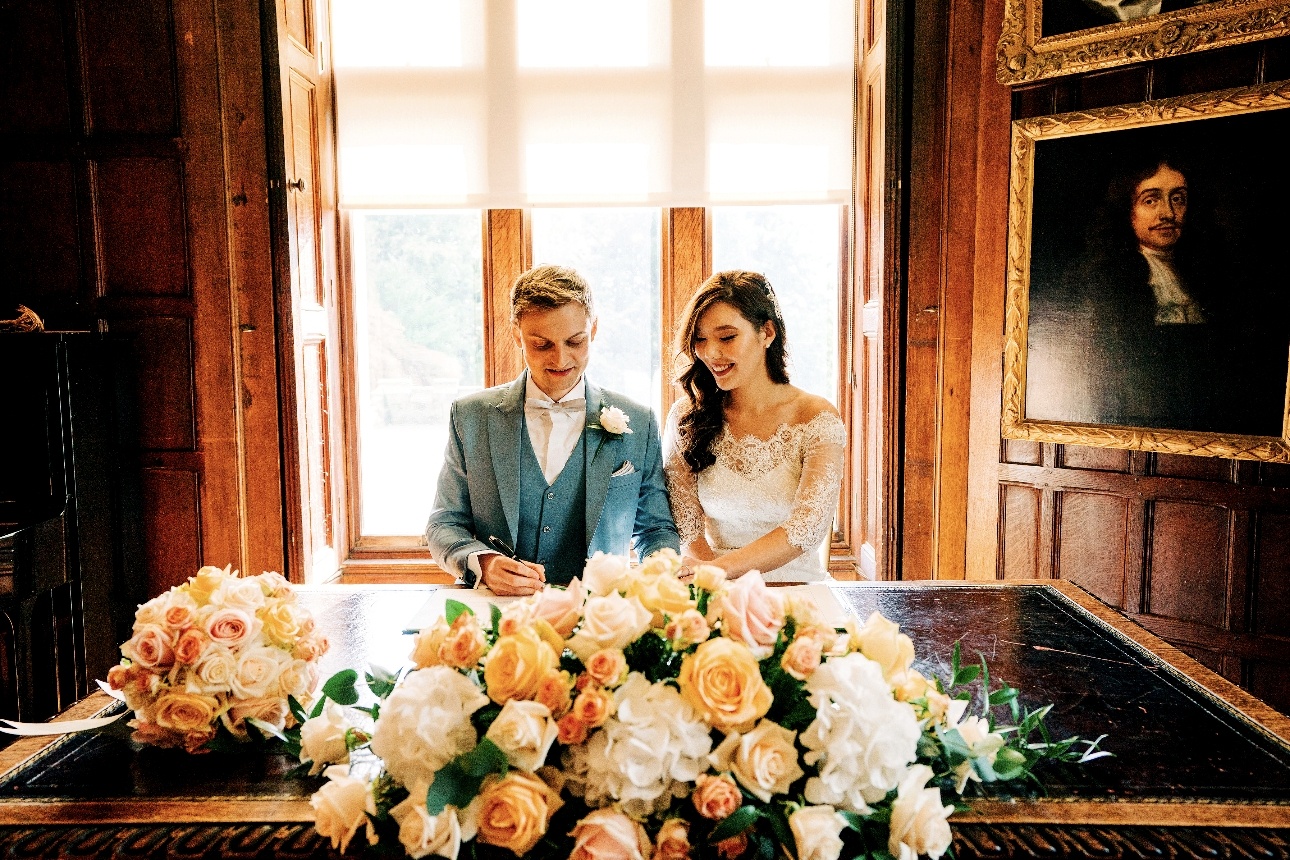 We had around 50 guests and we loved that they could mingle across three rooms." The fact that there were lots of wonderful local suppliers nearby that had worked at the venue before sealed the deal. "It worked out perfectly and we couldn't fault a thing," Minju adds.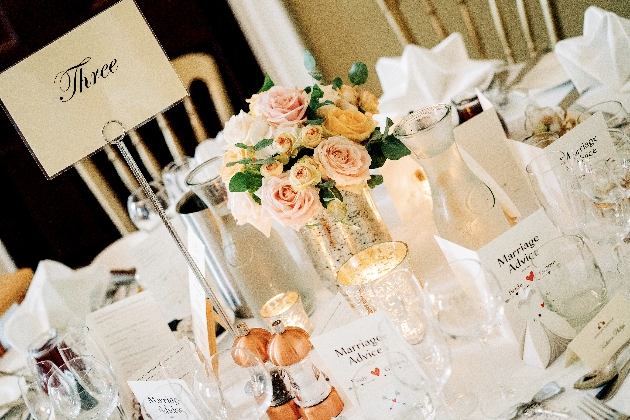 They wanted to bring a bright and warm feel to their autumn wedding, so the pair turned to florist Sheila Danby Flowers for advice. "Sheila helped us narrow down the colour scheme to peach, cream and pink, which complemented the venue," Minju explains. "She was proactive in contacting Ripley Castle to check what they already had and how everything would work."
For the favours, guests were treated to bride and groom-shaped boxes filled with chocolates.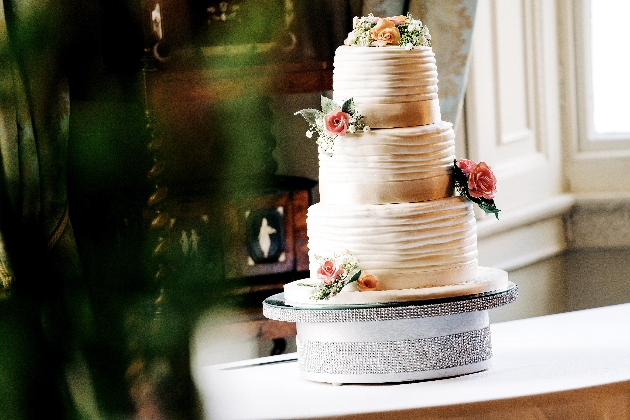 The cake from Prina Braithwaite at The Cake Box tasted as good as it looked. "We wish we could go back and eat one of her cakes now!" Minju laughs. The party also dined on delicious food provided by the venue. "To get the food right, we attended a tasting session some months earlier," the bride tells us. "The team were amazing, even cooking up extra dishes and taking on our ideas, despite them not being on the menu."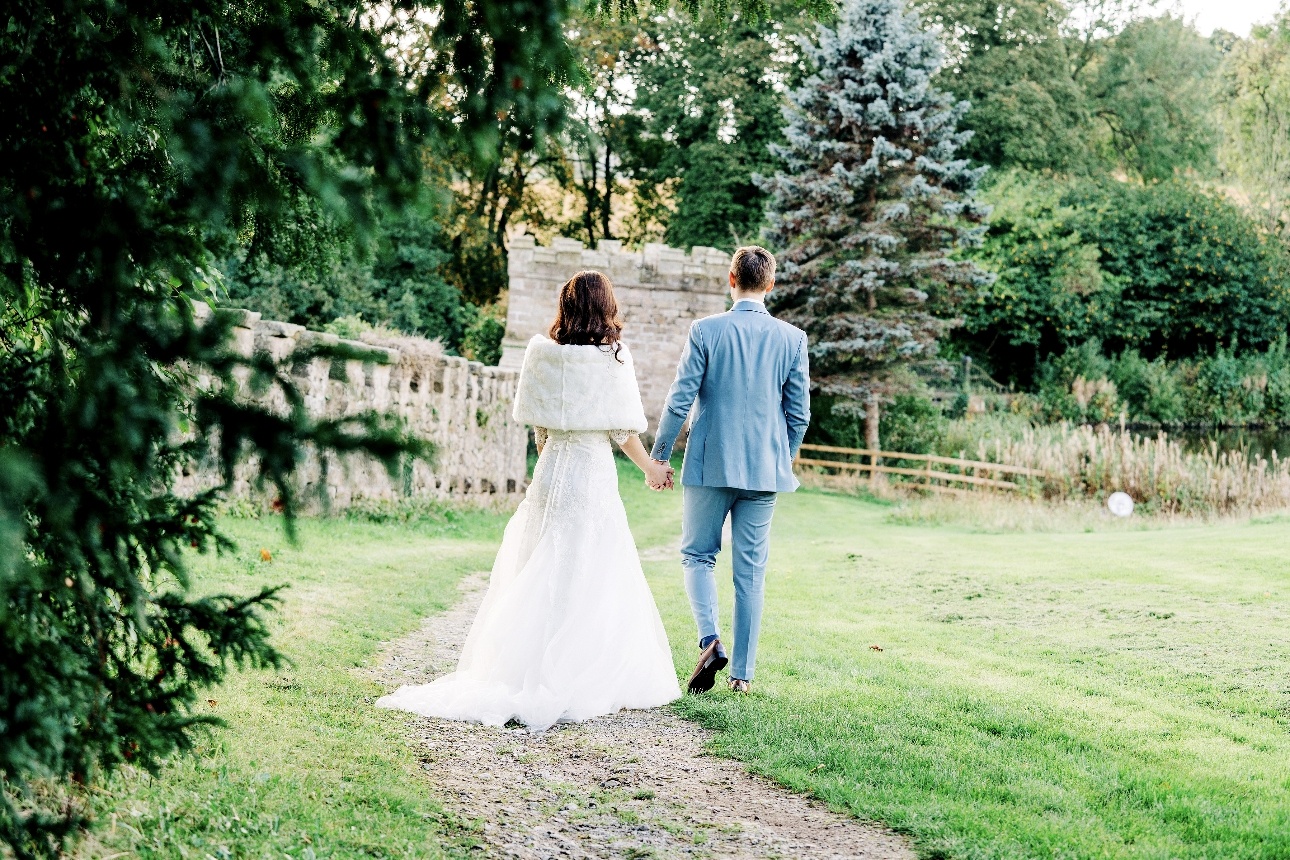 Minju found her dream dress while shopping in Newcastle. Amazingly, the first style she tried fitted perfectly and looked stunning. "It was simple and elegant," she says. "I kept the accessories pared-back with a hairpiece and pearl earrings." Barrys adds, "She looked unbelievably beautiful."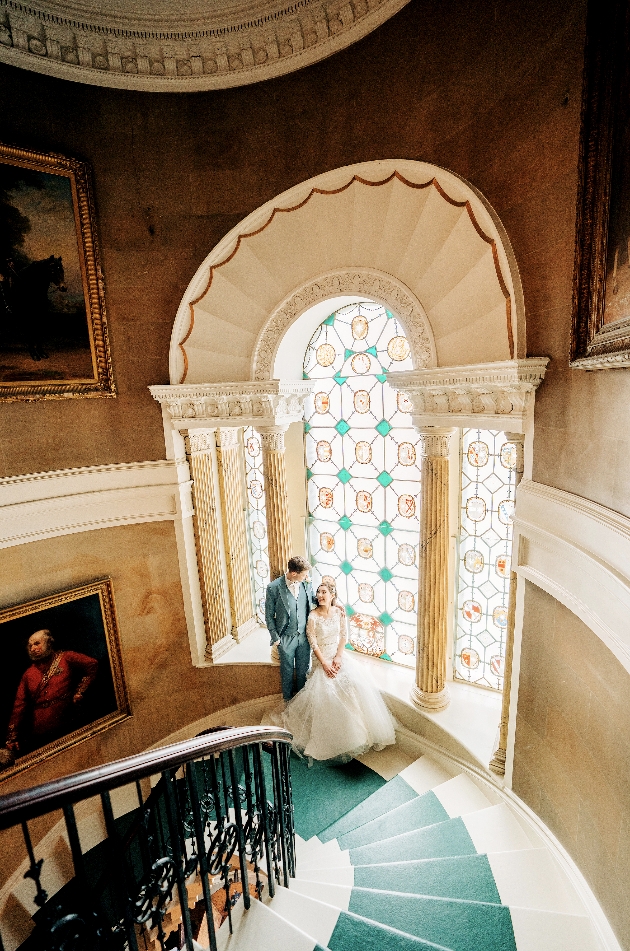 Barry had his three-piece suit tailor-made in Qatar. It was light blue, and he teamed it with brown shoes. His groomsman wore a slightly darker shade of blue to complement.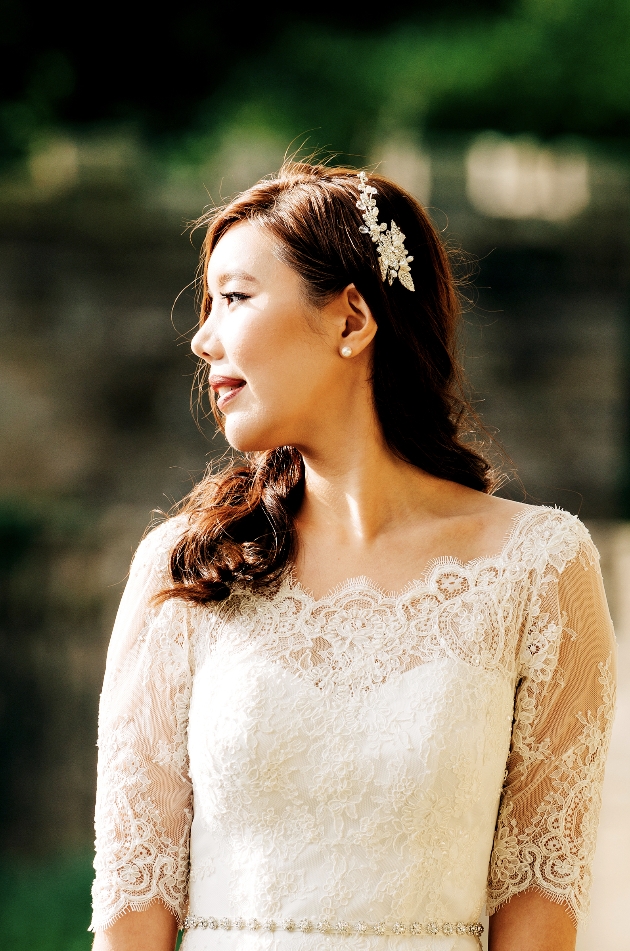 The bridesmaid's dress was gifted by Barry's sister-in-law. "The night before the wedding, my bridesmaid sent me a picture of her gown with a huge iron burn in it!" Minju remembers.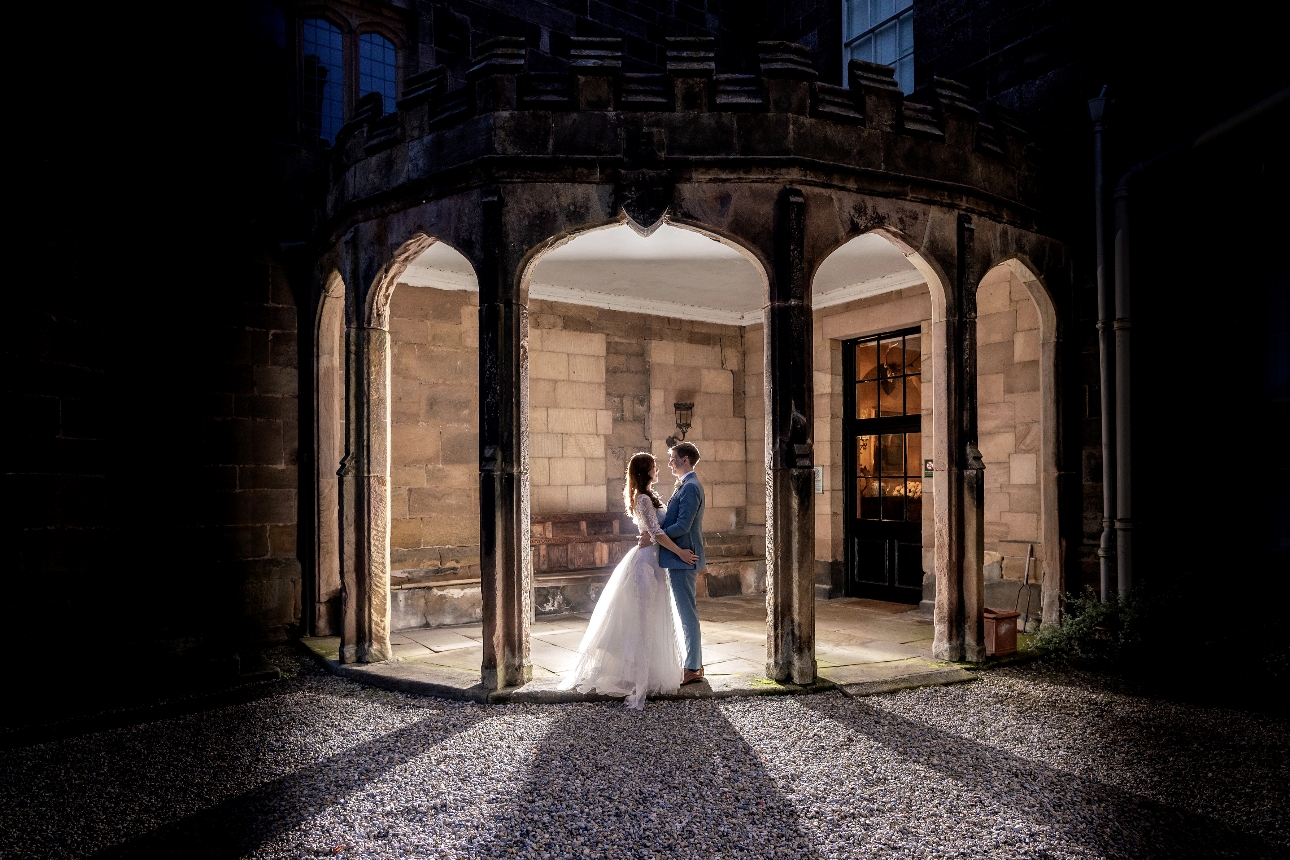 "Everyone's survival instinct kicked in, and luckily Barry's sister-in-law, Laura, happened to bring a spare dress. It fitted perfectly and she looked stunning!"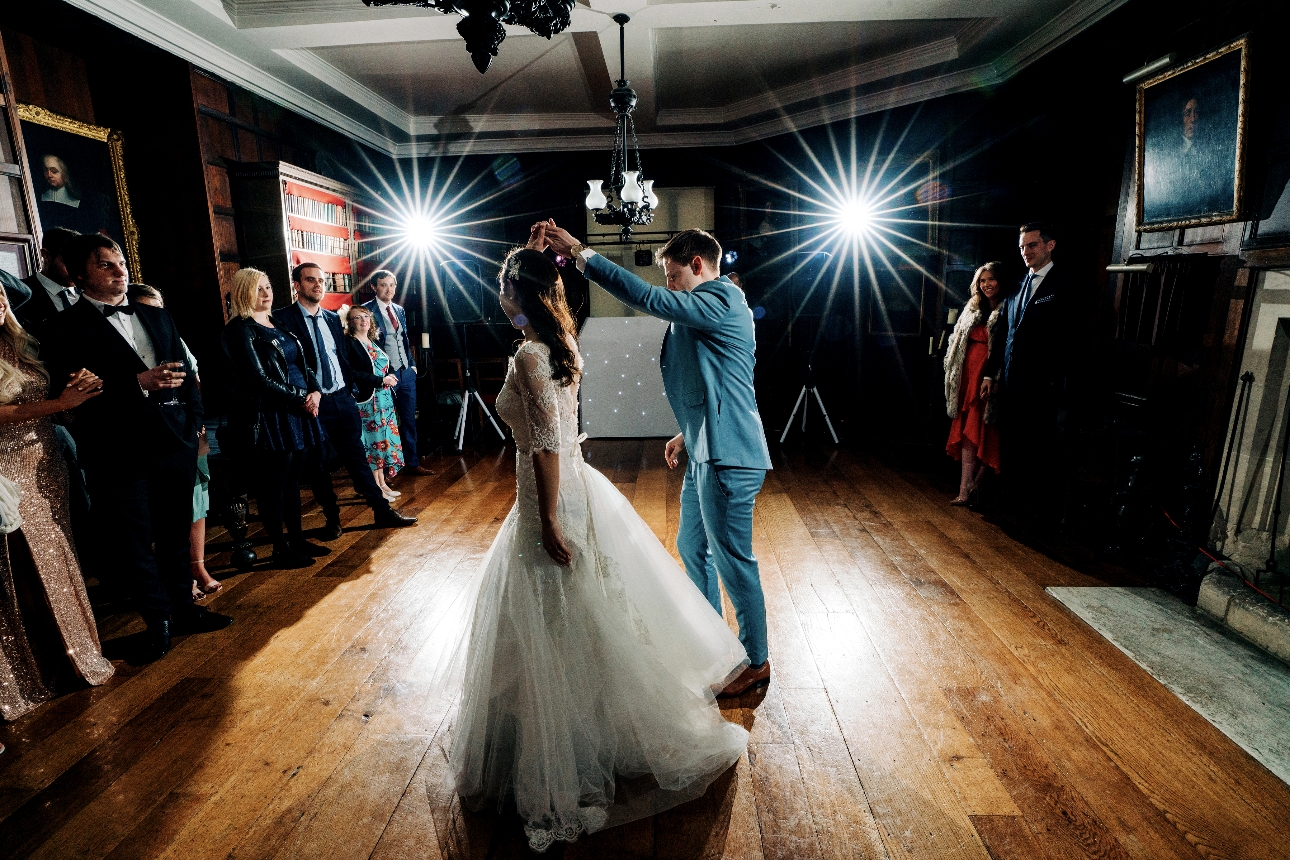 The newlyweds wanted to keep thing simple and cater to their friends and family. "We had a great DJ setup in the evening, where lots of people danced," Minju says. "There was an instant camera set up with a few props and another room was dedicated to those who just wanted to talk and relax." Their guests could also head out for a walk around the picturesque grounds and take in the stunning Yorkshire scenery.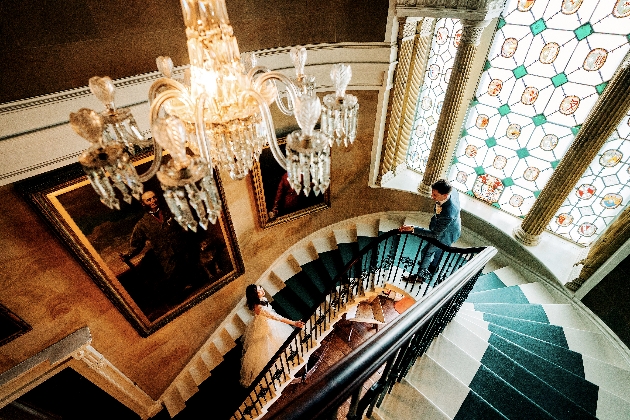 It was a day focused on being fun and relaxed, which the couple both loved. It was also full of special memories. "The exchanging of the vows in the Library was so intimate," Minju says. "There were funny speeches by Barry and his best man, and his colleague Susan gave a touching speech."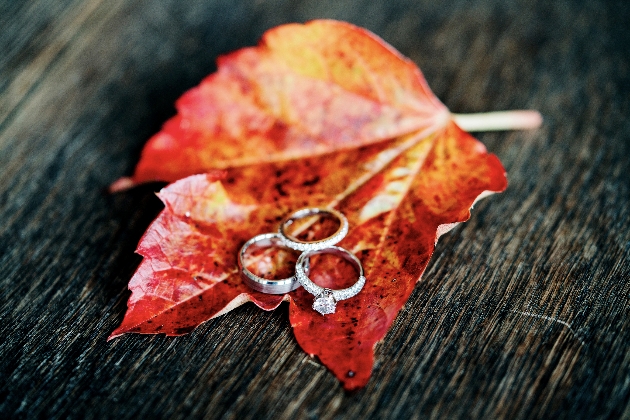 They both agreed, the best thing was being surrounded by wonderful people. "We feel so lucky that our friends and family came," Minju says. "My family flew from Korea and Barry's colleagues came from the U.S. and Qatar. We're incredibly grateful to everyone who made the wedding so special."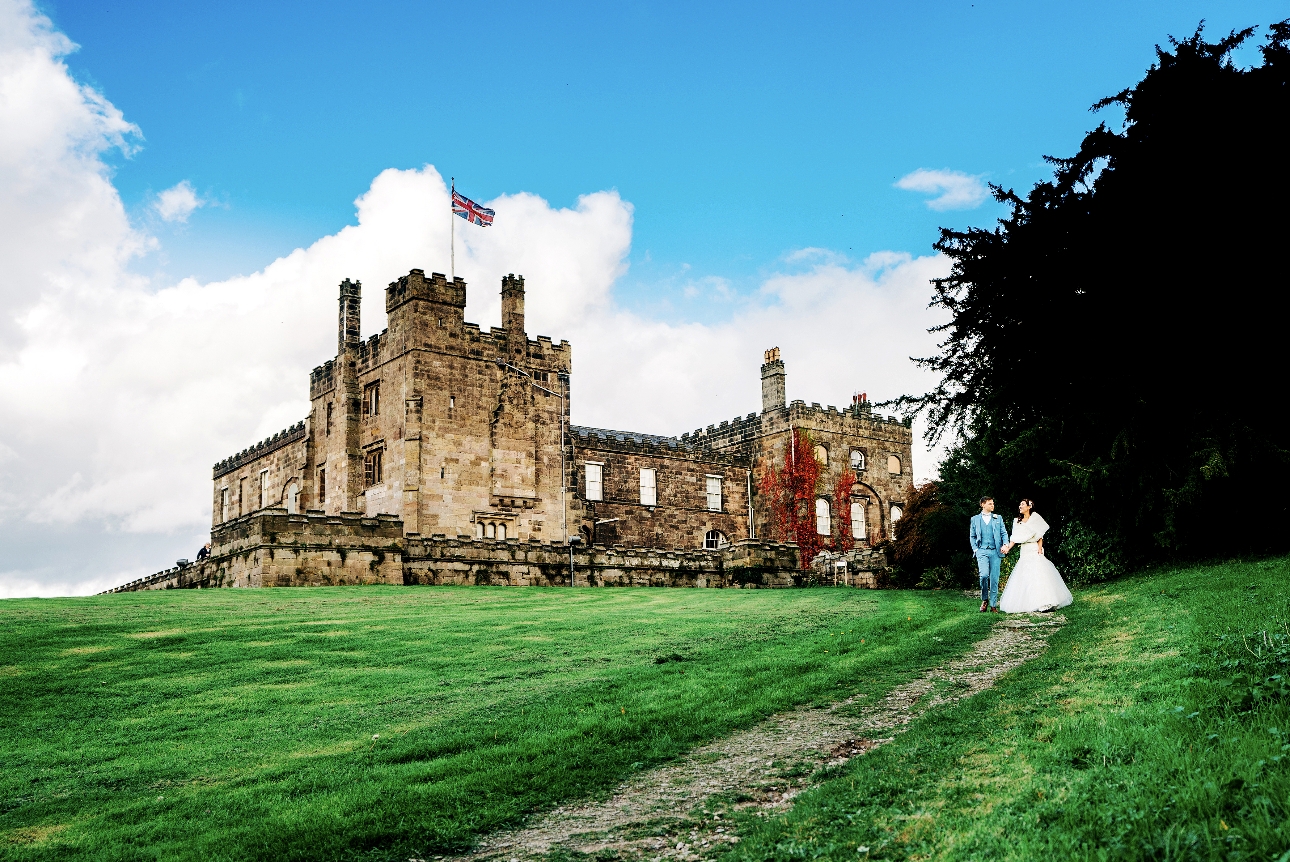 The couple's top tip is to trust the experience and expertise of your suppliers, and just enjoy your day. "Our suppliers came up with great ideas," Minju explains. "For example, our excellent florist Sheila Danby made the venue look amazing. We also couldn't be happier with our choice of photographer, Abraham Overvoorde of Abraham Photography. He was well-prepared and organised everyone on the day. It was a big weight off our shoulders knowing we could trust him, and the pictures speak for themselves!"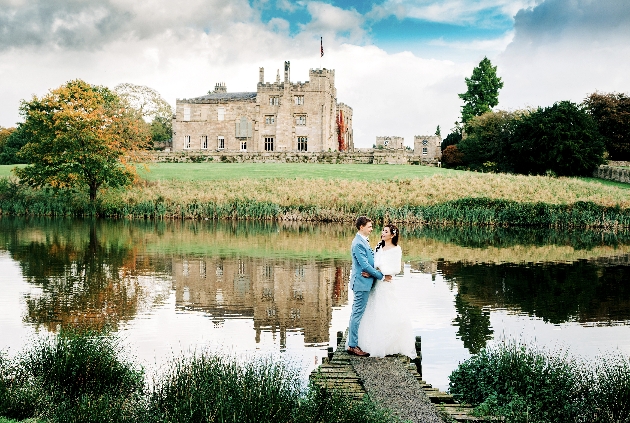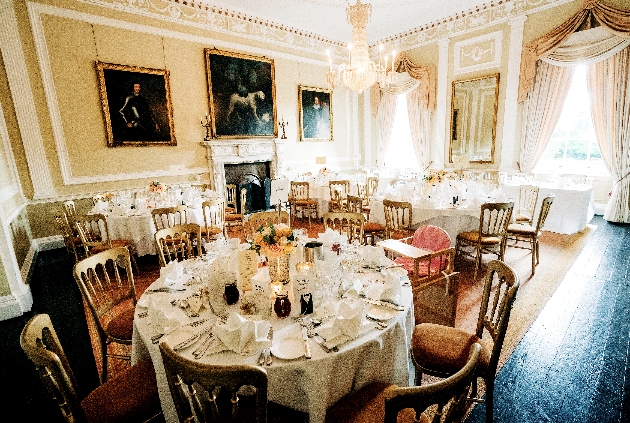 Minju and Barry's contact book