Lindsay and Nick's day was full of aviation-themed details
Lindsay and Nick are childhood sweets, having met at school when they were just 16 years old. "We both have the same interests," says Lindsay. "One of which being aviation, which is where the theme of our wedding came from." Eight years after they got together, Nick was planning to pop the question. "I've always wanted to go to San Francisco," Lindsay explains. "Nick thought it'd be the perfect place to propose. It was a total surprise to me and there were lots of tears!" The loved-up pair then spent time biking over the Golden Gate Bridge. Back home, they started planning their dream day for 24th August, 2019, at Raven Hall Country House Hotel in Ravenscar. We caught up with Lindsay to find out more…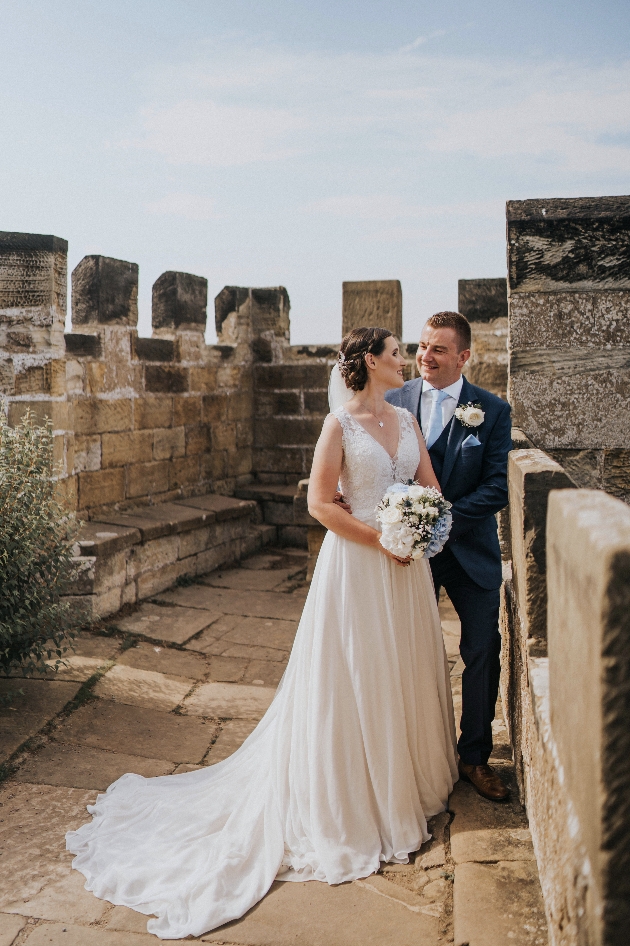 When it came to choosing a location, they didn't have to look far. "I've been going to Raven Hall since I was a kid," Lindsay tells us. "We both love walking around the area so knew it was the perfect location for us."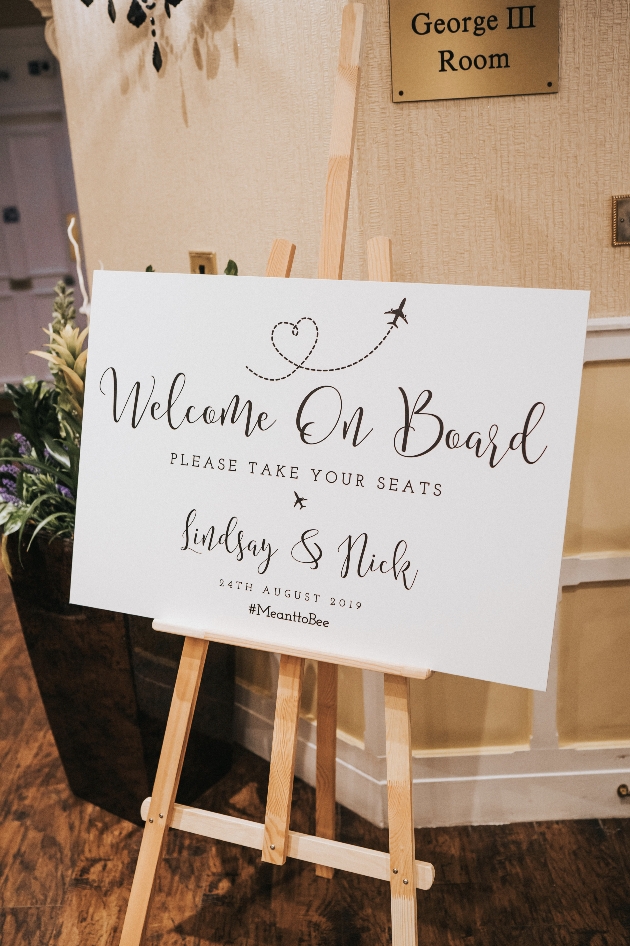 Their shared love of aviation led them to both work for an airline, and it also inspired their big-day theme. "I'm cabin crew and Nick is an engineer for an airline," Lindsay explains. "People always joke that we're never in the country!" The aviation theme and sky blue palette ran throughout the day.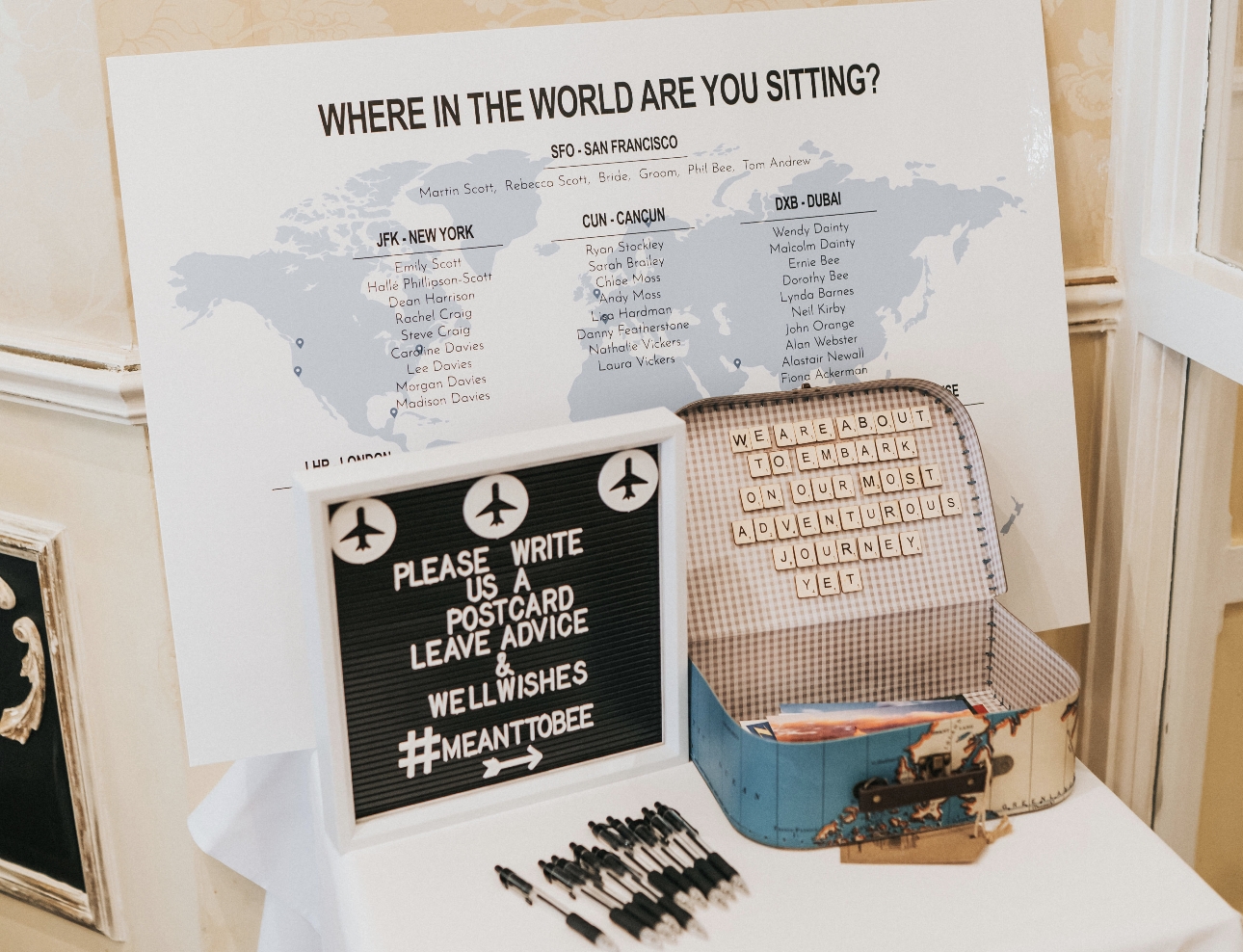 "We named ourtables after airport codes that have meaning to us," Lindsay says. "Of course the top table was SFO (San Francisco). Our table plan was a map of the world." The wonderful place settings where little wooden aircraft that the pair sprayed sky blue and wrote each guest's name on. They had a brilliant idea when it came to the favours. "We gave amenity kits like you get on a flight," Lindsay says. "They included socks, a toothbrush and paste, lip balm and moisturiser."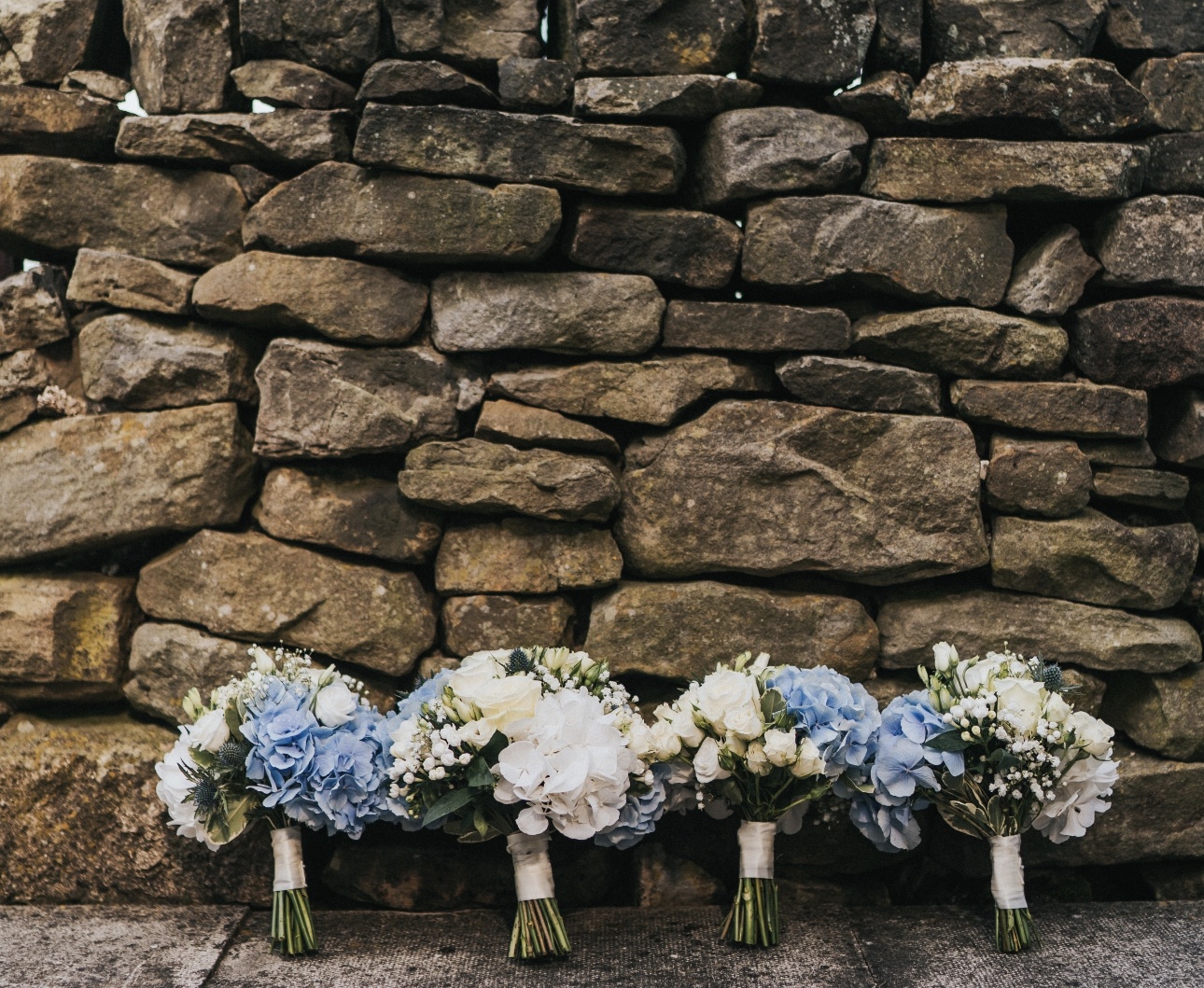 They used local suppliers wherever possible. "The flowers by Louise Florist were so beautiful," Lindsay says. "The bouquets incorporated blue hydrangeas, white roses and thistles." The fabulous centrepieces were blue orchids adorned with fairylights, an idea the bride had seen on a trip to Abu Dhabi.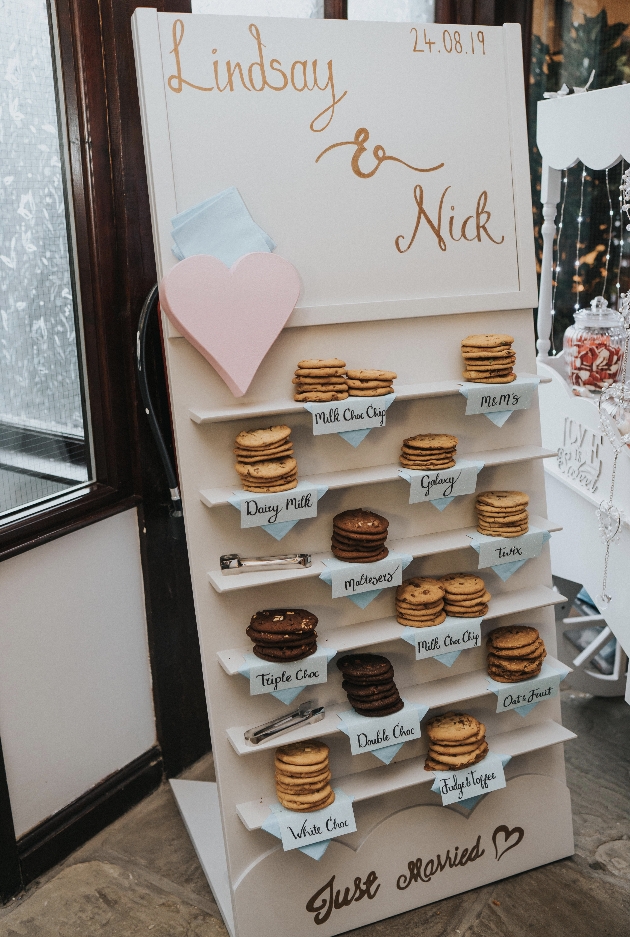 The cake was the pièce de résistance. "We love a sweet treat after a walk, and we always knew we wanted to get our wedding cake from Botham's of Whitby," Lindsay explains. "Elizabeth's creation was better than we could've hoped for.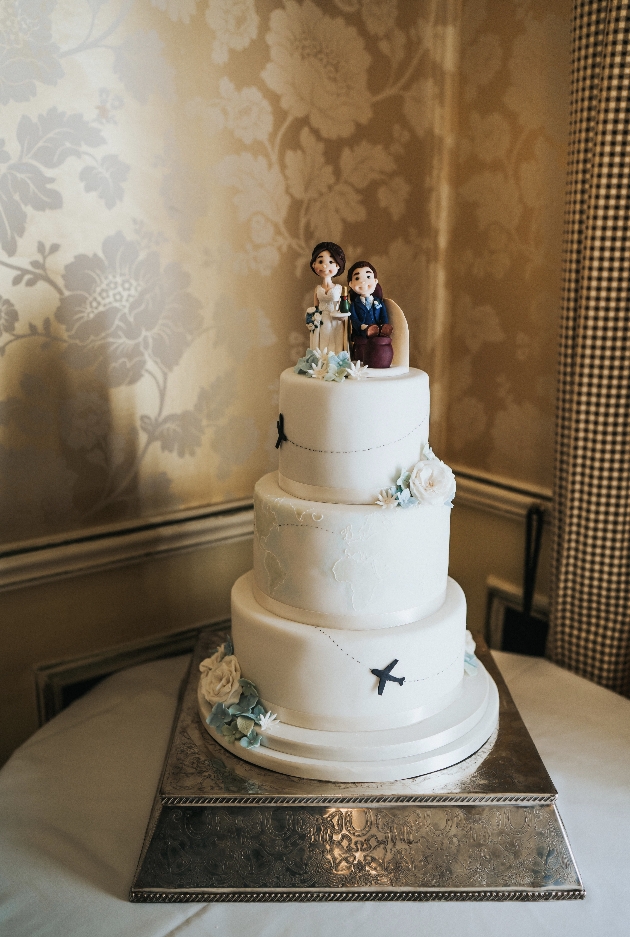 There was an aircraft motif and the middle tier had a subtle worldmap design; the detail was amazing." They finished it off with a cheeky cake topper. "It was Nick's idea to have him sitting in a business-class seat with me serving him champagne," Lindsay laughs.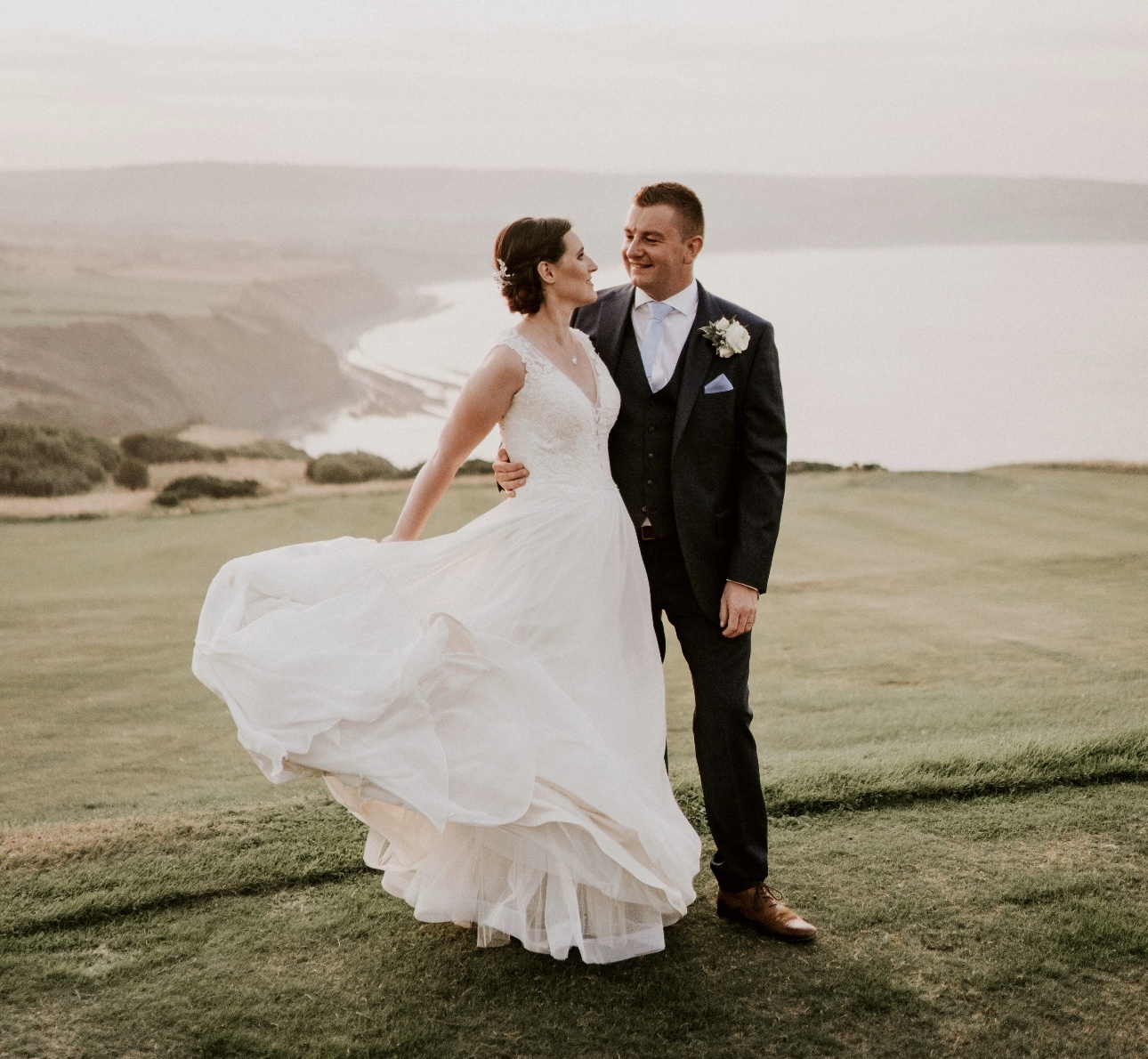 The bride looked stunning in the Yvette gown by Sophia Tolli. "As soon as I put it on I knew it was the one," she says. "The detail on the back was amazing and I loved the length. I felt so beautiful." Lindsay styled it with a beaded veil, a hairpiece and some aircraft hair slides that she had made.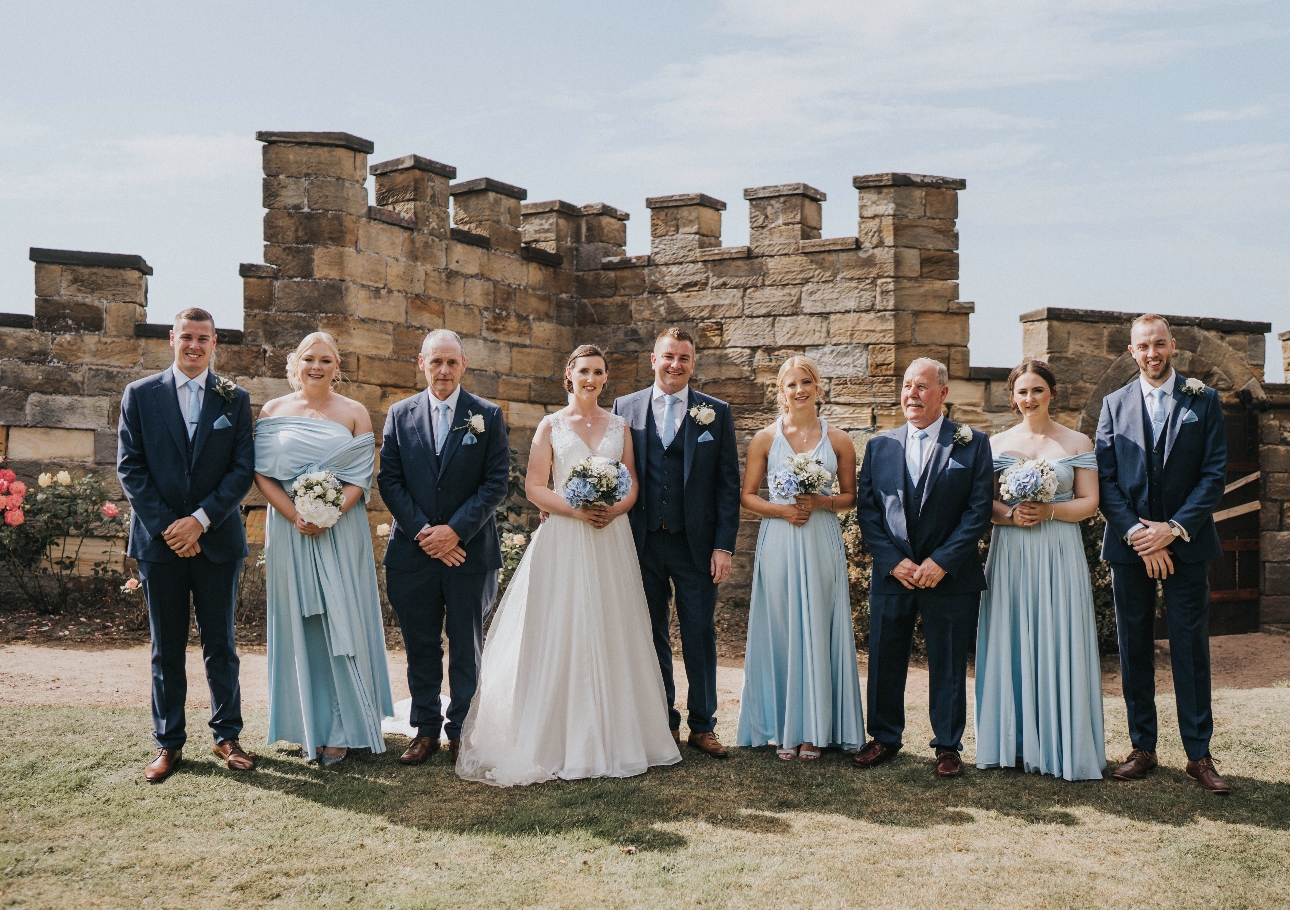 As with many brides, sourcing bridesmaids dresses was a struggle. "I couldn't find the colour I wanted," Lindsay tells us. "When I came across Le Closet De Chanel I was so happy. The multi-way dresses are made to order and great quality. My three best girls looked great." The men all looked dashing in navy three-piece suits with sky blue accessories and buttonholes to coordinate with the bridesmaids.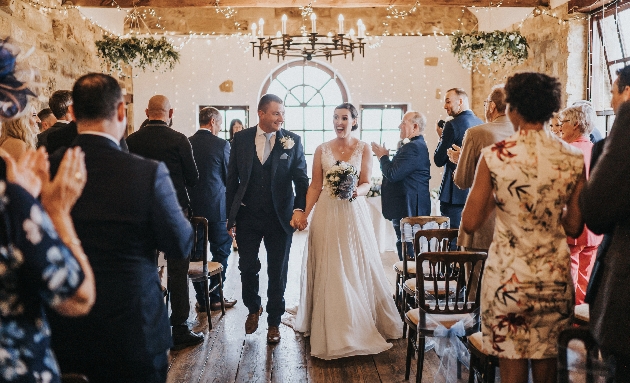 The pair were keen to not overdo the day. "Plenty of food and drink is entertainment enough for most people!" Lindsay says. "The venue's recommended DJ was great and got the party going in the evening." Some close friends of the couple have a business renting out a cookie stand. "It went down a treat and was really novel," Lindsay says. "Our loved ones also got to spend time taking in the stunning views that the setting offers."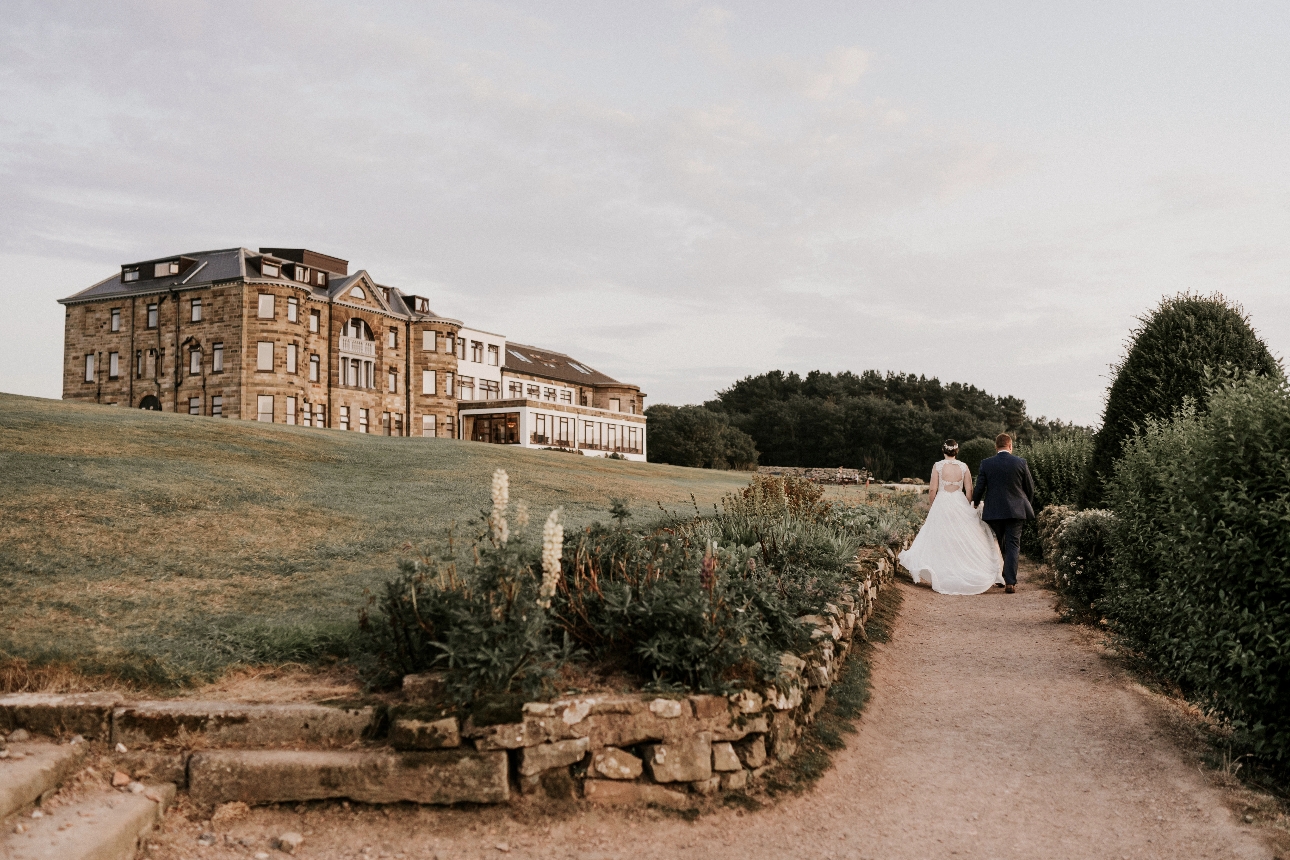 The bride is a self-confessed worrier, but in the morning she was so excited. "After 11 years together, it just felt right," she says. "Walking down the aisle and laying eyes on Nick for the first time was a moment that really stood out. Seeing his face when he saw me was the best." Nick loved seeing their vision of the day come to life, and getting to share that with their nearest and dearest.
Lindsay and Nick's contact book