Editor Claire Muffett-Reece discovers why Switzerland is the perfect summer honeymoon destination
When an email arrived in my inbox offering me the chance to visit Switzerland in July I have to admit it wasn't a season I'd initially choose as my preference. The Alps are typically known for the slopes and ski season, and it was hard to envisage a scene that didn't involve wrapping up warm and an abundance of snow. How very wrong I was about to become.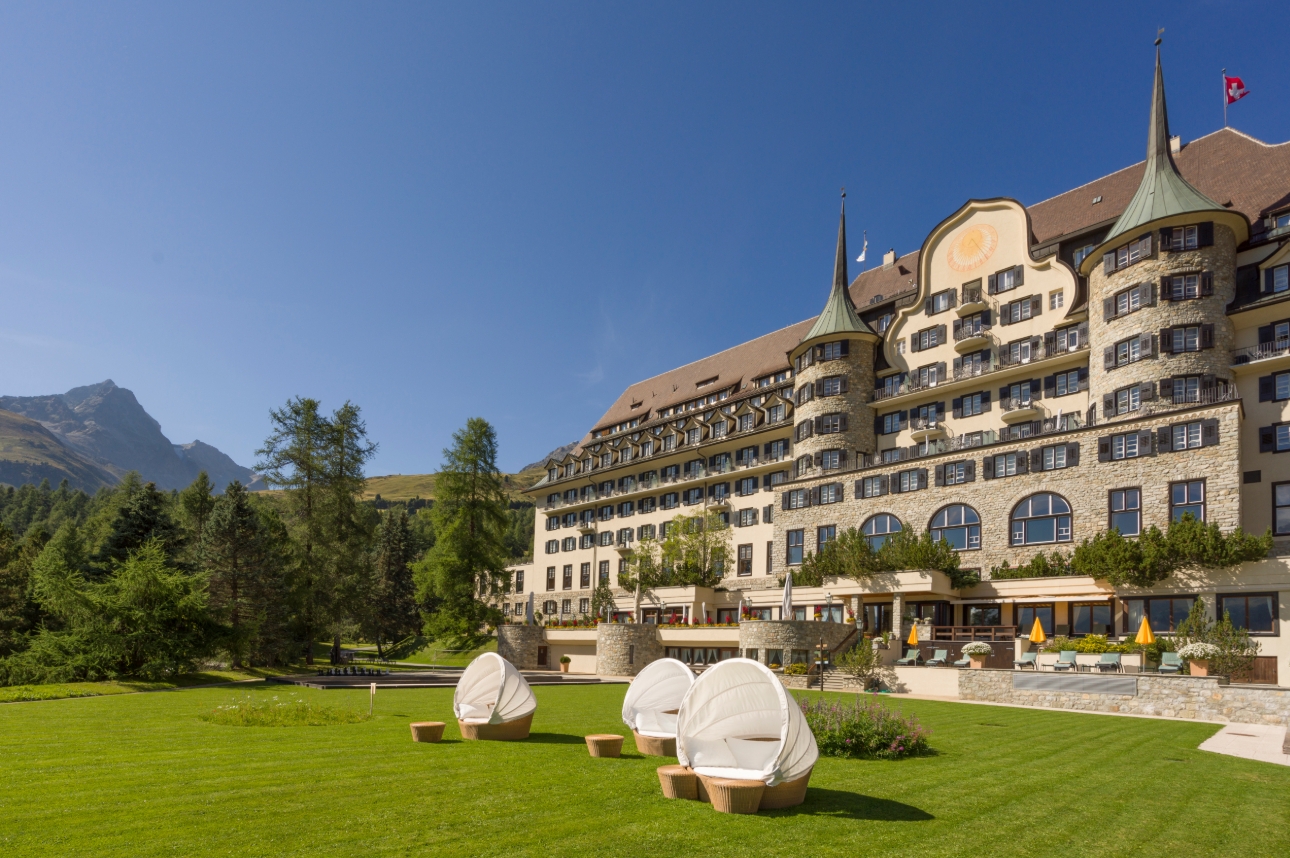 My destination for three nights was none other than Suvretta House, a five-star hotel in the heart of St Moritz that's welcomed the likes of the Kennedys, Eva Peron and the Emperor of Japan through its doors. Built in 1912, this Art Deco wonder is nestled in the magnificent Alpine landscape of the Upper Engadine, on the Chasellas plateau in Suvretta. With Suvretta itself being 1,850 metres above sea level, your honeymoon starts the very minute you touch down at Zurich airport, as the scenery you'll encounter on the three-hour train journey to St Moritz is some of the most romantic you'll ever see. I'd taken my laptop with the idea of working on the journey, yet constantly found myself rushing from one side of the train carriage to the other, snapping glacier blue rivers and snow-capped mountains as we wound our way higher and higher to our picturesque destination.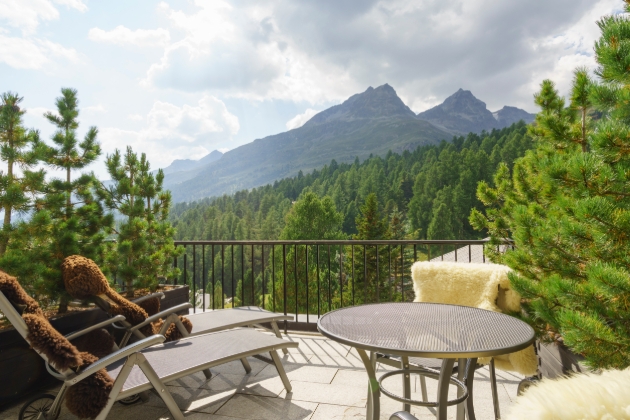 Upon arrival at the train station we were greeted by the hotel's vintage green bus, which took us straight to Suvretta House for a delicious afternoon tea. Suitably stuffed after far too many sandwiches and scones, I was given a key (a proper key, none of the problems of your key card locking you out of your room!) to my Junior Deluxe Suite, a huge room complete with walk-in wardrobe, large bathroom with separate shower and panoramic view of the mountains and lakes of the Engadin. I could happily have spent my time lounging around in this magnificent space, but after a quick change it was down to dinner in one of the hotel's off-site mountain restaurants, Chasellas.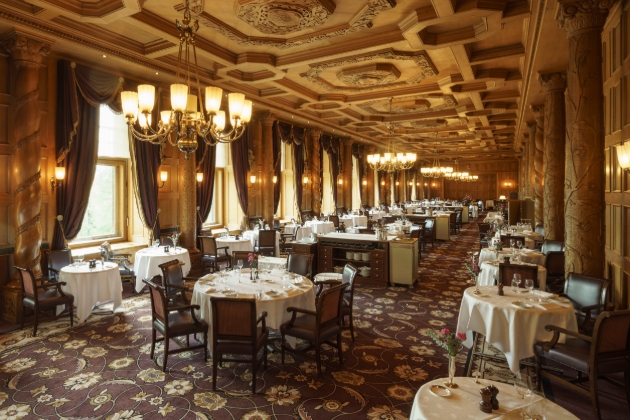 Come dine with me
From our very first dinner at Suvretta House it became clear that the hotel takes feeding its guests seriously. Chasellas, situated 1,936 metres above sea level, offers 45 indoor seats and an inviting sun terrace directly at the entrance to the ski and hiking area. Expect typical Austrian fare to fuel you, from Bavarian sausage, fried chicken 'Viennese style' with potato salad, and Swiss fillet of beef with prawns. Suvretta House also has another off-site restaurant, Trutz, which is even higher up the mountain for those seeking a more active honeymoon experience! A mere 2,211 metres above sea level, it's reached by around a 90-minute hike (or cable car if you fancy a less energetic approach). Ask to sit outside and enjoy the stunning views, taking advantage of the blankets offered – even throughout the summer months. Here I enjoyed an ice-cold Viva Tavola beer while getting stuck into a variety of dishes, from air-dried meats and Wienerschnitzel, to polenta with gorgonzola and a delicious barley soup. For me, however, the best meal of the entire trip was at Suvretta's Grand Restaurant, a breath-taking room with incredible panelling, carved solid oak columns and elaborately decorated cassette ceiling. There I enjoyed a warm lobster salad with Amalfi lemon and green asparagus, followed by a saddle of summer venison. Completing the meal with cheese and biscuits, I was glad to take full advantage of Suvretta's outdoor summer activities to help burn off those extra calories!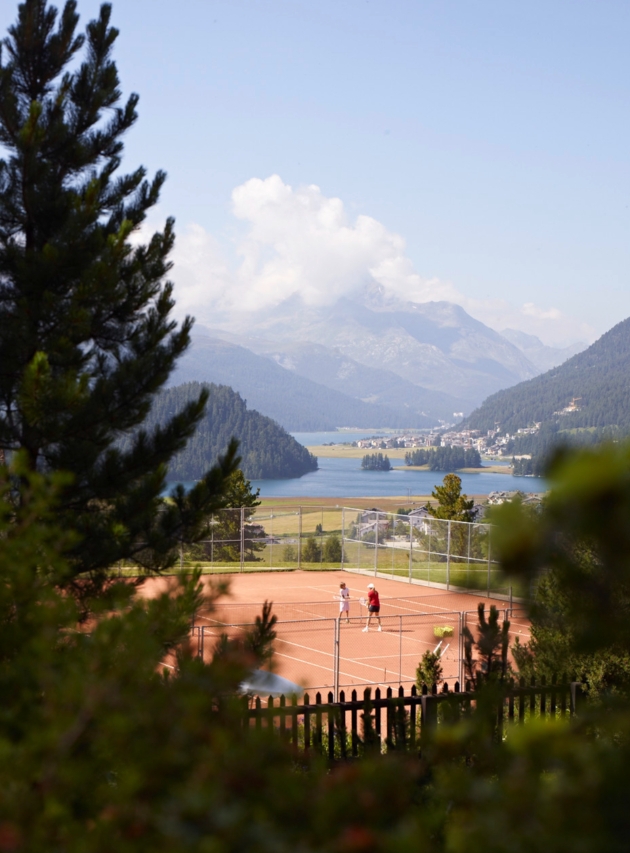 Let's get physical
Looking through my itinerary, I was pleasantly surprised to see many activities available for those visiting Suvretta House in the summer season. Swapping ski boots for hiking shoes was my first port of call, with a hike up the mountains with our experienced guide, Heinz. Making sure to turn on my Strava app before we set off, I was impressed to discover our party had hiked 6km, with a 385-metre elevation, in just shy of two hours – not bad considering we weren't yet accustomed to being that high above sea level!

The following day it was time for a bike ride – and I've never been more thankful to be given one of the electric variety! Foolishly thinking it would be a leisurely jaunt around a flat-level lake, we were soon heading off-road and up into the mountains! Before I knew it we'd clocked up 25km – and another elevation of 388 metres! Throughout my stay at Suvretta House I also took part in a tennis lesson – I'll never be a Serena or Venus, mind you – and enjoyed the hotel's incredible spa facilities, with a refreshing swim followed by a full body massage. However, one activity I'll never forget is sailing on St Moritz Lake, with an experienced sailing instructor from Suvretta Sports. Sitting there, enjoying some of the freshest mountain air and cleanest waters in the world, I saw why you should one hundred per cent choose the mountains of Switzerland – and Suvretta House – as your perfect honeymoon destination.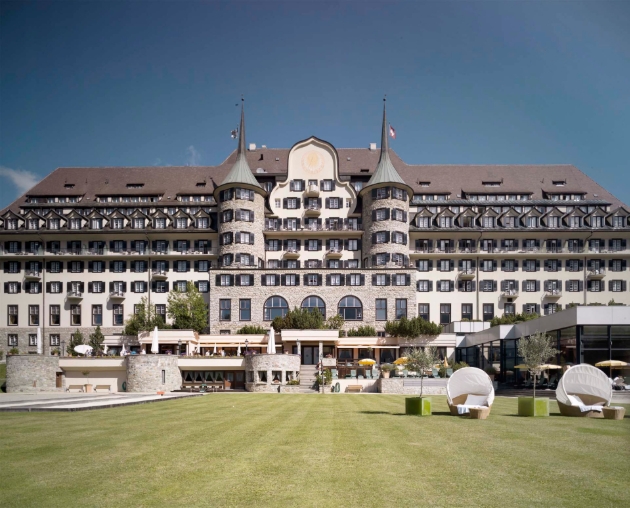 BOOK IT
Summer rates at Suvretta House start from 410 CHF (approximately £347) in a Double Room Standard Mountain, per night, on a half board basis.
Book your honeymoon at Suvretta House by visiting www.suvrettahouse.ch