The Cayman Islands are perfect for honeymoons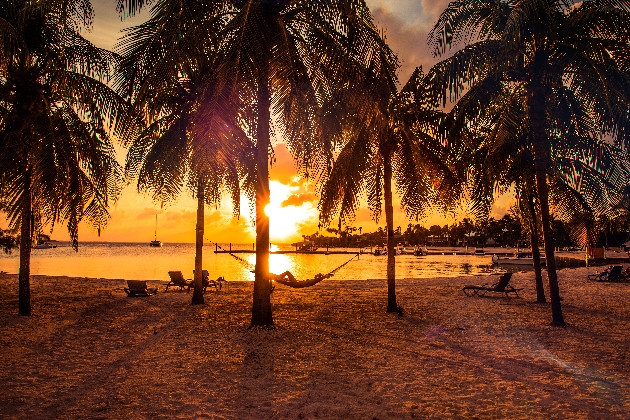 Credit: Getty Images

Wowing visitors from all over the world with pristine beaches, crystal clear waters and fascinating flora and fauna, the Cayman Islands offers couples the chance to enjoy a slice of paradise.

With a trio of islands - Grand Cayman, Cayman Brac and Little Cayman - waiting to be explored, travellers will find a wealth of activities and locations to suit every couple's holiday desires. Ideal for adventurous travellers, nature-lovers and those looking to relax and unwind on world-class beaches, there's as much thrill as there is chill.

Grand Cayman

The largest within the three-island archipelago, Grand Cayman offers complete relaxation, exquisite dining, exciting nightlife and, of course, crystal-clear waters and white sand beaches. Couples will love the cosmopolitan atmosphere of Seven-Mile Beach, the many world-class hotels, restaurants, beach bars and activities available, and the rural-town feel of the East End.

The Queen Elizabeth II Botanic Park and its rare blue iguanas, a variety of local art galleries, and the beautiful ancient Mastic Trail are just a few of the attractions awaiting couples looking for a getaway that truly has something for every taste.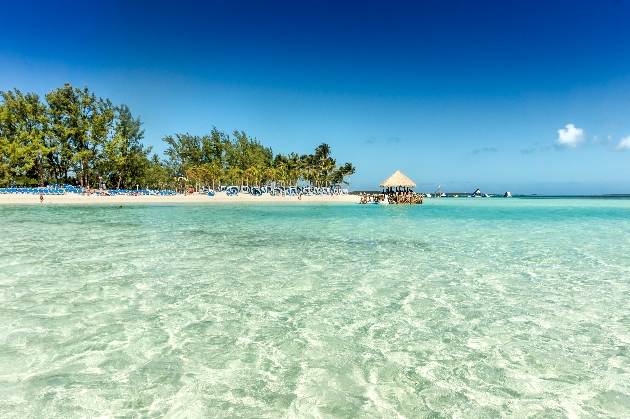 Credit: Getty ImagesWhere to Stay on Grand Cayman:
Palm Heights, Grand Cayman - Located on the famous Seven Mile Beach, Palm Heights offers a stunning location and wealth of services - perfect for a romantic retreat on Grand Cayman. Offering ocean views from every suite, stylish design, guest-only pool, all day dining, lounge, beach club and a wealth of water activities, including kayaking, snorkelling and paddleboarding, couples can relax in style.
The Ritz Carlton, Grand Cayman - The luxurious hotel was renovated in 2021 to reflect the islands' history, culture and environmental elements. The beautiful Seven Mile Beach property also boasts a signature spa, and no less than six on-site restaurants including the famous Blue by Eric Ripert. The hotel also has its own golf facilities, tennis and basketball courts, and ample opportunity to sail, kayak or snorkel.
Botanica Cayman, Grand Cayman - Botanica Cayman's luxury boutique cottages offer couples the feel of a 'home away from home', complete with private gardens, a swimming pool, organic skincare and plush bamboo bedding. The boutique resort is just a short-distance from the white sands of Seven Mile Beach and within easy reach of the lively restaurants and shops of central George Town and Camana Bay.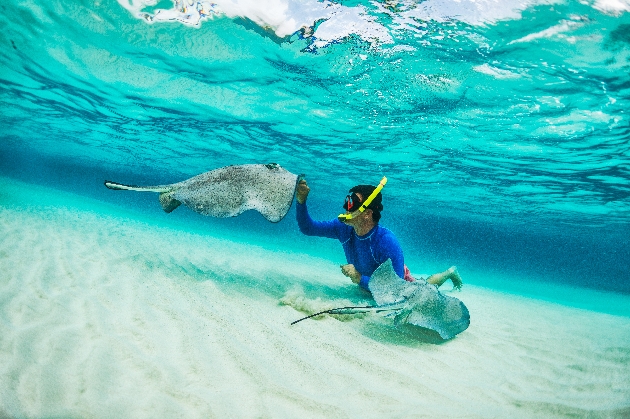 Credit: Getty ImagesLittle Cayman
As its name suggests, Little Cayman is the smallest of the Cayman Islands - and home to more iguanas than people - making it perfect for those looking to get off the grid and spend quality time together.
Being only one mile wide and 10 miles long, Little Cayman dazzles with pristine sand beaches, crystal-clear waters, a beautiful nature reserve and world-class diving sites - all the makings for a private romantic retreat.
Those looking for a gentle immersion in nature can take a bicycle around the island visiting the Booby Pond Nature Reserve or to the South Hole Sound Lagoon for what is often a private swim. Another spectacular adventure for two is a kayak to Owen Island. Couples can snorkel through stunning marine life or delve a little deeper with a dive at the Bloody Bay Wall - a world-renowned dive site with a dramatic 5,000 foot drop-off.
Where to stay on Little Cayman:
Southern Cross Club -. Offering 'barefoot elegance', couples can choose to simply relax at the hotel, take a kayak out onto the crystal clear waters, explore Little Cayman's famous dive sites or immerse themselves in nature. Located on the edge of the beachfront property, the hotel's Honeymoon Suite offers a spacious room, king size bed, private outdoor shower and, of course, stunning views.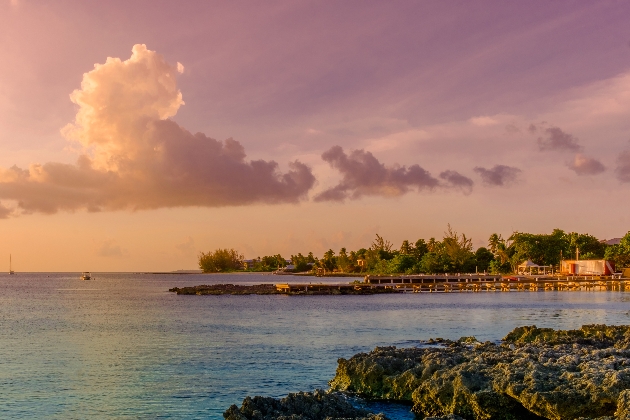 Credit: Getty ImagesCayman Brac
Known for its breathtaking bluff, Cayman Brac is the most rugged of the three islands and well known for its dramatic views and exotic flora. From limestone caves to lush green forests and spectacular underwater worlds - one diving site even boasts a sunken shipwreck - couples can channel their inner desert island explorer on this island.
Where to stay on Cayman Brac:
Le Soleil d'Or - For couples looking for an unspoilt island for their romantic break, Cayman Brac offers the perfect hideaway. Amidst untamed coastal landscapes awaits Le Soleil d'Or, a Caribbean Farm Inn, nestled in 20 acres of elevated botanical gardens. Guests are encouraged to embrace mindful living in harmony with nature and enjoy savouring the fresh flavours of homegrown produce in a true farm-to-table experience. The nearby Beach Club dazzles with white sands, crystal waters and thatch-shaded loungers - it couldn't get more idyllic!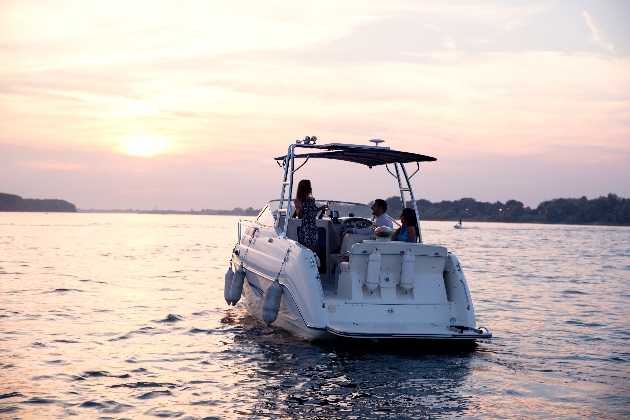 Credit: Getty ImagesActivities with the romance factor in the Cayman Islands
Take a moonlit horse ride: For couples looking for an extra special activity, a moonlit horse ride along the beach with Spirit of the West offers a unique, and romantic way to see the island's natural beauty. Guided only by the moon light and the horses' natural instincts, couples can be wowed by the stunning light reflections on the water.
Charter a boat for two: Couples can take to the crystal-clear waters with a private boat charter for two. Spend a morning at Stingray City and with the wild stingrays that call this place home before heading to Starfish Point for a snorkel to observe the abundance of orange starfish or enjoy the stunning colours of the sky with a sunset sail before taking in the beauty of the night sky as it glistens with stars.
Get your spa on: What better way to leave behind the stresses of everyday life than with head-to-toe pampering? Couples who want to feel their best will love a romantic wellness day for two at the spectacular Hibiscus Spa at The Westin Grand Cayman Seven Mile Beach Resort & Spa. The luxurious oasis has 13 treatment rooms, two steam and sauna rooms, a women's whirlpool and Vichy showers, and experienced health and beauty therapists to offer massages and a variety of other treatments designed to rejuvenate mind, body and soul.
Arty exploits: Those wanting to explore the vibrant local arts scene or even take home a unique souvenir can explore Cayman's local galleries. The National Gallery of the Cayman Islands in George Town honours the islands' artistic heritage, and provides a platform for local artists to share their work. Meanwhile, 3 Girls & A Kiln is an art collective championing fun designs, island-inspired ceramics and upcycled art - and offers a chance to create your own artwork!
Dine under the full moon: Foodies will love learning about locally grown ingredients and how the culinary experts from Chellamella transform them into delicious dishes during an atmospheric moonlit dinner at the Queen Elizabeth II Botanic Park. Every month, gourmets can enjoy a six-course meal which champions local produce in unique, innovative ways, as well as the opportunity to enjoy a late-night stroll through the park under the silver light of the Full Moon.
To discover more about the Cayman Islands, head to www.visitcaymanislands.com