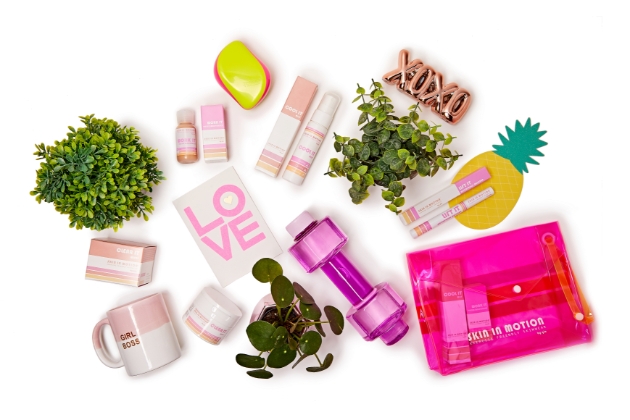 Skin in Motion is one of the first brands of it's kind, make-up designed specifically to wear to the gym. There's much debate on whether you should wear make-up in the gym or not, as we learn below, so celebrity make-up artist Gia Mills, who has made up many famous faces, from Louise Thompson to Sienna Miller has combined her love of exercise with her knowledge of make-up to develop Skin in Motion. The range promotes the power of exercise and gives women the right tools to feel positive about their appearance.

So, is wearing make-up in the gym a skin crime?

"Absolutely not!" Gia Mills, the founder of Skin in Motion seriously disagrees. Today gyms are places for socialising and even doing business, so wearing make-up to the gym is part of a modern women's lifestyle, always on the go… "However, for those who choose to, wearing the wrong make-up is a skin crime!" she adds. Dermatologists rightly recommend against wearing standard make-up as it can clog the pores and cause breakouts. Skin In Motion's exercise make-up and skincare products are specifically developed to take care of your skin when you're working out. The brand wants women to stop compromising between wearing make-up at the gym and damaging their skin.

There's also the very important positive effect of exercise on mental health and self-image. The 'lipstick effect' of feeling your best self with some make-up can encourage the person who is possibly a bit insecure to head into the gym, it can lead to a totally new lease of life. Skin InMotion champions all women to thrive on the benefits of exercise, so if that is wearing go-faster stripe eyeliner or not a scrap of slap, just make sure your choice is not harming your skin.

Overwhelmingly, Sport England reveals that 75% of women are even put off exercise for fear of being judged over their appearance. In Australia, Sport England's This Girl Can campaign found over 40% who worried about being judged by their appearance, feel that embarrassment or intimidation is so strong they think it unlikely they will start at all.

Gia is hoping the option of wearing exercise specific makeup can empower more women positively to get in the gym. "Heading to the gym with a touch of healthy makeup can encourage people onto that treadmill and off the sofa!"

SKIN IN MOTION's Gym Kit essentials:

WORK IT foundation, means pores can perspire safely and breathe with no worry of becoming clogged, and the LIFT IT mascara will stay perfectly in place rather than running down your face. Dermatologists recommend a clean face, for sweat to rid the skin of toxins, but with SKIN IN MOTION, Gia says "our brand gives you the tools to cleanse properly following a work-out, if you are using gym specific products, and being diligent with cleansing, make-up in the gym is not a problem." The CLEAR IT wipes dissolve sweat after workouts and the COOL IT spray calms redness, while deeply cleansing, hydrating and calming skin. Adele Tracey, British Middle-distance hopeful in the 800m Olympics next year is an advocate of wearing make up for exercise, all eyes will be on her as an athlete/celebrity next year.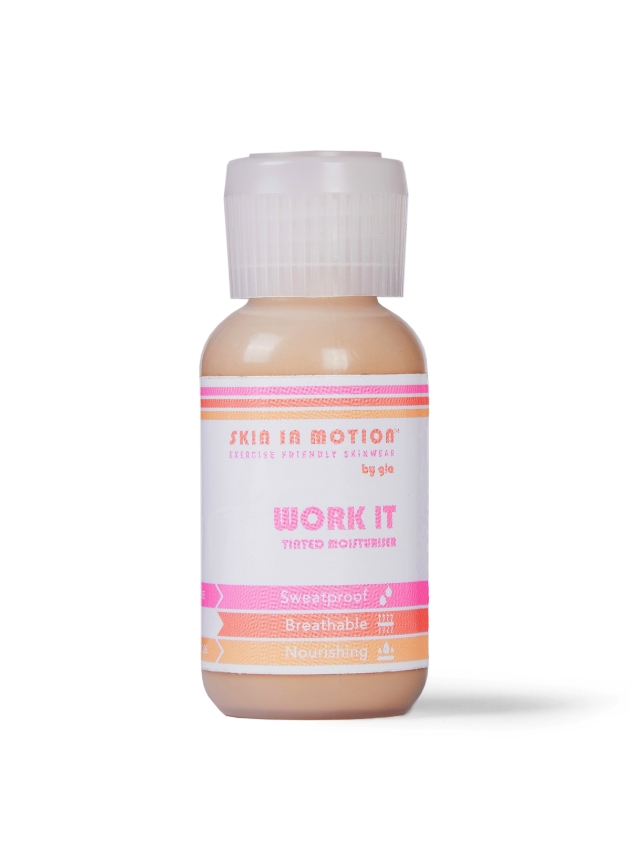 WORK IT – Tinted moisturiser

The ultimate exercise foundation, a breathable sweat proof formulato give flawless coverage during a workout. Skin in Motion has your skin covered with deeply hydrating argan oil that stays in place.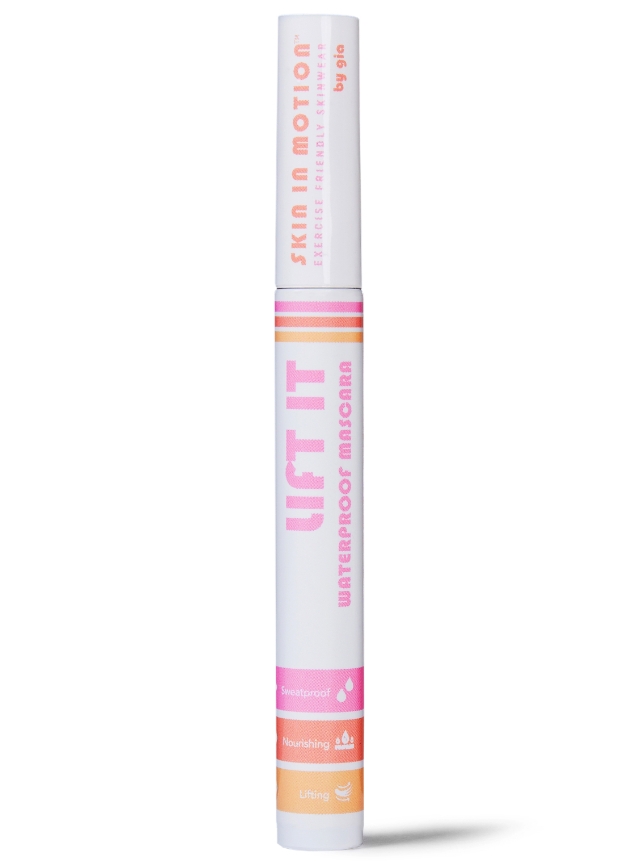 LIFT IT – Waterproof Mascara

A mascara powered to lock in colour, the formula is infused withJapanese berry kernels and can withstand the sweatiest of workouts.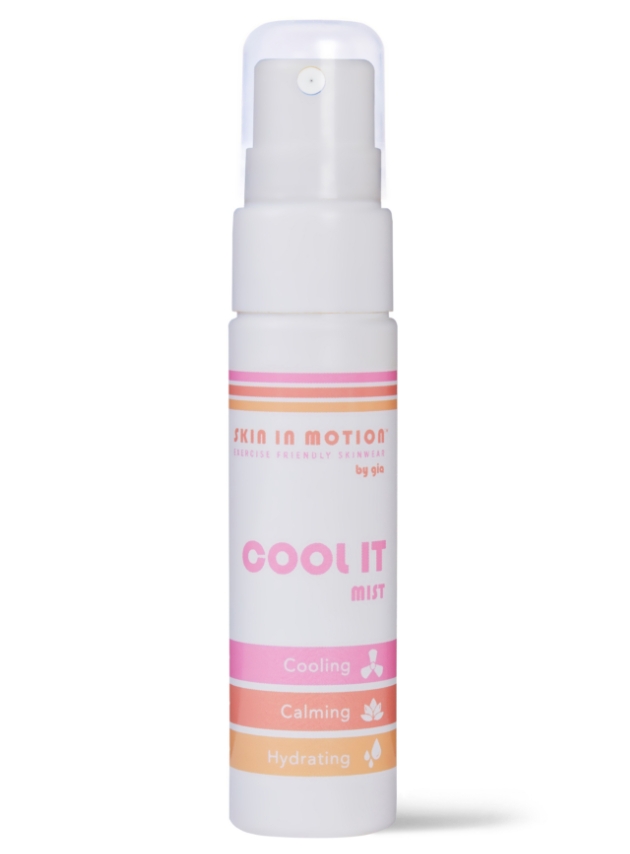 COOL IT – Mist

Is a gym essential moisturiser spray, a refreshing mist with hyaluronic acid to deeply hydrate skin following a workout. The natural mint and liquorice extracts calm skin. A great alternative to gluggy moisturiser, just spray and go.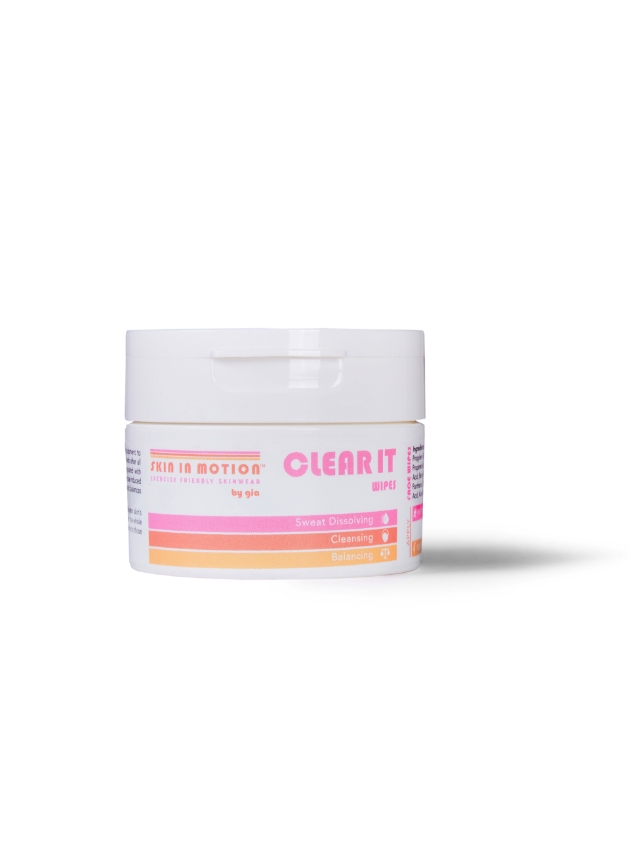 CLEAR IT - Wipes

Dissolve sweat and dirt following exercise with a salicylic wipe. Aloe Vera gently moisturises and balances the skin. The wipes cool and gently reduce redness following a workout.

Check out www.skininmotion.com