New Issue OUT NOW

Cover image provided by Avenue White Photography, www.avenuewhitephotography.com


Ooh la luxe
Decadent touches will ensure your day exudes class, elegance and glamour


Wedding of the year
Our grand final is here!


Supporting act
Whether you're looking for a secret layer of structure or opting for sex appeal, we share our top bridal lingerie


About lace
We visited bridal designer Katya Shehurina in her London boutique to talk colour, couture, crying men and not being allowed to make your own wedding dress


A wedding for all seasons
How to dress your big day, whatever the time of year


Woodland whimsy
If you go down to the woods today, you'll get some gorgeous inspiration


He loves me...
Speak the language of flowers


Call me
From a call centre to a stately home; Jessica and Joe's big day was the perfect celebration of their love


Love in the open air
Sarah and Christian's wedding was a country dream full of love and family


The mex-factor
Danielle Wilkins discovers a chilled-out, more authentic side to Mexico in Riviera Nayarit


Plus...
Regular features, news, events, Q&A special - and much more
Next Issue Out
6th March, 2015


Buy a copy for just £3.45 POST FREE
A subscription for 6 issues will cost even less at just £17.60!

Alternatively, if you want to read Your Yorkshire Wedding on your Smartphone or Tablet you can order a complete eMagazine for just £1.49

To order, please visit our website at www.youryorkshireweddingmagazine.com or call us on 01376 514000


Bespoke for the boys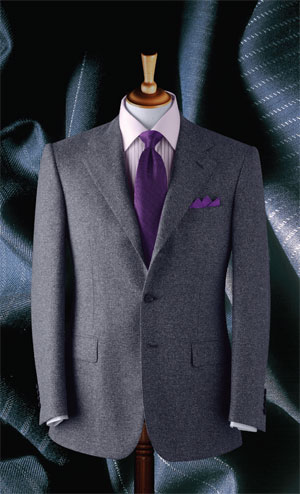 Leeds-based menswear specialist, Matthew Wignall, has launched a high-end bespoke tailoring service, perfect for grooms looking for that special suit. The Gentleman's Tailor in Wellington Place offers cloth sourced from Yorkshire fabric houses, including Dormeuil, Hield and Huddersfield. It provides personal fittings by appointment and uses visual software to create style boards and designs bespoke to each individual, speeding up timescales and reducing costs. Matthew will also provide an 'at home or at work' service and is launching new outlets in Otley, Ilkley and Sheffield.

"Until recently, bespoke tailoring has only been available to the wealthy few," says Matthew. "My business model will provide high-end tailoring at off-the-peg prices, without compromising on quality, craftsmanship or service. Everyone can now try bespoke." The former BBC costume designer started his training at Harrogate College, studying art and design before launching his career in fashion. "I grew up in Yorkshire and I'm extremely proud of my roots," he says. "I'm delighted to be opening a studio in the area." The Gentleman's Tailor is strictly appointment based only.

To find out more, call 01423 740 940 or visit www.thegentlemanstailor.com

Forthcoming Events
Please note: All dates are subject to changes, contact organisers for more information before making arrangements.
To view more events, please visit the events page on our website.
Wedding Fayres Yorkshire at John Smith's Stadium, Huddersfield
Stadium Way, Huddersfield, West Yorkshire HD1 6PG
Web: www.weddingfayresyorkshire.com
Date: Sun, 18 Jan 2015
Time: 10am - 4pm
The Yorkshire Wedding Show
Rudding Park Hotel, Follifoot, Harrogate, North Yorkshire HG3 1JH
Web: www.eventsshop.co.uk
Date: Sun, 15 Feb 2015
Time: 12pm - 3pm



Thinking ahead

I'm not one of those people who make endless lists of resolutions at this time of year. There's no point kidding myself that I'm going to spend hours at the gym or that this will be the year that I finally master Italian. What I do like to do is plan lots of lovely things to look forward to: holidays, trips to the seaside, concerts, plays, visits to family. That way even when I'm struggling to work up much enthusiasm for the walk through the rain for that early morning train, I've got something to think about, to imagine how I'll feel when I'm there, doing the things I love with the people who mean the most to me. That's the best thing about planning a wedding. Don't worry about whether the icing on your biscuit favours exactly matches the flowers in your bouquet – think about what your dad's face will look like when he sees you in your dress. Or what it will feel like when you see your husband-to-be at the end of the aisle. What I'm really saying is: make sure you enjoy the whole process and you'll have a great time on the big day.

Happy reading!



Jo Fletcher-Cross, Editor
Make sure you email editor@youryorkshire
weddingmagazine.com to keep us up to date with all your news


Win a luxury spa break worth £890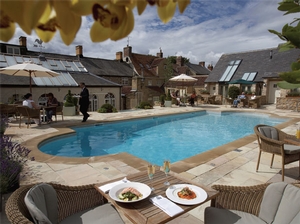 Located in the heart of North Yorkshire in the market town of Helmsley, the Feversham Arms Hotel is a gorgeous secluded luxury retreat. From the outside it looks like a traditional country inn but once you step inside you find a cosy yet contemporary place to stay and relax. The chic reception area leads through to an outdoor pool set in a Mediterranean-style terrace with tables and chairs all around – it's heated all year so you can go for a dip even in the depths of winter. You can also enjoy some time in the outdoor hot tub Jacuzzi. There are 33 individually designed bedrooms, including 22 suites, featuring flatscreen TVs, DVD players, underfloor heating, open fireplaces and Elemis toiletries.

This is a serious foodie destination too, with the two AA rosette restaurant focusing on delicious local ingredients with an exciting and varied wine list. Afternoon tea is served in the fireside lounges during the winter or by the pool on warmer summer days. You can have a truly relaxing break here: take advantage of the Verbena Spa, which offers an extensive menu of treatments from facials to exotic wraps; luxuriate in the heat experience which combines the saunarium, aromatherapy room, salt vapour room, monsoon shower, ice cave and foot spas.

Find out more at www.fevershamarmshotel.com

Your Yorkshire Wedding has teamed up with the Feversham Arms to offer a lucky couple a luxury spa break, including two nights in a Luxury Spa Suite and dinner on one night in the restaurant.
Enter here

Spotlight on… Hull and East riding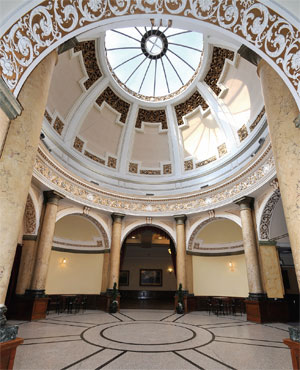 Hull City Hall

The prestigious and historic City Hall was designed in the early 1900s mainly in the renaissance style of the Wren period, and is an imposing and ornate building perfect for a grand celebration. Situated right in the heart of Hull in Queen Victoria Square – also home to the Ferens Gallery and Maritime Museum – this is perfect for those who want a central location. Marry in the Mortimer Suite with its magnificent central atrium framed by an ornate domed ceiling watched by 110 of your nearest and dearest, then host a reception for 300 in the same space.

Ceremony licence: Yes
Contact: 01482 613 819
www.hullcc.gov.uk/hullcityhall

Did you know? The grand main staircase can be used for a dramatic backdrop for photos, and you can also be photographed on the outside balcony.

See more regional delights on page 17 of the current issue.

Your best shot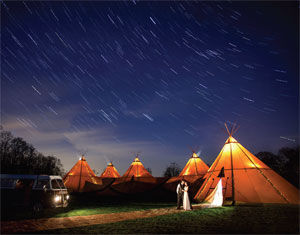 Yorkshire photographers show off their favourite wedding images

"There are many reasons why this is my favourite. The main one is because it's a really great memory of an amazing day both from my point of view and also the bride and groom's. It sums up the wedding and the couple perfectly. Even the set up was memorable; the Campervan they used for transport on the day belonged to one of the guests and I was wandering through the evening celebrations trying to find someone to get it moved into place. When I found them, I was given the keys and told the pedals were a bit stiff, and that was all. So after navigating it – carefully – towards the tipi full of people, we got the photo framed nicely and the newlyweds posed for their bit. Followed by me standing outside in near freezing conditions for 20 minutes capturing star trails." – Tom Ullrich, Fossca Photography

www.fossca.co.uk

See more stunning shots on page 49 of the current issue.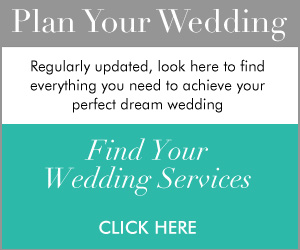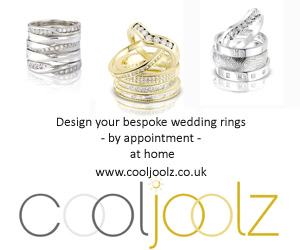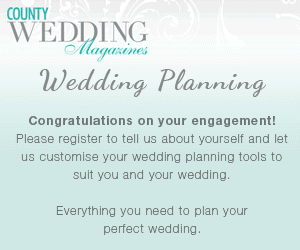 Hot topic: The finer details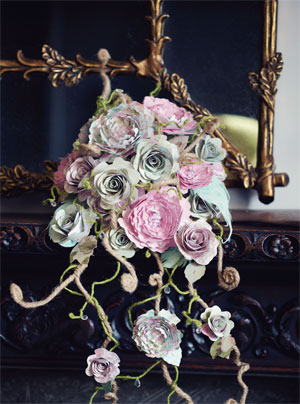 Paper petals

Q I feel a bit sad at the idea of my bouquet withering away after the wedding. I'm not keen on silk flowers, though. Do you have any suggestions for an alternative that I can keep after the big day?

A Paper flower maker Alison Newbould Rance says: I'd recommend a paper flower bouquet. The possibilities are limitless; it gives you immense scope to capture some personal touches for your day. How fantastic would it be to have your bouquet created from the music of your first dance; your favourite book; a map of the town where you got engaged; or a fabulous array of colours that aren't available in fresh or silk flowers?

What I really love about paper bouquets is that they're as practical as they are beautiful; so lightweight – the one pictured weighs less than 300g – and resilient. Paper bouquets are specially coated to make them weather resistant, they don't wilt in the heat and they're transportable. And, of course, you have a lovely keepsake for years to come.

www.jackdawdecor.co.uk

Call me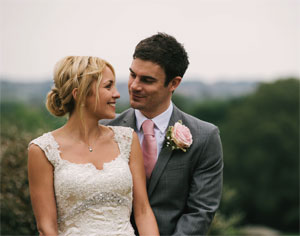 Image provided by Mark Dolby Photographer
From a call centre to a stunning stately home; Jessica and Joe's big day was the perfect celebration of their love

Jessica and Joe met working together in a call centre. "We used to stare at each other from across the office, often catching each other, although never actually speaking," remembers Jessica. "It wasn't until Joe changed job roles and moved to a different office that I made the first move and started messaging him. He invited me to a house party the next weekend and we just hit it off straightaway."

Joe confesses that he knew he wanted to marry Jess early on, but it was three years before he finally popped the question. "It was just a case of saving up for the ring!" he admits. "I proposed on Christmas Eve, 2012. I'd only told two of my close friends. We were going out in the evening and I'd planned it all out: I'd make a nice romantic dinner, propose right after and then tell everyone on the night out, but Jess was – typically – running late getting ready, dinner was rushed and I was wondering if I'd have time to do it properly. I told Jess she could open one present before we went out, and it was the ring, all wrapped up. It'd been under the tree for a fortnight – she had no idea!"

Read all about their big-day on page 30 of the current issue.

www.markdolby.co.uk