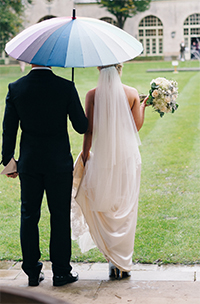 April showers
Q. We're getting married in a marquee. As the day gets closer I'm starting to worry about the possibility of bad weather. How do we prepare for this and make sure we still get gorgeous images?
A. Aaron Morris says: They say that rain on your wedding day is good luck, and as long as you make plans for it then it can be just as beautiful as it is lucky. Follow these three tips to get the most out of your day, whatever the weather…

- Preparation is key. While no couple imagines inclement weather when booking an al fresco wedding, it's always a possibility. Have a viable back-up plan for your ceremony, whether it's a covered porch at a local inn, or a ballroom in a grand hotel. Make a note of your contingency plan on your invitations so guests know where to head if it's raining.

When the week of your big day rolls around you'll have a pretty good idea of the forecast. When rain threatens, take action! Ask your marquee supplier to bring a floor for the inside of the tent. This is especially important if it rains for a few days as the ground can become sodden and muddy. Flooring can be expensive so set aside some funds to cover this if needed.

- Keep comfortable. The comfort of your guests is paramount at any celebration. It's a great idea to round up a few golf umbrellas and assign a group of men to escort guests in to the ceremony. Set out umbrella stands and a coat rack so your friends and family can shrug off their wet-weather gear and get in to the wedding spirit.

While an aisle runner is not normally advisable for a ceremony on grass, if it's damp it's a good idea to lay one to protect the bride's dress. If you're using a portable restroom trailer then enquire about a covered walkway from the marquee. Also, if you have live musicians, be aware they'll need somewhere dry to keep their instruments from getting wet.

- Smile it's your big day! The best way to beat the rainy-day blues is with a sunny attitude. A radiant bride in her fabulous dress will light up even the gloomiest day. Embrace the weather for your photographs. Ask your photographer to capture the misty atmosphere, and take a romantic stroll in the rain. Some of the most spectacular newlywed shots I've ever taken are in bad weather. If you embrace the day with good cheer then you and your guests will remain upbeat no matter what Mother Nature throws at you.