Ask the experts
Here is a selection of Q&As from Your Yorkshire Wedding magazine. If you would like your question answered by our experts, please email it to editor@youryorkshire.wedding.
To view more Q&A's on a different topic, please select one from the list below.
Hot topic: Decisions, decisions
Our experts solve your wedding dilemmas
---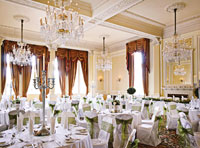 The Personal Touch
Q. My partner and I have just got engaged but we're looking to do something a little different from the traditional, lavish weddings we've been to. How do we adopt a more personal approach?
A. Alicja Kulinska says: This year, we're seeing a move away from large, flamboyant weddings, towards more intimate celebrations, where individuality, romance, togetherness and love take centre stage. This shift towards a more personal experience has altered couple's priorities with some refreshing trends becoming popular as a result...

Clever spending. Value and authenticity are more important to brides and grooms today than excessive spending. That's not to say couples want a cheap wedding, but it's about spending money where it counts to create a day tailored perfectly to you.

Intimate gatherings. Guest lists are becoming shorter and ceremonies are smaller. Your aunt-once-removed, and your neighbour's cousin really don't need to be there. Make room for the people that matter, making for a warmer atmosphere.

Weekday weddings. Harry and Meghan broke with royal tradition by marrying on a Saturday, but there's nothing to say you should do the same. Opting for a weekday, when the venue is less in-demand, can save you thousands – freeing up budget to be spent elsewhere.

Caring catering. When it comes to the wedding breakfast, pay attention to value and meaning. People enjoy food that has been lovingly grown and prepared with creativity applied, making your first meal as newlyweds even more special. Couples are bringing in personal elements such as wine from their local vineyard.

Natural beauty. Cakes, flowers and décor are much more down-to-earth, with an emphasis on quality and class, rather than size and extravagance. Earthy colours and plants are finding their way in to every area of the venue, including lining the aisle.
---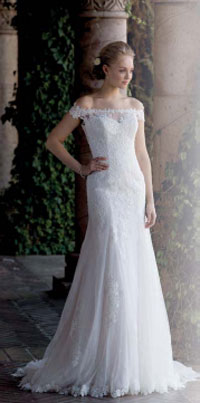 You shall go to the ball
Q. I've tried on a few dresses but not had the wow factor yet. How will I know when I've found the one?
A. Mandy Abramson says: Your wedding dress is one of the most important outfits you will ever choose so make sure it's perfect.

Always visit a number of different boutiques as some shops can buy very similar styles and you want to view a cross-section of gowns.

Step out of your comfort zone and try on lots of shapes and fabrics, as this will help you understand what works for you.

Try to keep an open mind, as you may be surprised. It's great to get advice from friends and family but limit the amount of people you take with you as lots of opinions can get confusing. Follow these pointers and you'll know when you've found your dream dress.
---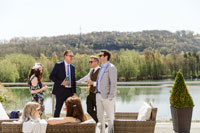 Capture the moment
Q. I don't want to stand around for hours taking staged photos on the day, but how do we ensure all our loved ones are captured?
A. Freya Raby says: When looking for a photographer you'll see that most have a preferred way of shooting. Some opt for classic, posed portraits while others capture natural, documentary-style shots. Take a look at their portfolio and you'll soon see if they have a knack for snapping relaxed images of guests throughout the day.

Once you've chosen your photographer, they should do their best to circulate and photograph every guest, particularly focusing on close friends and family, however we're not mind readers! Make sure you communicate with your chosen expert and perhaps give one of your bridesmaids or ushers the job of pointing out best friends, key family members and older relatives so you can ensure you'll have your nearest and dearest captured.
---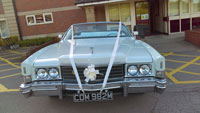 Arrive in style
Q. I'd like to book a wedding car for my husband-to-be as a surprise. What do I need to take in to consideration before booking?
A. Richard Dembizky says: Firstly, have a think about what his interests are. What's his favourite TV programme or film, and is there a vehicle that'd tie in to that? Perhaps he points out cars when you're out and about or in car magazines – do they tend to be small and gimmicky, or powerful muscle cars? This is a great way of doing your research without him realising what you're up to, and hopefully you'll end up picking the car he'd have chosen for himself.

Consider what type of transport will tie in to your day. Our 44-year-old Cadillac Eldorado is a fantastic talking point, and a great photo opportunity. Where the wedding is taking place will also have a bearing, talk to your chosen car company to ensure they can cover the distance needed and let them know where your venue is so they can plan the route for your special day
---
Contact our experts...
Alicja Kulinska
The Majestic Hotel
Mandy Abramson
Wedding Dresses
Richard Dembizky
Classic American Car Hire
---