Ask the experts
Here is a selection of Q&As from Your Yorkshire Wedding magazine. If you would like your question answered by our experts, please email it to editor@youryorkshire.wedding.
To view more Q&A's on a different topic, please select one from the list below.
Hot topic: The great outdoors
Our experts tell all about creating your perfect al fresco wedding.
---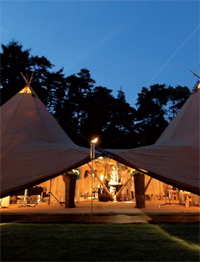 The sky's the limit
Q. We love the idea of having a festival-style wedding but are unsure of the limitations and extra costs of choosing a tipi. What should be considering?
A. Sophie Guest says: There are loads of benefits of choosing a tipi for this kind of wedding and lots of ways to be efficient with your budget. The styling's already in place so you don't need to spend lots of money on décor and the rustic furniture and wooden poles will really add to the informal vibe. Matting rather than hard flooring keeps everything earthy and if you did want to push the boat out a little then you can create some stunning effects with extra lighting.

Power and space are two important considerations, for example if you're considering a live band then you need to be mindful of the triangular shape of the tipi and also ensure you have enough power for their requirements and so your choice of generator is important. Likewise when you're looking at catering options power is important. That said, less formal food options are fantastic for festival-themed weddings and hog roasts, street food vans or tuk tuks can really add to your photo opportunities and help to offset costs for any added extras you might decide upon.
---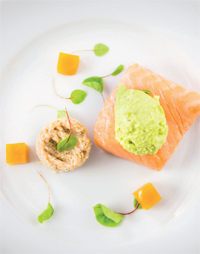 Seasonal nibbles
Q. We're tying the knot in a beautiful marquee at my parents' home but would still like to serve our guests a traditional wedding breakfast. Are there any difficulties with this and what kind of dish might you suggest?
A. Andrew Donohue says: Please be reassured that there should be absolutely no difficulties when it comes to serving food from a temporary structure, be that a traditional formal wedding breakfast or something a bit more informal like a barbeque. A good marquee provider will discuss your service requirements with you, this is the 'back of house' area where your chosen caterer will set up a fully functioning kitchen, one that's just as good as in any permanent wedding venue. In terms of what kind of dish you should go for, I'd always recommend going seasonal. If you're going for a spring/summer wedding you should begin with a cold starter, something light and refreshing like our salmon mi-cuit with crab salad, avocado sorbet and passion fruit gel, followed by (and still keeping it light) a pan roasted chicken with seasonal vegetables. chicken's a great dish as it appeals to so many people, but if you're feeling a bit more adventurous we do a fabulous indoor barbeque beef loin with sweet potato fries, charred sweet corn and barbeque beans! Finish with a rich chocolate torte with fresh cream, because who doesn't love chocolate?
---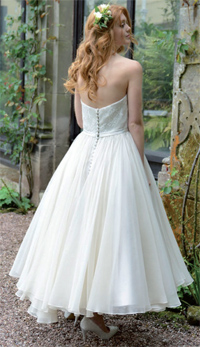 Clear as mud
Q. We've decided to go al-fresco on our big day, which has made choosing a dress pretty difficult! I'm very aware of out changeable climate and of the fact that I may end up in a muddy field with dirt all over my beautiful gown. I'd still like a classic look but wondered if you had any advice on what styles I should consider?
A. Kerensa Dyson says: There's no reason at all why you can't still go for the classic look. I'd recommend a ballerina length gown which sits at around ankle length. This option means you still have length but can also show off killer heels and not be concerned about muddying your hemline! We have beautiful options from Mia Mia and Ivory and Co in store.
---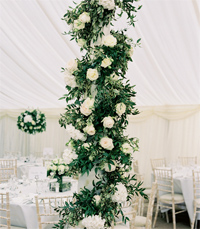 Tipi or not tipi
Q. My husband-to-be and I have decided to have an outdoor wedding but we're not yet sure if this will be a tipi, marquee or sperry tent. Flowers are really important to us so we wondered if you could offer any advice on which suit what best as this may inform what we choose – and influence our styling options generally.
A. Susanne Loweth says: If you like a light and airy feel and maybe some large hoops suspended from the ceiling, I'd recommend a sperry tent as the guy ropes can look really lovely with vines trailing along them. If you have clear or no sidewalls, the light is the closest to natural daylight of the three options. Teepees have more of a cosy and bohemian feel and are quite a bit darker inside. There are more tent poles that can be decorated, but to have an impact, you'll need more floral material than for a sperry tent and the look will be heavier. You can still have floral hoops suspended. The light inside tends to be more orange, which will affect the way the flowers appear. Flowerfilled milk churns and rustic wooden boxes really suit this look.

A marquee offers more of a blank canvas than the other two options. As they have no internal poles or guy ropes to decorate, the venue decorations will mainly be standing on the tables or the floor, though you can achieve height by bringing in some potted trees. The light inside a marquee tends to be quite yellow, which again will affect the look of the flowers.
---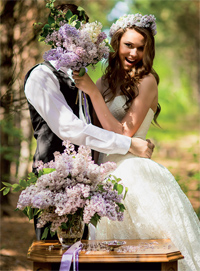 Woodland whimsy
Q. We've decided to tie the knot at a woodland ceremony with an outdoor reception to follow but we don't really know where to start in terms of what we'll need. Could you give us a checklist or an idea of things that are commonly overlooked when it comes to outdoor celebrations?
A. Pamella Dunn says: It's worth considering the logistics first, as well as checking you can come in on budget.

My top 10 questions are:
1. Do you need water, and electric?
2. Will you hire a large tent or marquee as a wet weather contingency and for catering?
3. Is the ground level?
4. Is access and parking sufficient?
5. Will you need to hire in bathroom and toilet facilities?
6. Will your tables and chairs stand up to being positioned directly on the ground?
7. Will your plan B cover hot as well as rainy weather, and possibly high winds?
8. Will you require wedding professionals for set up and on-the-day management?
9. Will you have mobile and internet reception?
10. How many days will you have the venue available for set up and take down?

Your 'Plan B' will need to consider all weather conditions and cover, access, food, flowers, decorations, photography, live music and entertainment. In the UK we often worry about the rain, but if the sun's shining and temperatures rise, this comes with its own challenges.

A seamless outdoor wedding anticipates all eventualities and takes months of careful planning. Take advice from a professional wedding planner and get your figures together before you book to avoid any unpleasant surprises.
---
Contact our experts...
Andrew Donohue
Executive Chef
Kerensa Dyson
Bridal boutique owner
Pamella Dunn
Wedding planner
Sophie Guest
Wedding planner
---