Ask the experts
Here is a selection of Q&As from Your Yorkshire Wedding magazine. If you would like your question answered by our experts, please email it to editor@youryorkshire.wedding.
To view more Q&A's on a different topic, please select one from the list below.
Hot topic: Whatever the weather
Our experts advise on handling the good old British climate
---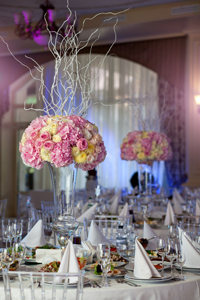 The long and short of it
Q. I love the idea of having really tall centrepieces but weather permitting, we're going to try and eat outdoors at our wedding. What are the challenges of this and what's your advice for getting it right?
A. Pamella Dunn says: A good level base for your tables will ensure any decorations, flowers and centrepieces are stable so make sure you have a spirit level available. Mirrored table tops add glamour, give the effect of a fuller tablescape, and offer a firm foundation for props to sit on so if you want floral centrepieces – go for it. A weighted base will create height and drama, and give you peace of mind that nothing's going to topple over.
---
Sounds perfect
Q. We're having our reception in a sperry tent and I'm wondering if we'll still be able to hear the speeches if it rains. What can we do to make sure our guests don't miss anything?
A. Michelle Hudson says: Using a good PA system is the best way to make sure that your speeches are delivered perfectly as it can get really noisy when the rain comes down and you're in a tent. Hire a professional who can provide first class equipment – and test it to make sure everything's working properly on the big day.
---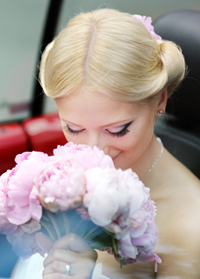 Flawless look
Q. I'm travelling to our wedding in an open-top car and am really worried about my hair and make-up if it ends up been drizzly or rainy. Do you have any advice please?
A. Deborah Chalmers says: Unfortunately we can't do anything to change our Great British weather but a little drizzle or rain needn't spoil your day or indeed your hair and make-up. A professional will have waterproof and long-lasting products in their kit so you should have no worries there. I use the Airbase Airbrush foundation, which is durable in all weather.

A hair up-style is going to have more longevity, but really it's all in preparation of your locks. I also highly recommend a finishing spray called 'Weatherproof', I use this on all my brides. It repels drizzle and damp from the hair and acts a bit like a 'Scotchguard'!
---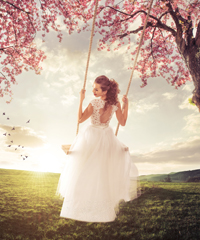 Under the influence
Q. We're planning a September wedding, which can be a very unpredictable time of year when it comes to the weather. Should I let the season influence the dress I choose?
A. Hayley Guest says: At our boutique we think the only thing that should influence your decision making is how you feel in the dress! Once you've chosen your gown, a bridal stylist will show you how you can add accessories or make necessary alterations to ensure you're comfortable on your big day.
---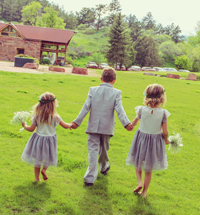 Space dilemma
Q. We've got loads of kids coming to our wedding so we were careful when we chose our venue to make sure there was plenty of space for them to run around outside. What should we do if it rains?
A. Anna Scott says: Create a room in your venue that's full of activities. In our mobile crèches we usually set up some craft, soft play, construction, interactive and quiet areas. Although it might not be possible to fully replicate this, you could ask all the parents to bring along some toys to share. This would give you a good start point.
---
Contact our experts...

Anna Scott
Children's entertainer

Deborah Chalmers
Hair and make-up

Hayley Guest
Bridal boutique owner

Michelle Hudson
Event manager

Pamella Dunn
Wedding planner
---