Ask the experts
Here is a selection of Q&As from Your Yorkshire Wedding magazine. If you would like your question answered by our experts, please email it to editor@youryorkshire.wedding.
To view more Q&A's on a different topic, please select one from the list below.
Hot topic: Pre-wedding tasks
Our experts advise on those pre-wedding tasks
---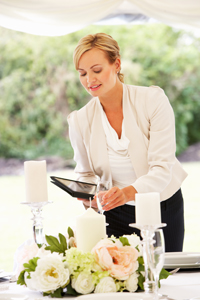 Alright on the night
Q. I know I'm going to be unavailable to take any calls or sort out any problems on the morning of the wedding. Who is usually in charge of any last-minute disasters?
A. Pamella Dunn says: The 'go to' person on your wedding day is a life saver. There really are so many distractions and so many demands made on your time from lovely family and friends, suppliers and well wishers that the relaxing morning you envisage can run away with you, and the last thing you need is to feel rushed or hurried as you prepare for your big day.

Your person in charge will vary depending on where you're getting married and how you plan your day. Often the maid-ofhonour will be a close friend or relative who has been with you every step of the way through the planning process which'll make the job of answering questions, giving direction and advice on your behalf so much easier. One of the guys may step up, a groomsmen or the best man who is calm and will enjoy supporting you. This particularly suits weddings held in hotels or venues where there's a coordinator. For marquee, tipi, and weddings at home you may have worked with a wedding planner and have on-the-day coordination included in the service, which is invaluable when all the preparation and organisation is down to you. Alternatively, if you've been in control of all your own planning and realise just how much help and support you're going to need on the day, planners will often offer on-the-day coordination or management independently of their other services.
---
Shot luck
Q. We've been clear with our photographer about our 'must have' shots for the day but other weddings we've been to have been really chaotic and they haven't managed to get them all. Is there any way of making sure we get all the group shots that we want?
A. Collette Evans says: At the initial consultation, I make a point of running through the timings of the day. If there isn't going to be enough time for photographs, it's usually easy to amend. Four weeks prior to the wedding, I go through a list of formal groups along with any spots for couple portraits. For formal groups, I ensure I have a list printed out and I tick them off as I go. I usually organise my shot list in order. I ask my couples to designate a member of the bridal party to act as a runner – in short, the person in charge of getting the right guests at the right time. Schedules are so important, the day is very hectic and photographers can run out of time if they aren't careful. I like to know my timings and confirm them with the coordinator as I arrive at the venue and stick to them.
---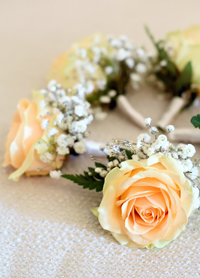 Flower power
Q. We've got a large wedding party and we will all be in different places before the wedding. Who's in charge of ensuring that the buttonholes are delivered to the right people?
A. Susanne Loweth says: The simplest solution is to have the florist deliver buttonholes for the groom, best man, groomsmen and the fatherof- the-groom to the ceremony venue along with corsages for the mother-of-the-groom and any other female family members that have chosen to wear one. It's usually the responsibility of the chief usher to distribute buttonholes and corsages to the members of the party at the church.

The buttonhole/corsage for the father and mother-of-the-bride should be delivered with the bouquets for the bride and bridesmaids to where the bride is staying before the ceremony.

If a photographer is covering the groom and best man getting ready in the morning, they may want their buttonholes before they reach the ceremony venue and at least two buttonholes should therefore be delivered to them by the florist.

If flowers are collected rather than delivered by the florist, it might be an idea to delegate the job to the father-of-the-bride. Ask the florist to label each item to ensure they reach the right people.
---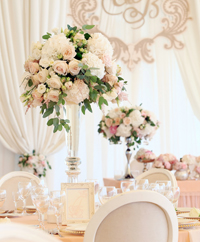 Dressed to kill
Q. I'm excited about seeing our venue all dressed up in our theme but having nightmares about walking in and it being half done or not right. Who should I rely on to make sure that everything looks perfect?
A. Sally Daly says: This is a worry to any bride or groom organising their wedding. All those months of preparation culminating on one day can be stressful. The morning of the wedding should be dedicated to getting yourself ready, not worrying over the decorations at the venue. If you've hired a supplier to provide décor for your big day, they should meet with the team at the venue prior to the wedding to ensure everyone is clear on your vision. It's down to your venue stylist to make sure they deliver the theme exactly as you've discussed. If you've chosen to go down the DIY route, your best man and ushers are best placed to check everything is ok as they tend to be ready a lot sooner than the bridal party!
---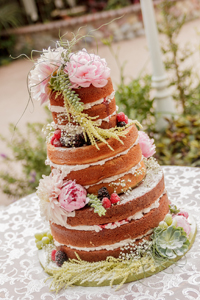 Slice of perfection
Q. We've opted for a naked cake and know that it drying out may be an issue. Can you tell me please who normally picks it up? What time should it arrive to ensure it's in the best possible condition?
A. Kean Ong says: My best advice is to speak to your cake maker about this. Timings will depend on the kind of cake that you choose and a naked cake is best kept in the right conditions until its grand unveiling. Cling film is an option but this can only do so much in terms of the cake drying out. Usually your supplier will deliver the cake to your chosen venue and decorate it there so that it looks perfect when you and your guests arrive.
---
Contact our experts...

Collette Evans
Photographer

Kean Ong
Cake maker

Pamella Dunn
Wedding planner

Sally Daly
Wedding and event coordinator

Susanne Loweth
Florist
---