Ask the experts
Here is a selection of Q&As from Your Yorkshire Wedding magazine. If you would like your question answered by our experts, please email it to editor@youryorkshire.wedding.
To view more Q&A's on a different topic, please select one from the list below.
Hot topic: Festive frolics
Our experts advise on creating the perfect winter celebration
---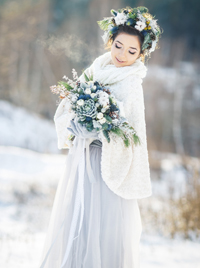 Perfect petals
Q. Which flowers are best for a beautiful winter bouquet? I'd like a trailing style ideally as I'm quite tall.
A. Susanne Loweth says: There are many options for a stylish and seasonal look. I'm a big advocate of using seasonal and British grown flowers whenever possible, and it is surprising just how many are available in winter.

If you want white or cream flowers (always a winning combination), you could opt for camellia, paperwhite, tulip, hellebore, hyacinth, snowdrop, snowflake, grape hyacinth, heather and indoor-grown jasmine which has deliciouslyscented small flowers and beautiful trailing foliage. Another option for trailing foliage is ivy, which can be light green, dark green or variegated.

If you want a more colourful bouquet, go for brightly coloured tulips, alstromeria, amaryllis, hellebore, hyacinth, skimmia and blue grape hyacinth. You can also add rose hips, which come in all shades of yellow though orange to deep red. The addition of pheasant tail feathers adds a touch of boho-chic elegance.

Ivy berries, which come in a range of shades from green though brown to black, are another seasonal element or alternatively, you could choose the dramatic blue-black Viburnum tinus.

The use of a lot of foliage is very in vogue at the moment and it doesn't have to be just dark green. Blue-grey eucalyptus has an almost frosted look, which is especially effective combined with white flowers in a winter bouquet. Add some trailing jasmine or ivy and some blue-grey succulents, and you have something that's stylish and seasonal, without looking like a Christmas decoration.
---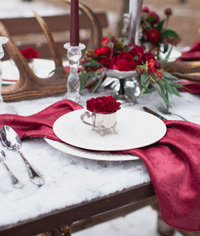 Seasonal touch
Q. Our wedding takes place between Christmas and New Year and I'd like our décor to give a nod to the festive season without looking like Santa's grotto or Narnia. Are there any nice little touches you could suggest?
A. Pamella Dunn says: Winter weddings around Christmas can be extra special but planning your décor can be a challenge as venues often decorate with traditional green and gold. When booking your date over the holiday period discuss with your venue how and where they plan to put the tree for example and see if this is something you could work together on. Incorporating metallics and beautiful lighting adds sparke and glamour with a nod to the time of year without an obvious Christmas theme.
---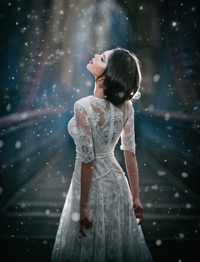 Whatever the weather
Q. We chose a winter wedding as it was a bit cheaper than getting married in the summer but now I'm concerned that we'll not be able to get beautiful pictures due to the potential for bad weather. Is this the case?
A. Collette Evans says: This isn't the case at all, sometimes a little rain or an overcast day can enhance your wedding photographs. I like to use lighting techniques that really make the bride and groom pop! This works best when the couple are lit from behind, especially if the dress has lots of tulle. If you're getting married in winter, consider holding your ceremony earlier in the day to ensure you make the best of any natural sunlight available. In December the sun sets earlier and you lose the light any time between 2pm and 3.30pm depending on the weather. When choosing your photographer, ask to view past winter wedding galleries so you can gain a sense of what to expect and what they're capable of.
---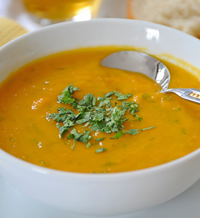 Winter warmers
Q. I know it's going to be chilly on the day of our wedding and we're struggling with what to feed our guests. What are the best winter-warmers?
A. Sally Daly says: Why not start the day with a selection of warm canapés served with a winter Pimm's or mulled wine? We serve a mini fish and chips cone, which is a classic and always goes down well with guests of all ages.

On a cold day, warm comforting foods such as soup for starter and a delicious slow roast beef steak bourguignon for your main course are sure to be favourites.

No meal would be complete without a hearty pudding with lashings of custard. I'd recommend sticky toffee pudding or apple and blackberry crumble.

Warm your evening guests up with a street food-inspired pot of chilli or curry, and then a mug of hot chocolate under the stars.
---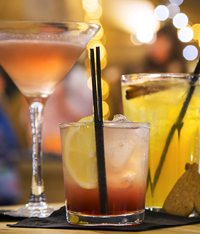 Mulling it over
Q. We'd like to theme our drinks reception to complement the festive season. Are there any interesting alternatives to the traditional mulled wine?
A. Dan Lakin says: Mulled wine and Eggnog are the obvious ones but you can step up the wine for a mulled cider. Or why not add a festive cocktails menu with really wintery flavours like, cinnamon, apple, star anise or nuts? One of our most popular is Spiced Apple cider. Many breweries produce winter and Christmas beers for December. A great seller for us is by Yorkshire's Ilkley Brewery which produces 'Mary Christmas' – a spiced amber ale. It's worth asking your bar supplier or local breweries about winter beers.
---
Contact our experts...

Collette Evans
Photographer

Dan Lakin
Drinks expert

Pamella Dunn
Wedding planner

Sally Daly
Wedding and event coordinator

Susanne Loweth
Florist
---